2015
11.12
LaFayette's long-time recreation director Patti Scott was fired from the city Tuesday afternoon.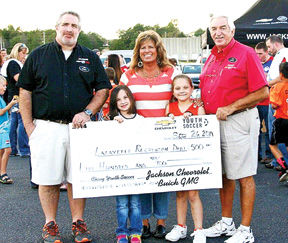 Per this piece, Scott did nothing wrong but was let go Tuesday afternoon with "a lot of consideration" from the City Manager, hoping to see "change at the recreation department."
All of you who have complained about programs at the rec department, poor coaching, staff and uniform issues, etc.. This is a result of your concerns, and similar concerns of others.
Ms. Scott [center in the photo] had been in charge of the city's parks and recreational programs for over twenty years and was an employee or volunteer for city recreation activities since she was a child. (Her late father was Sheriff Ralph Jones.)
The city council was not aware of Scott's termination until after it occurred. Her replacement has not yet been named.



Commissioner candidate Shannon Whitfield says he wants to "change" Walker by cutting $1 million from the county budget in a non-specific way, wants to end the position of county attorney, and thinks 911 and the landfill cost too much. (How would you save money at 911? Close it on the weekend?) He supports a vote on sole commissioner but won't say how he feels personally about the system, and notes that he "respects" the current commissioner.

His main challenger for the job (besides Bebe herself), Lonnie Henderson, says he also desires "change" and wants the sole commissioner system to end. (For what it's worth, Lonnie signed the Sole Commissioner Vote petition last September. Mr. Whitfield didn't put his name on it. Not that he wouldn't support the issue, but he didn't sign the petition.)
Both men say they'll be more careful with the county's money than the current commissioner, and both will move commissioner meetings to times when more citizens can attend IF they're elected.
Whitfield will have a public event this Saturday at the Civic Center.



Tuesday morning LU publicly asked Tax Commissioner Carolyn Walker on Facebook if she was going to mail our (higher) property tax bills this year.
Normally tax bills go out in mid-October and are due in late December, but this year so far aren't available in print OR online. (Regardless of when they're mailed, state law gives taxpayers sixty days to pay.)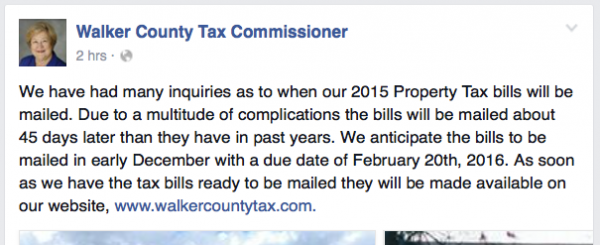 Today Walker finally responded, indirectly, saying bills will be over a month late "due to a multitude of complications." She anticipates the bills will be sent in December with taxes due in late February.
Does the "multitude of complications" involve the new tax office, the new Development Authority tax, or some other legal problem that keeps bills from being finished and sent in a timely manner?



Local restaurant unwillingly used as a staging area for a drug deal:
WQCH Radio, 11/10/15:

"THE LOOKOUT MOUNTAIN DRUG TASK FORCE WATCHED A DEAL 'GO-DOWN' IN THE PARKING LOT OF A LAFAYETTE RESTAURANT LAST THURSDAY, BEFORE MOVING-IN FOR ARRESTS.
"THOSE TAKEN INTO CUSTODY INCLUDE 20 YEAR OLD DILLON WESLEY JOHNSON, CHARGED WITH POSSESSION OF A CONTROLLED SUBSTANCE WITH INTENT TO DISTRIBUTE, 25 YEAR OLD AMBER NICOLE QUEEN, CHARGED WITH VIOLATION OF THE GEORGIA CONTROLLED SUBSTANCES ACT, AND CODY BRYAN STOKER, 21 – CHARGED WITH VIOLATION OF THE CONTROLLED SUBSTANCES ACT.
(A fourth person was also apparently taken to jail, but not named in the report – indicating where the "tip" came from.)
"IN ADDITION, ALL THREE WERE CHARGED WITH USING A COMMUNICATIONS DEVICE IN THE COMMISSION OF A FELONY.
"TASK FORCE COMMANDER PAT DOYLE SAID THEY HAD RECEIVED A TIP CONCERNING THE DEAL IN FRONT OF TWINS PIZZA DURING THE NOON-HOUR AND WATCHED FROM ACROSS THE STREET."

Over the weekend, LU used a photo of Bebe's campaign billboard, supposedly paid for by Audia, in a blog post. Several people pointed out… inaccuracies.. in the ad's content.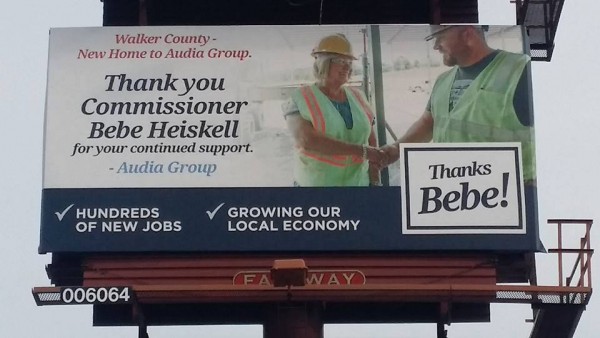 So we fixed it, no charge.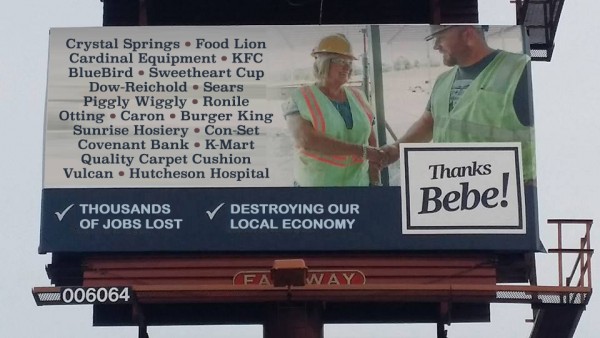 Thanks, Bebe!


Two homes on/around Hog Jowl Rd. were burglarized during the afternoon on October 19th.
One of the families, apparently giving up on the Sheriff's office doing anything, is offering a $1,000 reward for information leading to an arrest.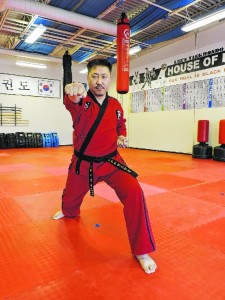 Local martial arts studio changes ownership.
Master Lee, owner of Lee's Tae Kwon Do, announces he and his wife will be moving from LaFayette to Washington, DC, for "personal reasons" after fourteen years in town.
(Someone close to the situation said Master Lee's wife, who has a doctorate degree, has taken a full time college teaching position.)
Apparently the studio, currently in the old Blockbuster Video location in front of Walmart, will remain open under the control of Master Seo's of Dalton. Seo's also owns the TKD studio in Fort Oglethorpe.


Some people can't stand to stay out of jail.
WQCH Radio, 11/09/15:

"A 44 YEAR OLD LAFAYETTE MAN FACES MULTIPLE CHARGES AFTER LEADING POLICE ON A FOOT CHASE THROUGH TOWN.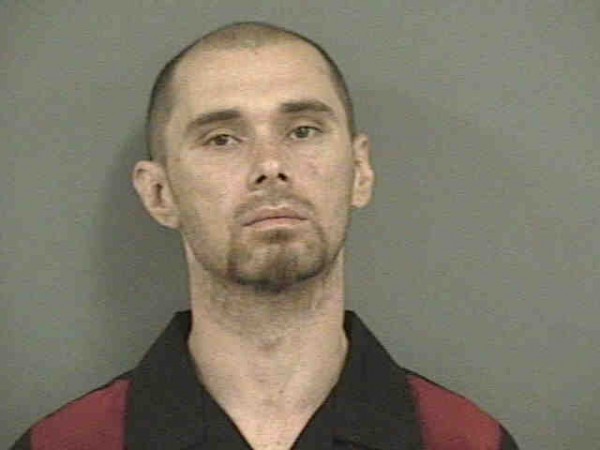 "IT STARTED WITH A TRAFFIC STOP LATE TUESDAY NIGHT ON LAWRENCE STREET. ROBERT NOLAN MURPHY, WHO WAS SITTING IN THE BACK SEAT OF THE PT CRUISER, BOLTED AFTER GIVING THE OFFICER A FALSE NAME AND BIRTH DATE.
"OFFICERS LOST MURPHY ON WHISPERING PINES AND SEARCHED FOR A HALF-HOUR, BEFORE GIVING UP. A FEW HOURS LATER, THEY GOT A TIP THAT HE WAS VISITING AT AN APARTMENT [on] NAPIER STREET, AND FOUND HIM HIDING IN THE ATTIC AREA.
"IN THE VEHICLE, THEY FOUND A SPOON AND DIGITAL SCALE UNDER THE SEAT WHERE HE'D BEEN SITTING. BOTH TESTED POSITIVE FOR METH RESIDUE. THEY ALSO FOUND SYRINGES. MURPHY WAS ALREADY WANTED ON TWO FELONY WARRANTS, TO WHICH POLICE ADDED CHARGES OF POSSESSION OF METH, GIVING FALSE INFORMATION AND OBSTRUCTION."
Mr. Murphy has previous felony convictions for assault, burglary, marijuana, and possession of firearms by a convicted felon.
He's done four stretches in state prison since 2002 and last got out in February of this year.
Plus: Walker County arrests, November 2-8.



GE/Electrolux merger trial: Day 1.


Three years ago Georgia was ranked worst of all states for ethics.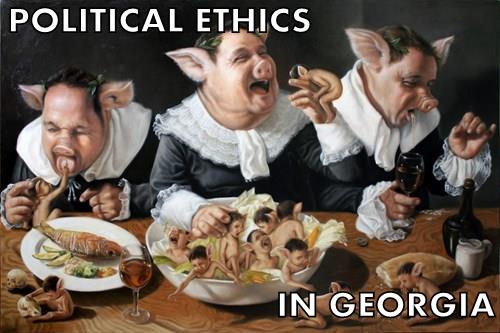 This year GA is only 24th of 50, but still got a D- grade based on lack of transparency and weak ethics laws.
Doesn't sound like we got any better, more like other states got worse.


Be careful with GoFundMe accounts.. GBI arrests man for collecting $19,000 through the Web site for a dead cop, then allegedly spending the money on himself.
There's no accountability with a GoFundMe. LU has shared them before, but has recently decided not to again. You can't know where the money goes.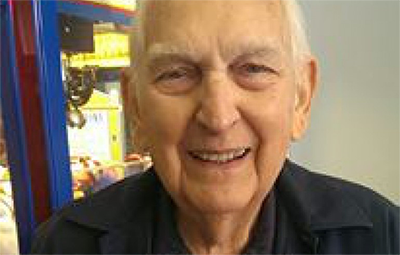 Hoyt Williams, WW II vet, former Trion mayor and councilman, and onetime Trion business owner, turned 92 Monday.
He's worked at the Trion/Summerville Walmart for 28 years and, well into his 9th decade of life, still shows up there five days a week.
Happy birthday Hoyt!


If you call Georgia's "How's My Driving" hotline to report a state employee driving poorly, they actually answer the phone and follow up on the complaint.
Per Channel 5, 4,518 calls have been taken in the last three years, resulting in 139 state employees fined or suspended and 13 actually fired for how they were driving a state owned vehicle. (And about 7% of the calls were to report GOOD driving.)
If only the state took political and judicial ethics as seriously as it takes the way government employees drive.


For today's links and any breaking news, follow the Underground on Facebook or Twitter.