2015
08.08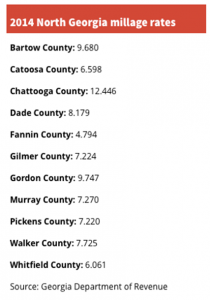 As the Times Free Press recently pointed out, Walker County's current property tax rate isn't the lowest around, and when the Commissioner signs off on her (proposed) 1 mil increase later this month we'll be among the top in Northwest GA.
2014's tax (7.725 mils) is higher than Whitfield (6.061) and Catoosa (6.598). Another 1 mil would also move us higher than Dade (8.179) and within a hair of Floyd (8.767). But those counties are providing their taxpayers with more services than Walker does. What do you get back for the taxes you pay?
Bartow and Chattooga, the highest on THIS list (which isn't all-inclusive by any means) are both sole commissioner governments, along with Walker and Murray.


How broke IS Walker County?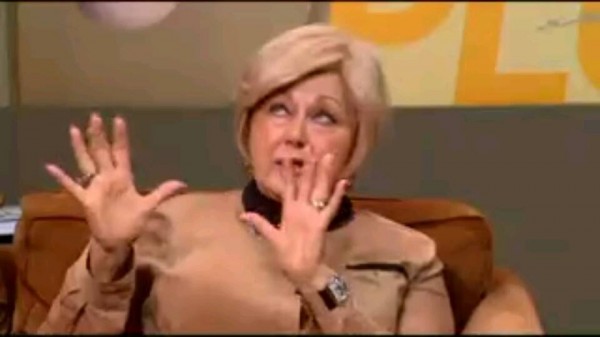 Last month Commissioner Heiskell promised to give Cherokee Regional Library an extra $20,000 to support the Rossville branch and buy more books for all three libraries.
Library leaders, however, got nothing when they went to collect the funds; county CPA Greg McConnell said there's not $20,000 left in the county's accounts to give them.
Bebe told the Chattanooga paper she's not wasting money because there's not any. This shows she's not kidding, we're broke.
The reasons for being out of cash are all too clear when you look at the county's audit from last year, which has just started leaking out. LU will take a detailed look at that over the weekend. (Hint: the Commissioner decides how to spend money, and she's not good at making those choices.)
Walker County can't afford to fix its roads, can't provide ambulances, and now there's not even enough money left – they say – to buy books. This is a disgrace.
LU has been told (but cannot verify) when the library leaders went to Bebe and got her promise of $20,000, she showed them preliminary plans for spending millions on a hotel at her farm.
IF that's true (and again, it is so far NOT independently verified) she's slipped into delusional senility and ought to be removed from her position by a judge.



One of LaFayette's most notorious thieving punks is on the run.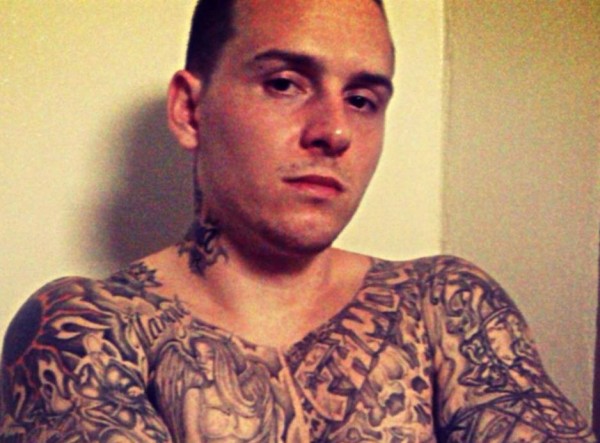 LPD and GA State Patrol seek information on the location of Corey Chaz Warren; he's wanted for violating his parole and for charges related to theft.
Mr. Warren got out of prison in May and was arrested in early June for drug possession and lying to police. He served only three years of a 12-year sentence for drugs and burglary.
He has a twin brother Codey, who he often claims to be. Codey is, however, currently in the Walker County Jail. If you see either of them (either way), call LPD or 911.


LU isn't the only group that sees Georgia's scary ethical problems.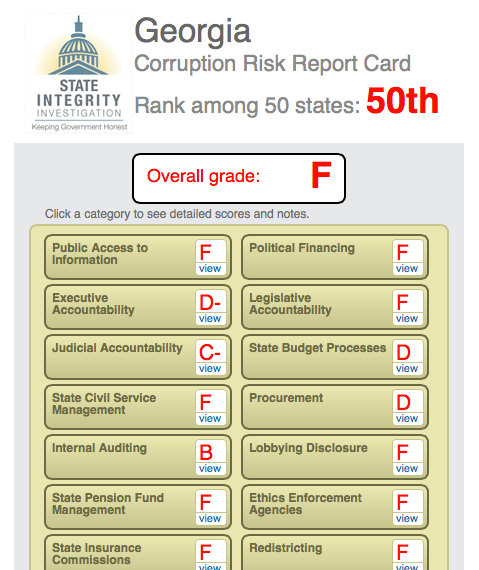 Center for Public Integrity rates GA 50th of 50 states for integrity and corruption risk.
The state gets F grades for public information access, government employee management, ethics enforcement, insurance regulation, and legislative accountability, among other areas.
You can blame ethically clueless leaders like Nathan Deal and Jeff Mullis, but responsibility also lies with uninformed voters who only look at incumbency and party affiliation. Gutless media outlets like the local newspaper also share considerable guilt for this awful score.


If you're gonna grow marijuana, why would you do it out in the open..?
WQCH Radio, 07/25/15:

"THE DRUG TASK FORCE, ACTING ON A COMPLAINT, ARRESTED A WALKER COUNTY RESIDENT WHO HAD MARIJUANA GROWING IN HIS YARD.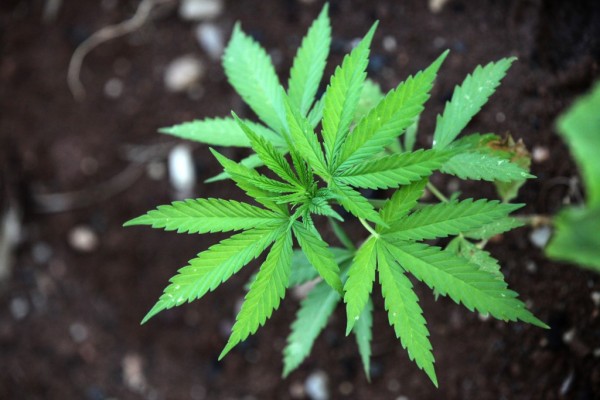 "57 YEAR OLD RICKEY HOWARD SHELTON WAS ARRESTED AT THE HOME ON CHAMBERLAIN SPUR, OFF HIGHWAY 193 JUST WEST OF LAFAYETTE. HE WAS CHARGED WITH MANUFACTURING MARIJUANA. TASK FORCE COMMANDER PAT DOYLE SAID THAT INVESTIGATION IS STILL IN PROGRESS."
[That is not Mr. Shelton's specific alleged pot plant.]
Also: Local arrests and bookings, July 30-August 5.
"Pamela Hurt Fountain, 48, Main Street, LaFayette, forgery (x6)"
That one sounds interesting. Hopefully we'll get more details.
"Brittney Mae Clements, 27, Ovie Drive, LaFayette, theft by shoplifting"
Ms. Clements was arrested back in May for drugs.



Chickamauga has annexed land, evicted trailer park residents, and spent a good sum of money to buy a closed private club with a pool, planning to turn the site into a public swim area.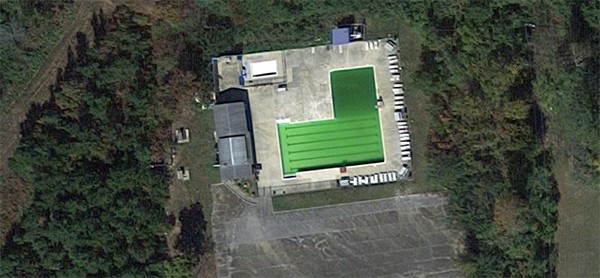 Turns out rehabbing a 65-year-old swimming pool requires more time and money than expected, and they won't have it open until at least the middle of next year. Good planning.


Cell phone providers won't name names, but it's suggested that a failure of AT&T's landline network backbone caused Tuesday's multi-provider mobile phone outage around the south.
A fiber optic cable under AT&T control was cut somewhere in Kentucky at the same time, disconnecting thousands (if not millions) and highlighting just how fragile our technology actually is.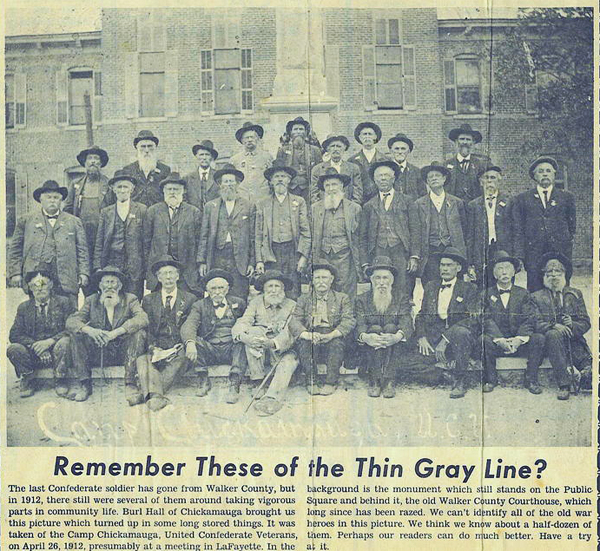 Georgia employees will still get Confederate Memorial Day and Robert E. Lee's Birthday as holidays next year, but they'll not be called by those names.
April 27 and November 27 will now (and likely from now on) simply be referred to as "state holiday" on the Georgia government calendar.


Mohawk reports another record-breaking quarter.
Company is buying competitors and firing on all cylinders, which is good for NW Georgia.


For today's links and any breaking news, follow the Underground on Facebook or Twitter.