2015
07.29
Yesterday's funeral for murdered sailor Randall Scott Smith in Fort Oglethorpe (and his subsequent burial in Chattanooga) was the fifth and final service for victims from the 7-16 terrorist attack.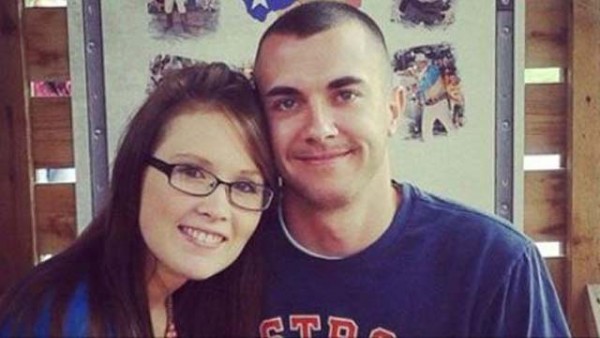 Smith's funeral was held at First Baptist Fort O, followed by a procession stretching from LaFayette Rd. down Battlefield Parkway, then up I-75 and around Chattanooga to the National Cemetery. (Despite expectations/hopes of some local leaders, the funeral procession did not go through Walker County.)
The glass is cleaned up, the victims laid to rest – now the chore is to heal, and somehow make sense of a senseless tragedy.



Southeastern Grocers, parent of Bi-Lo and Winn-Dixie, announces sale of 29 Bi-Lo stores in NWGA and East Tennessee to Food City. Includes stores in LaFayette, Rossville, Trenton, Dalton, and Fort O. (In short, Food City is buying what remains of what USED to be Red Food before Bi-Lo bought them out 22 years ago.)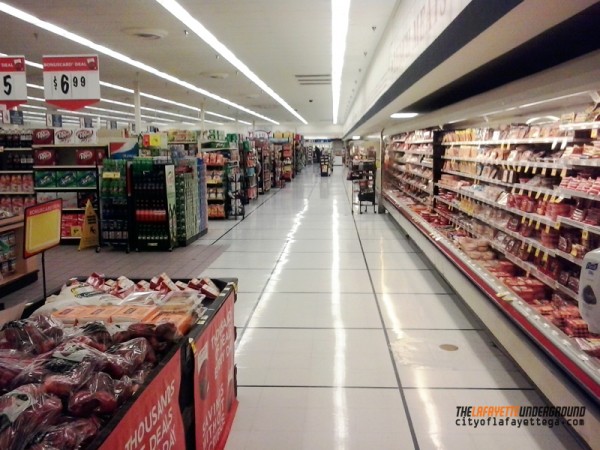 Food City owner K-VA-T Food Stores says it won't close any existing Bi-Los, and will spend $40-$50 million to remodel and rebrand the stores, as soon as August. Some may get gas stations added as part of renovation. (Bi-Lo Fuel Perks points will be rolled over into an existing Food City gas discount plan.)
Nine years ago Food City bought a handful of struggling Bi-Lo and Winn-Dixie stores in Knoxville. LU checked on the current condition of those stores: with the exception of one or two, all are still open and have been upgraded. That's a good sign.
Regional Bi-Lo predecessor Red Food was owned by the French, then sold out to Bi-Lo which was then owned by a Dutch conglomerate. The company changed owners multiple times and had several failed merger attempts with companies like Golden Gallon and Food Lion. Multiple bankruptcies resulted in closed stores. Bi-Lo once owned Cub Foods, and ended up under the same corporate parent as struggling Winn-Dixie. Bi-Lo has been nothing but instability since day one, and they never seemed to figure out how to work in this market.

The new company, K-VA-T Food City, is based in Virginia and seems to know how to exist and survive in a midsize community like ours. The COO of Food City was once an executive at Red Food, and some of the store-exclusive brands now sold at Food City like Kay's Ice Cream were once available at Red Food, before Bi-Lo came in.
Considering the local ownership and people involved, Food City might be more like Red Food Stores than Bi-Lo has been. This looks like a good direction for the company – the initial impression of this deal is positive.
The only thing not clear so far is what happens to the 29 Bi-Lo stores' 2,000 employees. Official statements from the company were contradictory; two reports claimed all current workers would have to re-apply to work for Food City with a "majority" rehired, while another said current employees' seniority would be respected. One former insider suggested full-time employees will transition over to Food City while part timers will be asked to reapply.
Hopefully Food City will clarify those plans in the next few weeks as the buyout deal nears completion.



Chickamaugans were faced with economic reality last weekend as iconic Crystal Springs Printworks, in the heart of town, came under attack from bulldozers and backhoes.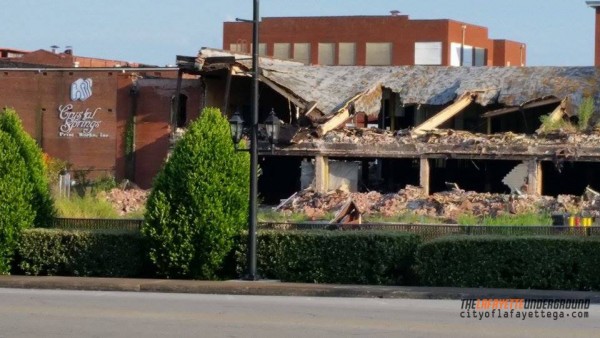 112-year-old company reportedly employed over 1,200 people in the 70's but had fewer than 100 when it closed in 2013; Owner Steve Tarvin, now a State Representative, said the cloth printer's machinery was being scrapped, the building materials shipped off for reuse, and land cleared for a proposed housing development.
"Now, the fabric mill's massive, old brick-and-wood buildings will be taken down — and upscale homes may be built on the land, which borders a spring-fed lake.
"'There's some possibility of a gated community there,' Crystal Springs President and CEO Steve Tarvin said. 'It will be something very nice on the lake.'"
An exclusive, wealthy gated community with generic stacked-stone mcmansions would be more valuable to Chickamauga (and Tarvin) than the struggling textile mill it will replace, but will certainly lack much of the old factory's character.


So you wanna run for office? Three city council seats will be up for a vote this fall – registration is set for August 24th.
WQCH Radio, 07/25/15:

"THREE LOCAL COUNCIL SEATS WILL BE UP FOR ELECTION THIS NOVEMBER – AND TUESDAY NIGHT, THE LAFAYETTE CITY COUNCIL SET DATES FOR CANDIDATES TO QUALIFY.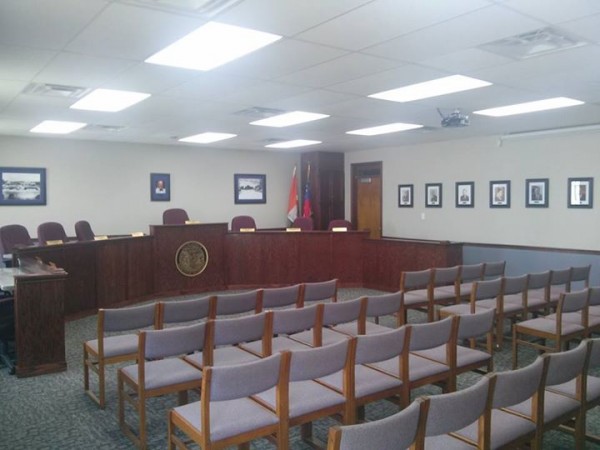 "THE SEATS ARE THE 'AT LARGE' POST, CURRENTLY HELD BY WAYNE SWANSON; WARD 3, HELD BY JUDY MEEKS; AND WARD 4, HELD BY CHRIS DAVIS.
DATES FOR QUALIFYING WILL BE MONDAY THROUGH WEDENSDAY [sic], AUGUST 24th THROUGH THE 26th. CANDIDATES QUALIFY AT CITY HALL FROM 8:30 AM UNTIL 4:30 PM."
It's not yet known if councilors Swanson, Meeks, or Davis plan to run again for sure.
Also, possible changes on the city's alcohol and wine licensing:
WQCH Radio, 07/25/15:

"COUNCILMAN BED [sic] BRADFORD TOLD HIS FELLOW CITY COUNCIL MEMBERS TUESDAY NIGHT, THAT HE WOULD LIKE TO SEE THE LAFAYETTE ALCOHOL ORDINANCE AMENDED SO THAT VENDORS COULD SELL BEER AND WINE LEGALLY, AT SPECIAL EVENTS. BRADFORD SAID TO SERVE WINE AT A WEDDING OR BEER AT A CLASS REUNION, IS NOT PERMITTED AS THE ORDINANCE NOW READS, UNLESS IT'S HELD AT A LICENSED RESTAURANT.
"CITY ATTORNEY RON WOMACK SAID SOME TOWNS CALL SUCH A PROVISION, A 'CATERING LICENSE'. MOST ARE WRITTEN SUCH THAT – IF THE VENUE MEETS REQUIREMENTS, SUCH AS 'DISTANCE FROM A CHURCH OR SCHOOL' – A TEMPORARY LICENSE TO POUR FOR A SPECIAL EVENT CAN BE GRANTED.
"NO VOTE WAS TAKEN ON THE ISSUE TUESDAY NIGHT, BUT COUNCIL MEMBERS ALL AGREED THAT THE CITY MANAGER AND CITY ATTORNEY CAN BEGIN RESEARCH ON HOW OTHER TOWNS HANDLE TEMPORARY BEER AND WINE PERMITS FOR SPECIAL EVENTS."

William Allen Dodson arrested last Thursday for shoplifting at Walmart.
He claimed he was stealing to feed his child; items allegedly taken include mashed potatoes, wings, nuts, BBQ, an energy drink, deodorant, medication, and eyewear – only some of which can be eaten.
Homeless Dodson was previously arrested for shoplifting last October.


Sunday afternoon traffic on South Chattanooga St. was tied up for a while by an accident.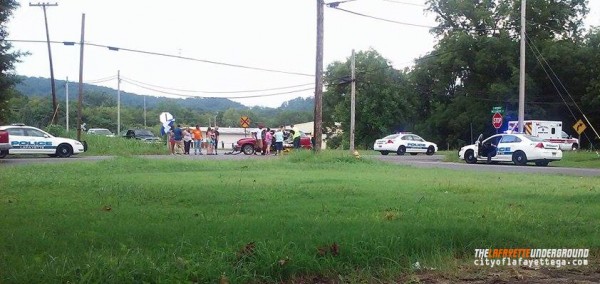 Per a bystander, the black Dodge truck pulled out of McLemore into traffic and was struck by the red S-10. They said the male driver of the red truck was injured, female driver of the black truck was taken into police custody possibly for DUI.


Former owner of a Georgia peanut company responsible for poisoning customers may end up spending the rest of his life in prison.
One-time Peanut Corporation of America owner Stewart Parnell was convicted last year of knowingly selling salmonella-tainted peanut butter, which sickened hundreds and killed nine people in 2009.


For today's links and any breaking news, follow the Underground on Facebook or Twitter.