2014
01.30
Tuesday most of North Georgia was hit with an unexpectedly strong, messy winter storm that shut down transportation all over the region and left children stranded on stuck busses or at closed schools.
(Click to advance gallery – mouseover for captions.)
Snow initially predicted to fall south of Dalton fell all over Northwest Georgia and Southeast Tennessee, quickly sticking to roads. Schools began dismissing around 11 but most couldn't get busses back to take students home until after noon, and by that point travel in some places was unsafe.
Businesses and schools dismissing at the same time while parents rushed to pick up their children resulted in traffic tie-ups and wrecks that made a bad situation much worse, all over Georgia – resulting in a declared state of emergency. Walker County alone had over 100 minor accidents on Tuesday.
Dade and Chattooga schools both recalled busses, resulting in some children taken back to schools they don't attend, with parents called to pick them up when possible. Some were eventually transported home by emergency responders or members of law enforcement.
Walker County busses didn't turn around, but several were reportedly stuck like the one depicted below on Corinth Rd. Middle and high school students living on the eastern side of Taylor's Ridge weren't delivered home, ending up sheltered at Naomi Elementary until the last ones were picked up around 5 PM.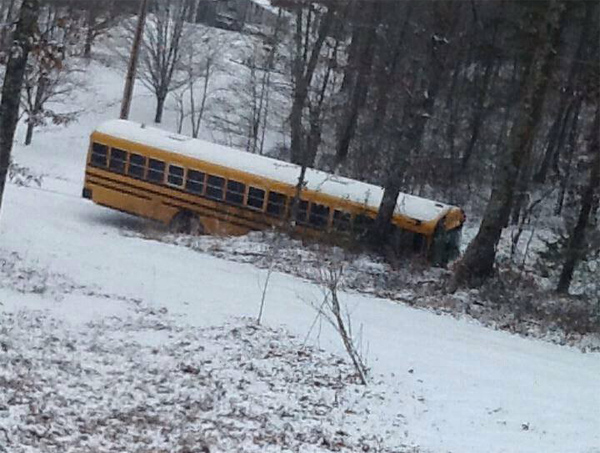 School leaders have been thoroughly criticized for their decisions leading up to the early dismissal and dangerous situation on Tuesday, but schools have in turn criticized weather forecasters who failed to deliver adequate warnings in time to dismiss school. Noted Chattanooga meteorologist Paul Barys admitted they got it wrong, but schools still take some blame for the amount of time it took them to dismiss students once the danger became clear.
Unprepared, poorly trained, and under-equipped road crews attempted to clear main thoroughfares Tuesday evening and into Wednesday, but as this is written around 5 AM Thursday some roads are still unsafe. Drivers are warned to be careful, drive slowly, and be aware of possible black ice as the snow melts and refreezes over the next few days.
All local schools, including public K-12, private, and colleges, were closed Wednesday and remain closed Thursday. Some government offices such as Walker Transit and GA Department of Labor will be closed all day, while others plan to open around noon if conditions permit. For the latest closings check LU on Facebook or Twitter.






























Commissioner Heiskell said earlier this week she's not yet seen Erlanger's lawsuit filed against Walker, Catoosa, and Hutcheson, but knows the county will fight it. Catoosa County says defendants are working together on a countersuit – which will do nothing except drag things out longer and cost the counties more money. (Or we could just give Erlanger the hospital like we should have done to begin with.)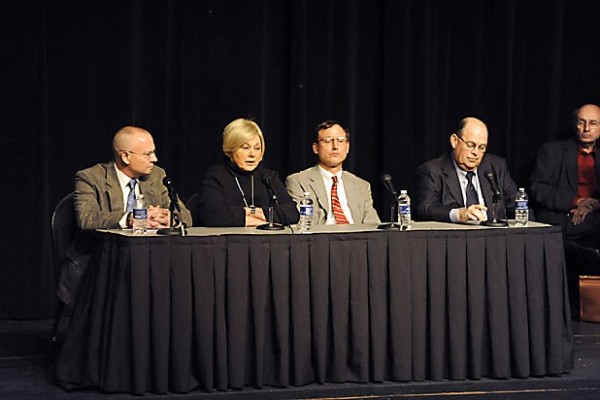 Hutcheson later announced it will "vigorously" defend against the Erlanger suit. In response to the case, HMC leaders accuse the Chattanooga hospital of breaking its management agreement, trying to send patients to Chattanooga, and credits progress seen during the last three years to Hutcheson employees – many who no longer have jobs due to HMC leaders.



WQCH Radio, 01/28/14:

"LAFAYETTE POLICE REPORT AN ARMED ROBBERY WHICH AMOUNTS TO AN EMPLOYEE MUGGING BEHIND A LOCAL CONVENIENCE STORE. IT HAPPENED AT CLOSING, JUST PAST MIDNIGHT SATURDAY, AT THE PIT STOP ON EAST VILLANOW AT THE BYPASS.
"TRAGMESH PATEL WAS ASSISTING WITH THE STORE CLOSING AND CARRIED TRASH TO THE DUMPSTER AT THE REAR OF THE STORE. HE TOLD POLICE HE WAS HIT FROM BEHIND AND KNOCKED TO THE GROUND. THE ASSAILANT TOOK HIS WALLET AND A GOLD RING – TOTAL VALUE AROUND $1,500. PATEL WAS NOT SURE WHAT WAS USED TO STRIKE HIM.
"THE MAN WAS DESCRIBED AS 6 FEET OR TALLER AND HEAVY-SET, WEARING DARK GLOVES AND A DARK JACKET. HE ESCAPED ON FOOT.
"POLICE HAVE FEW LEADS IN THIS ASSAULT, AND ASK THE PUBLIC FOR ANY INFORMATION THEY MAY HAVE, AS THE INVESTIGATION CONTINUES."
Who carries $1,500 of cash and jewelry with them at work at a gas station?


Fire atop Taylor's Ridge in Chattooga Co. over the weekend has no connection to a controlled burn in the same area a day earlier, according to the agency that would be held responsible for the fire.
Fire and ice, now where are the locusts..?
The fire damaged Windstream lines through the area, which means some people around Chattooga were temporarily knocked offline.


Commissioner Heiskell contributed to clearing Walker County roads by, erm, waiting for sunshine to melt the snow and ice: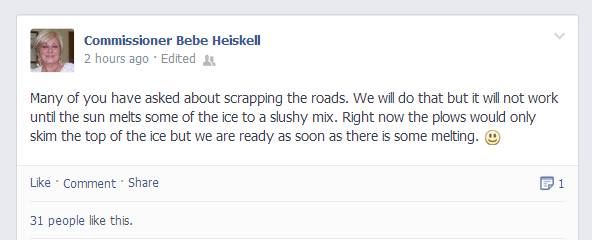 (What's the current scrap price for a road?)
She also displayed a lack of knowledge (or an excuse) about laws regarding counties and cities clearing state roads: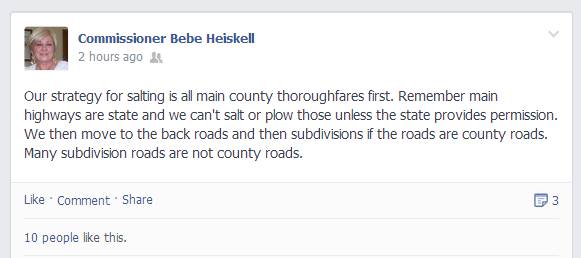 After the LAST big snow we had in 2011, Senator Mullis changed the rules so county and city government can clear state roads without asking. Senate Resolution 31 from 2011.



Friday Georgia House of Representatives passed a budget for the remainder of fiscal 2014. Eager to get finished and get back to campaignin', legislators passed the budget in record time. Now it must be approved by the GA Senate and signed by the governor.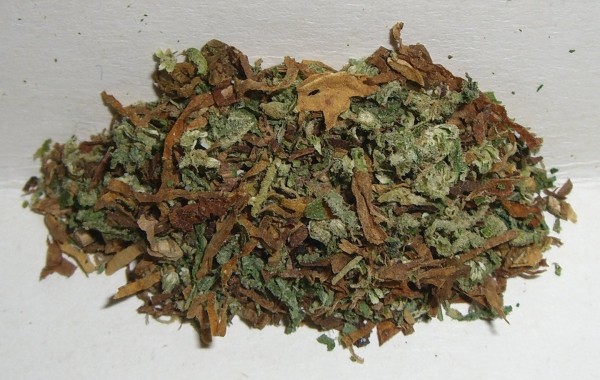 With that done, legislators moved back to the year's hottest topic: medical marijuana. Yesterday a bill to legalize cannabis oil for treatment of certain medical conditions was signed by over 80 members of the Georgia General Assembly.
Here's a legislative update written by someone working in Jeff Mullis' office, and here's an update written by a ghostwriter for Rep. John Deffenbaugh.



Elsewhere in Atlanta, Gov. Deal held a press conference Monday to highlight his endorsement for reelection by 110 of the state's 536 mayors. Locally the only city leader publicly backing Deal is Rossville crook Teddy Harris. [Complete List]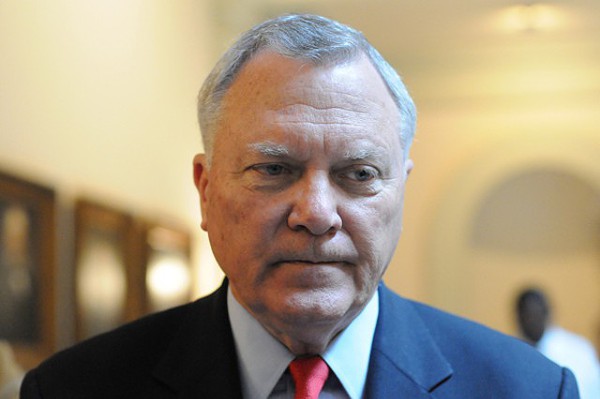 Also probably motivated by the upcoming election, Gov. Deal and Agriculture Commissioner Gary Black have issued executive orders prohibiting propane price gouging over the next few weeks.
Unclear how this differs from existing price gouging rules or how they plan to enforce the request, but it's an election year…



More complaints about high and/or inconsistent utility bills for LaFayette electric customers.


Watch out for funny money: Calhoun police arrest Atlanta man for trying to pass fake $100 bills at Walmart.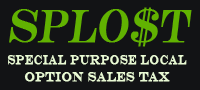 Dade County has added a SPLOST tax renewal vote to their ballot for the May election. The county's current SPLOST doesn't expire until the end of 2015, but Dade leaders say they want it on the ballot now so they have another chance next year if voters reject it in 2014.
If there are any opponents of the tax in Dade, they'll hopefully be able to learn what to do and what to NOT do from efforts in Walker and Floyd to defeat the tax last year.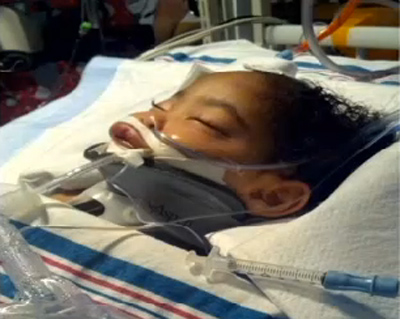 Charges have not yet been filed in relation to the death of a Catoosa foster child at New Year's. Catoosa Sheriff's Office says the case is still being investigated.


More troubles at Georgia Ethics Commission. Employees are fleeing the troubled, corrupt agency like proverbial rats off a sinking ship.


New feature today on the LU site: e-mail notifications.
To sign up for e-mail every time a new article is posted on the site, click here:

A confirmation e-mail will be sent after you subscribe. Click the link to verify your subscription. If you don't get a confirmation message, check your e-mail spam folder.

Dekalb GA man arrested last week at home for driving a stolen car. The car was his, and was stolen a week earlier by someone else, then returned. Police blame a national database which wasn't updated and have launched an investigation into the failure.
Big Brother needs to get his ducks in a row.


Latest local arrests.


GA Department of Health says flu has killed 37 people in the state this season. Do you know anybody who's gotten the flu, much less died of it?
Shot or no shot?


For today's links and any breaking news, follow the Underground on Facebook or Twitter.