2013
11.04
Tomorrow is election day. LaFayette voters will choose council members for Wards 1 and 2, and the city's first new mayor in almost a quarter-century. Voters all over the county (including city residents) will additionally vote on renewal of the 1% SPLOST sales tax.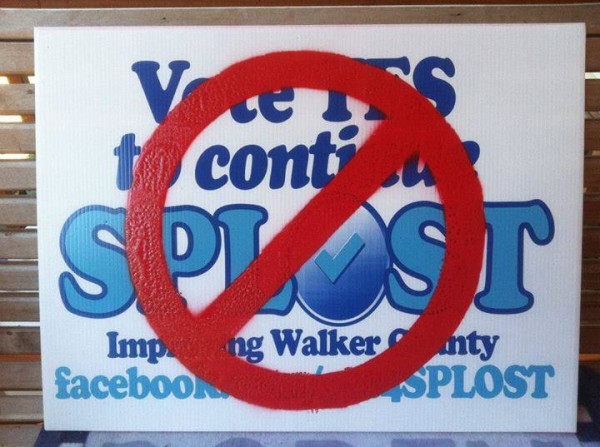 Some very good reasons not to renew the tax on groceries and other goods:
"When first passed in 1987, SPLOST eventually built such projects as a civic center and a 911 center in Walker County. No one disagrees both projects were sorely needed and are used by all citizens.
"But now the money is harder to trace, and critics are raising the alarm.
"..When an administration cannot even publish an annual budget, accounting for every tax penny spent locally whether SPLOST or otherwise, any continuation of a tax needs to be voted down."
Also, an insightful article about the SPLOST battle:
In this piece, we find that a committee campaigning to renew the tax is run by Virgil Sperry, a Chamber of Commerce board member who also directs the county's Development Authority, which gets SPLOST funds. He admits they've raised thousands of dollars to buy advertising and print signs and broken the law by putting pro-SPLOST ads in county water bills and by handing out the same material at Gilbert Elementary.
..all to convince county voters they're better off with a $100 property tax increase than with paying $200 a year in county sales taxes. If you can do math, you'll be voting against the SPLOST tomorrow (assuming you didn't already vote against it during three weeks of early voting).


As for the city election, review LU's Q&A's with candidates Robert Wardlaw, Ben Bradford, and Mike Lovelady/Andy Arnold.

Unfortunately, tomorrow's election (and even the inevitable runoff vote for at least one city race) won't be the end of political campaigning for a while.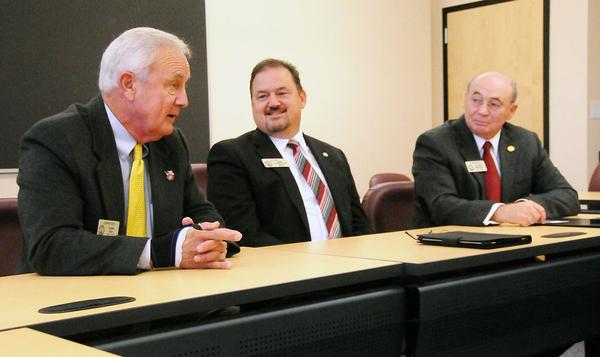 Last Friday, Rep. Jay Neal announced his impending resignation from the Georgia House, due to Governor Deal appointing him work in an organization helping inmates transition out of prison. The job begins in less than two weeks, on November 15th. That means Neal's House District 2, which includes eastern Walker County and portions of Catoosa and Whitfield, will have no representative in the state house until a special election is held.
Chickamauga business owner (and perennial candidate) Steve Tarvin has already announced plans to run for Rep. Neal's old job. Outgoing LaFayette Mayor Neal "going to get you" Florence is also, apparently, interested in becoming a state legislator. Don't be surprised if this special election ends up with a dozen or more candidates before everything's said and done.



Last October, State Court Judge Bruce Roberts sued Walker County for underpaying him compared to the salary drawn by his predecessor, Judge Peppers. Peppers was making some $5,000 a month MORE than Roberts, who was named to replace Peppers on an interim basis.
Last week a judge ruled the county must give Roberts some $78,000 in back pay, plus reimburse his legal fees which will be over $10,000. The court also ruled that a countersuit against Roberts for dismissing traffic fines was without merit, and his defense costs for that case must also be repaid out of county funds.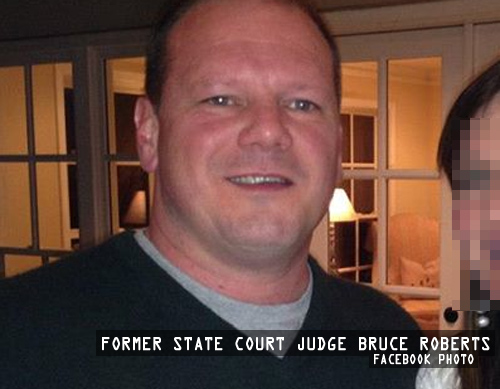 Peppers stepped down mid-term and Roberts was named to replace him. Judge Peppers was getting a ridiculously high salary, but Commissioner Heiskell refused to give Roberts the same amount – which per this court decision was against state law.
After Roberts sued the county, Heiskell sued Roberts for dismissing a full day of traffic court defendants without charging their fines, which she said damaged the county. The judge in this case said Roberts had the power as judge to do that, and can't be held liable personally for decisions he made as a judge.
Despite having almost no chance of winning, Walker County plans to appeal the case – meaning the legal fees Roberts will eventually be entitled to will just keep going up.



Marcus Sutton, previously described as a potential "witness" in Wednesday's Fisher Rd. shooting, is now considered a suspect in the Rossville-area murder.
WQCH Radio, 11/02/13:

"SHERIFF STEVE WILSON SAID SUTTON IS ACCUSED IN THE SHOOTING DEATH OF ANDY WATTS AT A FRIEND'S APARTMENT IN ROSSVILLE LATE WEDNESDAY NIGHT.
"SUTTON IS DESCRIBED AS A BLACK MALE, 5 FEET 6 INCHES, 160 POUNDS, AGE 20. ANYONE WITH INFORMATION ON THE WHEREABOUTS OF MARCUS EUGENE SUTTON IS ASKED TO CALL THE WALKER COUNTY SHERIFF'S DISPATCH AT 706 375 7810. SUTTON IS CONSIDERED ARMED AND DANGEROUS."

Final score for LHS' road game vs. NW Whitfield Friday night was 77-0. (LaFayette was NOT the 77.) That takes the Ramblers to 1-8 for the year.
Team will hit the field one last time this Friday on the road for a "region play-in."


Owners of No. 1 Chinese had their "life savings" – $30,000 – stolen on Tuesday after a work crew did repairs in the kitchen where the cash was hidden. They didn't report the theft until Wednesday.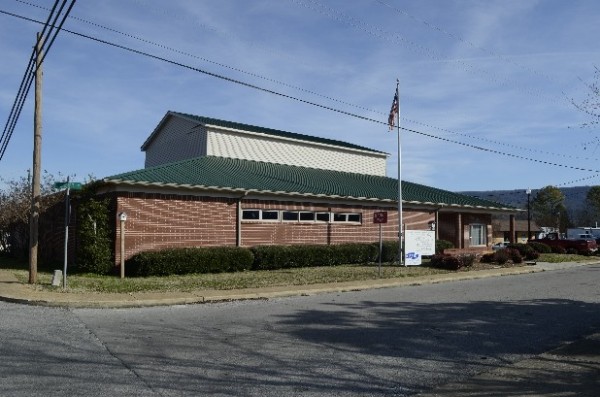 Trenton's branch of Cherokee Regional Library needs $20,000 in additional funding to stay open through the end of the year. Complete closure is a real possibility if library supporters can't scrape together funds, and the county/city/schools in Dade won't contribute more to help the branch operate.
We could end up seeing a similar situation with Rossville branch in the next year.
SPLOST? No SPLOST? Doesn't matter. SPLOST funds construction and equipment purchases, not salaries, utilities, and other operating costs. Library leaders have said even if SPLOST passes, the parts of that tax promised (thinly promised) to renovating the Rossville branch will go elsewhere if Rossville library isn't open.


More on the planned departure of Hutcheson CEO Roger Forgey.


Elan-Polo, a shoe supplier for Walmart, plans to bring 250+ manufacturing jobs currently in China to a new plant in Hazelhurst, GA. Production is expected to start in March.


Owner of a peanut company in South Georgia killed a 5-foot-plus rattlesnake last month using a tractor scoop.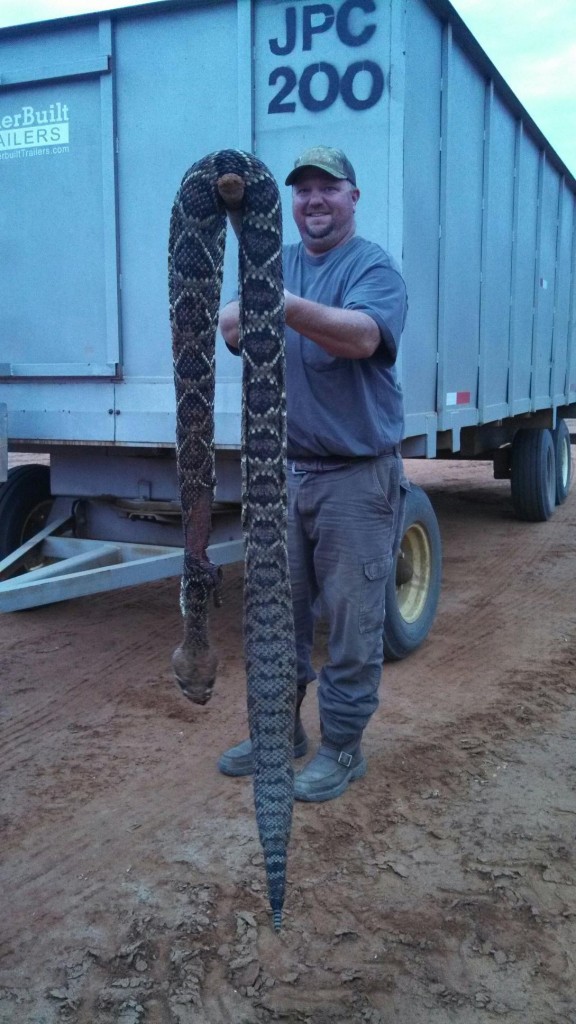 Quite the belt this will make..


On November 1, federal food-stamp programs cut back monthly benefits for families on SNAP. Food stamps will still come in, at reduced amounts, but the cuts mean people will be more dependent on local food banks like The Care Mission.
If you're distressed by the SNAP cuts, you can help by volunteering or giving a donation (of cash or food) to The Care Mission or similar organizations..
If you think food stamps need to go, which some of you do, then you need to help prove they're not needed at the federal level by stepping up local help, which means the exact same thing: giving more at the local level to organizations that feed people.
Different sides of the same coin, politically/socially, but both have the same solution. More help at the local level for neighbors in need.


For today's links and any breaking news, follow the Underground on Facebook or Twitter.