2013
05.24
Two female LHS students were tased yesterday by SRO Billy Mullis during lunchroom fight. They're reportedly both juniors.
Student-shot video of the incident is unfortunately too short to get a lot of context on the fight. According to an eyewitness, Officer Mullis yelled "break it up" twice before the clip begins, and the girl in purple was the only one tased.
LU contacted Officer Mullis and LHS Principal Culberson for a statement on the incident. If they add anything to this, it'll be posted on LU Facebook and shared here next Monday.


As of 10 PM on Friday May 24th, neither Officer Mullis nor LHS principal Culberson have responded to LU e-mails. However, LPD chief Benjie Clift and School Superintendent Raines have both made comments to local media saying the tasing was justified. Check LU Facebook or Monday's Daily Update for more details.

WQCH Radio, 05/23/13:

"LAFAYETTE HIGH SCHOOL'S GRAD RATE FOR 2012 IS 74.67 PERCENT. THAT'S BETTER THAN THE STATE AVERAGE AND IMPROVED BY 2.7-PERCENT FROM THE YEAR BEFORE.
"RIDGELAND HIGH WAS BELOW THE STATE AVERAGE, WITH A GRAD RATE OF 65.45 PERCENT. THAT IMPROVED BY JUST OVER 1-PERCENT FROM THE YEAR BEFORE. ..THE GRAD RATE AT RINGGOLD HIGH IS 83 PERCENT, AND CHATTOOGA HIGH SCHOOL'S RATE IS ALMOST 90 PERCENT.
"THIS IS THE SECOND YEAR THAT GEORGIA GRADUATION RATES HAVE BEEN CALCULATED BY A MORE RIGOROUS METHOD. THE PREVIOUS METHOD GAVE WHAT STATE OFFICIALS NOW SAY WAS AN 'INFLATED' VIEW OF GRADUATION RATES."
Chickamauga and Trion have the highest graduation rates in all of Georgia:
"Eight school systems posted graduation rates above 90 percent. Chickamauga City Schools and its 112 graduates had the highest rate of 99.1 percent, followed closely by Trion City Schools with its 89 graduates and rate of 98.9 percent. On the other end, three school systems were among those with graduation rates below 50 percent. They were Randolph County with 49.3 percent; Talbot County with 45.5 percent; and Twiggs County with 45.3 percent.
Trion and Chickamauga can poach good athletes/students from the surrounding communities and dump underperformers back into the county systems that surround them… They have some inherent advantages the county-wide systems don't have; "public schools" with some of the advantages private schools have when it comes to selectivity and exclusivity.
Press release from GA Department of Education touts a 2% rise in graduation state-wide, from 67.4% to 69.7%. Improvement is good, but it still means three out of every ten kids who enter 9th grade never finish school. Georgia now spends $9,253 per student per year.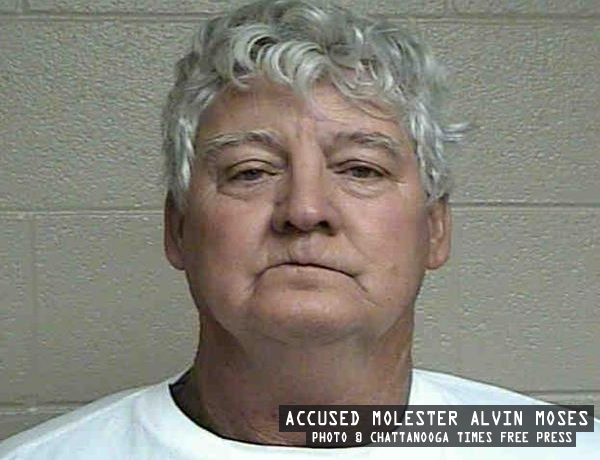 Yesterday at the Walker County Courthouse, Alvin Moses' child molestation case was declared a mistrial after the jury acquitted him on one charge and couldn't decide on four others.
Moses, a 67-year-old LaFayette resident employed by Chattooga Co. Public Works, was being tried on charges of molesting a teen girl in 2009. His accusers weren't completely consistent in their statements, but Moses' boss said the man basically admitted the crime to him after being arrested.
Jury members say police didn't have a complete case and some of the witnesses seemed to be lying. Prosecutors and law enforcement either presented a false/exaggerated case, or presented a legitimate case so poorly that justice was denied.



Music On The Square estimates total attendance at this year's event "between 3,800 and 4,300" give or take a few hundred. That would be for the entire day with people coming and going, not all at once.


$1,000 reward offered for information about whoever vandalized a Summerville area cemetery. They broke $3,500 worth of brass decorations off the graveyard fence, apparently for the metal's scrap value.


Saddle Ridge K-8 school has its own Facebook page. This photo of the incomplete building's interior was shared Wednesday.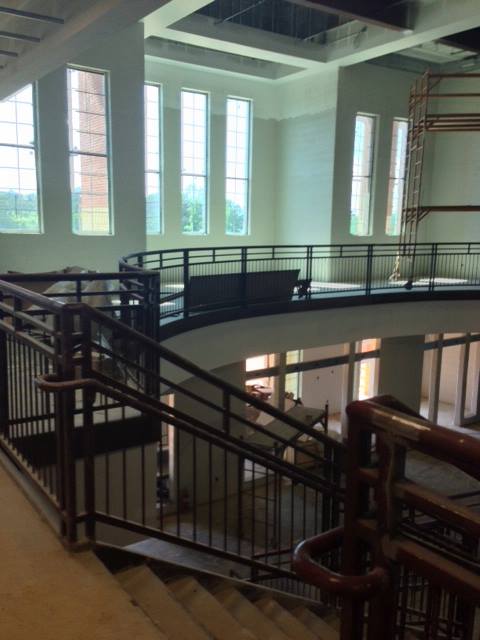 Page administrator (whoever it is) says the cafeteria is still a work in progress. School system has set a deadline to open this school for the fall, which means teachers should be moving in within the next month. Will the building be finished in time?
They'll probably have the building ready enough, but it's going to be a race to get there – and some of the teachers may have to move in faster (and later) than they'd like to.


Details on the city's planned (and state-required) $600,000 waste water treatment plant upgrades.


Next year GDOT will spend $4.8 million repaving the Battlefield Bypass and Battlefield Parkway in Catoosa County from the Walker County line all the way past I-75.
"Walker County Coordinator David Ashburn said he's heard complaints from residents about GDOT's policy of sealing cracks on Battlefield Parkway to stave off a full resurfacing for as long as possible.
"'There's a lot of folks upset that they did that … complaining it's rough,' Ashburn said.
"It's not an opinion he shares. 'My opinion of driveable roads and other people's is two different things,' Ashburn said. 'Everything is not perfect all the time.'"
But we know what Ashburn's standards are for "drivable roads," don't we?


Gov. Deal, commenting again on the Bibles-in-state-lodging controversy, says he DOES support the rights of atheists to donate literature for distribution in state-owned cabins and lodges. He noted guests can choose to read or not read anything placed in a drawer, and warned some visitors might choose to remove material they don't like.


Several years from now, Georgia Northwestern will be setting up a new campus on property in Catoosa County off GA 151 across from Rollins Industrial Park. School site will be accompanied by "commercial development" (probably some kind of shopping center) along the highway. The land currently belongs to Catoosa Development Authority.
Once this opens, the new campus will be as close to many in Walker County as the current GNTC Rock Spring location is. The site could cannibalize students/growth at the Rock Spring campus, but if the Catoosa campus offers different programs they can co-exist. Plus it doesn't seem like Rock Spring has much trouble attracting plenty of students, and that campus is essentially out of space to expand any further.
GNTC now has locations in Walker, Floyd, Gordon, Polk, and Whitfield. Soon to be joined by Catoosa. Dade and Chattooga will probably continue to be out of luck, looking at population numbers.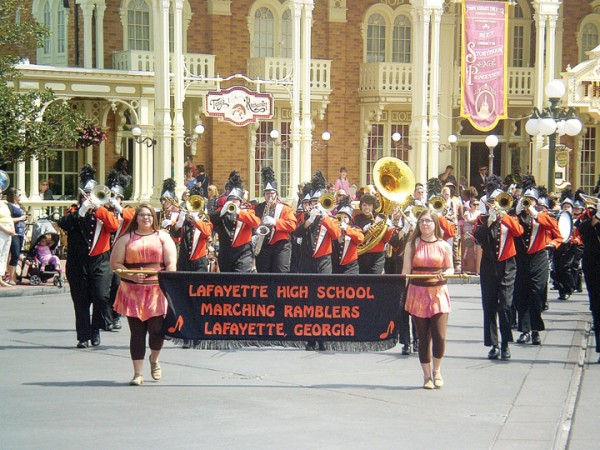 Reflections on the 2012-2013 LHS Rambler Band.


Weekend Calendar:
Kids 4 Christ hosts a free concert by Made Fr33 tonight at 7 PM.
LaFayette city pool will open at noon Saturday. The pool will operate daily through August 11, a swim season entirely too short due to the school schedule. Current cost of admission is $4 for individuals over the age of 3, individual season passes for $40, and family season passes (up to 5 people) for $100.

Movies In the Park will be back this Saturday night with "Cars 2" at Joe Stock.

Saturday afternoon at 1 LaFayette library will offer CPR training for teens, courtesy of Walker County Fire & Emergency Services.
"Music and art festival" planned this weekend at Cherokee Farms. Suspect it won't be as quiet as Roots Fest last weekend. Begins today at 4 PM and goes through Sunday. (Be sure to catch family-friendly-favorite "Panty Droppaz.")


Tracy Brown, director of BB&T Bank's business loans operation in Chattanooga, has pled guilty of taking out some $475,000 in fake loans from bank customers to benefit his own account. He faces thirty years in federal prison for the crime.
Death to BB&T. Most hated local bank…


A new Johnny Cash museum opened in Nashville last month. No word if there's anything there that might have been present at the 1971 LaFayette Cash concert.


Everett Heritage Farm – an example of a "farm" in Kensington that grows something besides taxes.
…as compared to, y'know, Mountain Cove Farms where all we do is spend tax money to keep Bebe Heiskell's friends and family employed.


Georgia's settlement with US Department of Justice means yet another state-run mental hospital is closing. Southwestern State Hospital, one of the largest employers in Thomas County, will shut down by the end of the year. That means the facility's current patients will be sent to "community based" treatment, a mix of group homes and county jails.
The state mental hospital in Rome was closed several years ago for the same reason.


For today's links and any breaking news, follow the Underground on Facebook or Twitter.