2016
05.08
Exciting news for railfans and local history buffs.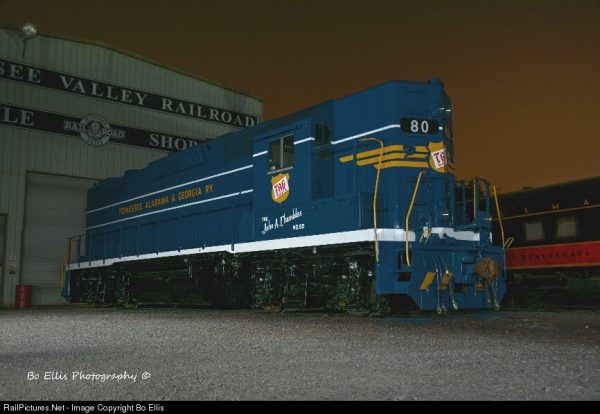 Tennessee Valley Railroad Museum and Norfolk-Southern Railway have fully restored one of the engines that ran on the Tennessee-Alabama-Georgia Railroad (TAG) back in the day.
The TAG route went from Alton Park in Chattanooga through Flintstone, to Kensington, through Pigeon Mountain, within a few miles of LaFayette, down to Menlo, then on to Gadsden Alabama – and that's where this locomotive could be seen every day for nearly two decades.
After the TAG was bought out by Southern Railroad in the 70's this engine, the 80, was moved to general service all over the country under the Southern, then Norfolk-Southern lines, renumbered as engine 2879.
The 80 / 2879 carried a nameplate honoring John B. Chambliss, a Chattanooga lawyer who saved the railroad from bankruptcy in the 20's and served as its CEO for the next half century. That name was painted over just a few years before the engine was retired, about ten years ago.
After retirement from Norfolk-Southern the engine was bought at an auction by the railroad museum. It was stored there for years, then mechanically restored at NS's engine shop and cosmetically restored by the museum.
Tennessee-Alabama-Georgia RR rails were closed between Kensington and Gadsden in 1981. Parts of the remaining line between Flintstone and Kensington (leased to another railroad by then) were washed out during the 2009 floods, and with Dow-Reichhold shut down there was no longer any business reason to keep it open – it was officially abandoned south of the state line in December 2009.
Now we've got the TAG engine back, but there's sadly no longer a TAG rail line to put it on.

LU has been working on a multi-page post about the history of Walker County railroads. The piece has been in development since 2009, but is unfortunately far from done. This is a tiny, tiny bit of the research included in that long article that might very well never be complete.