2015
08.09
Charlie's Cafe on the downtown square, which opened last spring, has closed. But the building won't be empty: a new eatery is slated to occupy the same space, with a new name.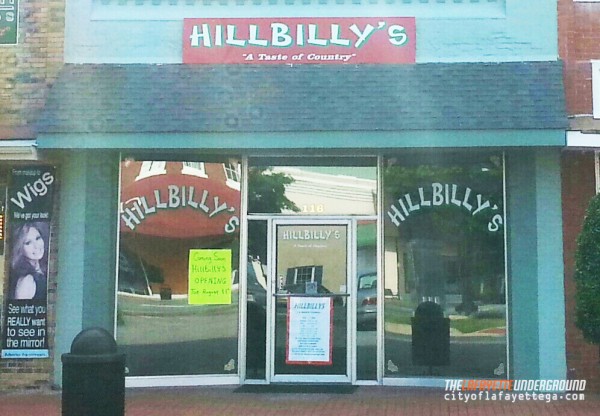 Per an employee of the NEW business, a meat-n-three type restaurant named "Hillbilly's" will open where Charlie's was, with new owners and management. The store will offer country cooking, plus ribs, shrimp, and burgers.
Hillbilly's will operate Tuesday-Saturday and MIGHT be open as soon as this Tuesday, August 11th. A formal announcement is forthcoming.
Recent Local Health Inspections:
The lowest health inspection score in recent weeks (for the south end of Walker LU covers) was an 85, earned by Queen City Bistro on July 28th. They were cited for a series of minor issues, including tomatoes too warm in a cooler, prepared food not dated, a leaking cooler, and mops stored improperly.
The next lowest score, an 86, was issued to Manor House Restaurant at Mountain Cove Farms on July 30th. The county-owned enterprise had a bag of moldy cheese and poorly cleaned equipment.
Wanda's in Rock Spring wasn't much further ahead with an 87. Issues there on July 22 included no soap in a hand wash sink and a reach-in cooler barely holding proper temperatures.
An 88 was handed to China Buffet on August 5th. Problems at the Asian all-you-can-eat were related to the amount of time items were left on the bar and a few condiments on the bar not protected by a sneeze guard.
Shepherd Hills nursing home rounded out the B scores on July 21st with an 89. Inspectors found dirty equipment, bacon not cooled fast enough, and over-diluted sanitizer.
LaFayette Healthcare / Pruitt Health Nursing Home: 91
Krystal: 94
Southern Bliss: 95
Twins Pizza: 95
Arby's: 96
Ivy Cottage: 96
Walker County Jail: 96
Subway at Walmart: 99