2015
06.30
Local July 4th / Independence Day celebrations and fireworks:
LAFAYETTE FREEDOM FESTIVAL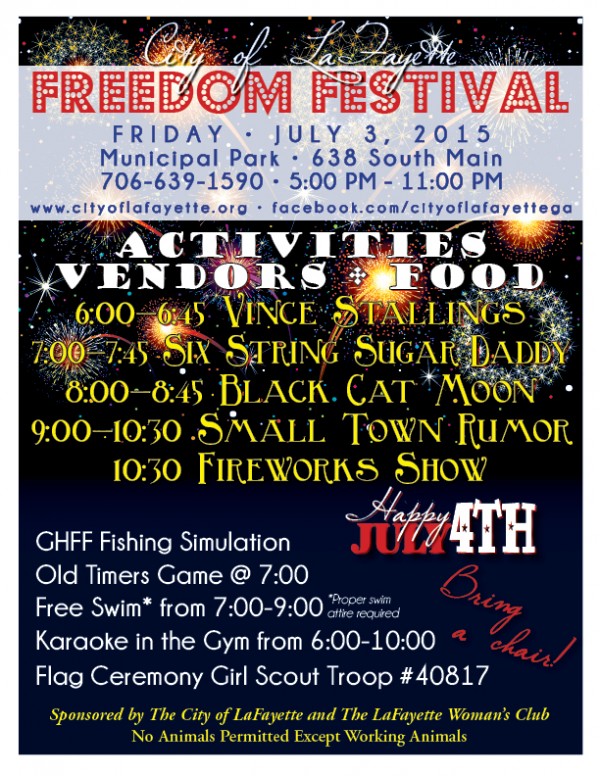 SUMMERVILLE FIREWORKS SHOW
PATRIOTISM AT THE POST
LAKE WINNIE FIREWORKS
Annual fireworks shows at Lake Winnie will be Friday and Saturday nights at 10 PM. Included in the price of park admission. Open 10 AM to 10 PM both days, $33.95 admission for Lake Winnie and adjacent SoakYA water park. 1730 Lakeview Drive, Rossvegas.
DRY CREEK TRACTOR PARADE
CHICKAMAUGA BATTLEFIELD
"At Chickamauga Battlefield, a living historian will present a "common soldier" program at the Chickamauga Battlefield Visitor Center, Lafayette Road, in Fort Oglethorpe, at 9:30 a.m., 10:30 a.m., 11:30 a.m., 1:30 p.m., 2:30 p.m., and 3:30 p.m. These programs will explore the lives of average people who fought at Chickamauga, and will include the firing of a Civil War era musket.
"There will be ranger guided car caravan tours of the battlefield at 10 a.m. and 2 p.m. Tours will begin at the visitor center and last approximately two hours. Visitors are encouraged to bring a lawn chair, wear clothing appropriate for the weather and bring water. There are no admission fees for programs at Chickamauga Battlefield."
Also: real fireworks become technically legal in Georgia on July 1st, so the big home fireworks show you had planned anyway no longer falls outside of the law. Have fun.
Happy 4th of July!