2014
06.30
Commissioner Heiskell made it official during Thursday's county business meeting: Starting July 1st Walker County will pay $3,000 a month to have Mountain Cove Farms "professionally managed."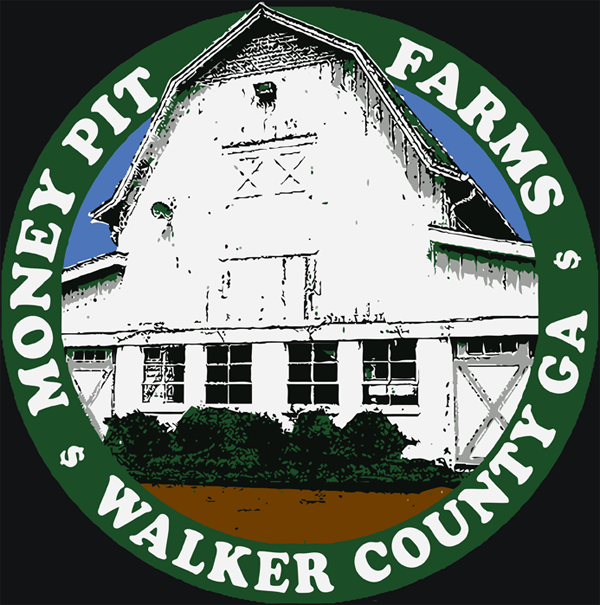 Another $36,000 a year to the Commissioner's money-losing dream farm – in a year when she's planning to raise property taxes. That amount would pay the salary of a library employee or fire fighter, or patch a few potholes on your road.
"Initially the management agreement will require the county paying $3,000 per month to CUSA for their staff and expertise. But as operations become profitable, something which Heiskell said CUSA has said should be readily doable, the monthly fee will shift to a payment of about 3 percent of receipts."
Bebe has insisted all along that the Farm makes money for the county. This confirms that it's losing money now and has been for a while. WHEN it makes money, this new company will start taking 3% of the profits. But for now as it continues to LOSE money, they'll charge the county $3,000 a month.
(That $3,000 a month would provide 750 free trips on Walker Transit to our elderly, disabled, or indigent residents..)
WQCH Radio, 06/27/14:

"CUSA, LLC, BASED IN KENNESAW, GEORGIA, WILL TAKE THE REINS ON JULY 1st. THEIR MANAGEMENT TEAM WILL RUN THE MANOR HOUSE, RESTAURANT, STORE AND OTHER FACILITIES AT THE COUNTY-OWNED FARM.
"COMMISSIONER BEBE HEISKELL SAID THE AGREEMENT IS ON A TRIAL, 'MONTH TO MONTH BASIS' – NOT A LONG-TERM AGREEMENT.
"WALKER COUNTY WILL BE PAYING THE MANAGEMENT FIRM $3,000 PER MONTH, AND CUSA WILL HANDLE THE BUSINESS, MARKETING AND HUMAN RESOURCES AT MOUNTAIN COVE. EMPLOYEES WILL CONTINUE TO BE PAID BY THE COUNTY."
Wonder what kind of made up jobs CUSA will find for Bebe's family and friends who work out there now?


Clara Edwards, accused of killing a foster child in her care, was released Friday on $75,000 bond. As a condition of her release, she's forbidden from contacting anyone in foster care, elder care, or any children under 6 without supervision.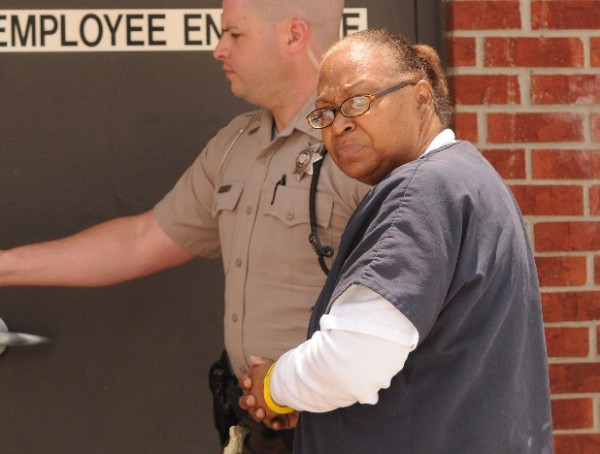 Edwards' own attorney got a gag order issued on everyone involved in the case, including others in the foster care system and law enforcement. So far almost everything publicly reported about the case has been gleaned from documents leaked from within DFCS.



If you couldn't (or wouldn't) make it out to Freedom Festival Friday night, here's a quick video of the city fireworks show.
(Saturday evening's free public movie at Joe Stock Park, unlike the fireworks, was rained out and will be rescheduled.)


WQCH Radio, 06/28/14:

"LAFAYETTE'S LARGEST SHOPPING CENTER WAS THE SCENE OF A COUPLE OF ARRESTS LAST WEEK.
"35 YEAR OLD JEREMY RAY CONLEY WAS PICKED UP BY LAFAYETTE POLICE ON CHARGES OF THEFT BY DECEPTION AND GIVING A FALSE NAME. SECURITY AT WALMART TOLD POLICE THAT CONLEY APPARENTLY FOUND ANOTHER CUSTOMER'S RECEIPT, BROUGHT IT INTO THE STORE, PUT THE SAME ITEMS FOUND ON THE RECEIPT IN A BUGGY, AND THEN ASKED CUSTOMER SERVICE FOR A CASH REFUND.
"WHEN POLICE ARRIVED, CONLEY GAVE THEM THE NAME AND ADDRESS OF A DECEASED RELATIVE. THEY FOUND LATER THAT HE HAD AN OUTSTANDING WARRANT FOR PROBATION VIOLATION.
"JUST DOWN THE WAY, IN FRONT OF BEALL'S OUTLET, A 29 YEAR OLD WOMAN WAS ARRESTED AFTER FIGHTING WITH HER ESTRANGED HUSBAND. APRIL DAWN VAUGHN WAS MEETING WITH HER HUSBAND IN THE PARKING LOT TO RECEIVE CHILD SUPPORT, WHEN THE FIGHT BROKE OUT. WITNESSES TOLD POLICE SHE BIT HER HUSBAND ON THE NECK AND SHOULDER. SHE WAS CHARGED WITH BATTERY-FAMILY VIOLENCE, AND CRUELTY TO CHILDREN, 3rd DEGREE. THE LATTER CHARGE CAME FROM ALLOWING THE FAMILY'S THREE CHILDREN TO WITNESS THE ALTERCATION."
Other local arrests, June 19-25.



Shaw will convert a closing warehouse on Depot St. in Ringgold into a carpet recycling facility. Company previously announced a throw-rug plant in Ringgold will be converted to producing vinyl tile.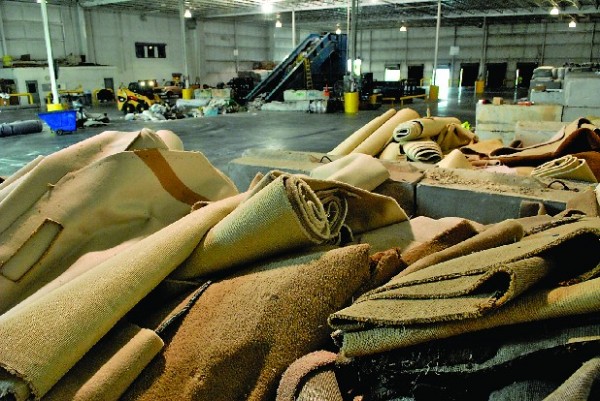 Gov. Deal cites the plants as part of his economic success story for the state, failing to mention that the recycling operation and vinyl plant will employ 330 fewer people than the operations they replace.


Governor candidate Jason Carter is asking GA Attorney General Sam Olens to reopen an investigation into Nathan Deal's 2010 campaign.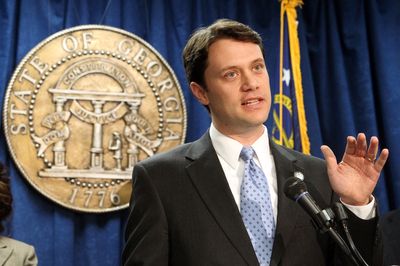 The investigation into finance irregularities in that campaign was ended by an Ethics Commission director appointed by Deal; her firing of subordinates concerned about the investigation's close led to the whistleblower lawsuits recently settled for $3 million.
One of the whistleblowers who recently got $1.8 million from the state to drop her lawsuit says the Ethics Commission is broken and dysfunctional with many jobs left unfilled.


More details emerge about Chattooga's County Fair planned for Summerville in August.
Walker County is supposed to also be having a fair in September, at Money Pit Farms, but there's been nothing announced about it for months… Did Bebe forget?


From our friends at Picnooga.org: Seeing 7 states (not really) at Rock City in the late 1960's.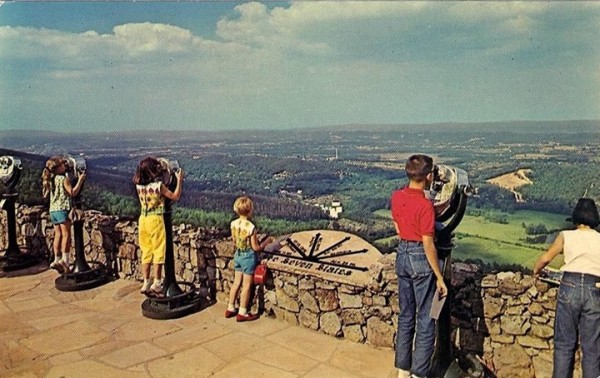 "Mom all I can see is Georgia."


Over the years LU has gotten multiple reports about various locals in prison who stay in contact with the outside world illegally using smuggled phones.
Now GA Department of Corrections has created a site to report prisoner cell phone or Internet usage.
This is a Big Deal because some inmates have used their phones to intimidate former victims or witnesses, set up drug deals, or even arrange hits against enemies from behind bars.
It's also a Big Deal because people in prison are supposed to be punished by losing privileges. (Some of you wouldn't know the difference as long as you still had Facebook.)


Last week the US Supreme Court ruled police must obtain a separate warrant to search someone's mobile phone after they're arrested.
The ruling slightly sets back police authority to investigate criminal activity but greatly preserves privacy for everyone who comes in contact with law enforcement.


Georgia technically allows school districts to choose between "traditional" and "integrated" math curriculum, but the state's current CRCT and upcoming new standardized test platform both assume students have been taught the integrated way.
Georgia is one of only four states that still pushed integrated math, years after schools in other areas have rejected it.


It's an election year, which means we can't have any more kids dying as the state sits by watching.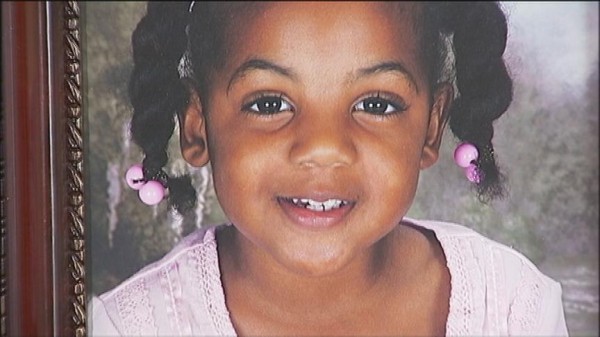 All Georgia DFCS workers are required to work a minimum 8 hours overtime each week through the end of July to catch up on the state's backlog of child abuse cases. The governor has also freed up funding to hire 175 new caseworkers.


As expected, the state's court-ordered efforts to move mentally disabled people from state hospitals to "group homes" has been a disaster. About 10% of the former hospital patients have died, some from neglect and abuse.
A state run mental hospital in Rome was closed several years ago as part of an agreement between Georgia and the federal government. Plans to close three other facilities have been delayed due to the impossibility of caring for seriously mentally disabled people without institutionalization.
This whole mess started at the federal level with a poorly-conceived lawsuit meant to improve the way Georgia cares for its mentally disabled residents.


Earlier this month the FBI made 71 prostitution arrests and freed 11 children who were being exploited in the Atlanta area.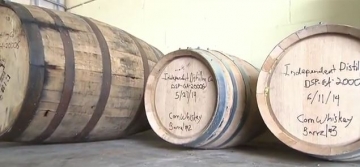 Micro-distilleries, small boutique breweries, are getting "big" in Georgia. The state now has eight with more on the way.


Georgia Department of Driver Services (DDS) is hoping more GA drivers will renew their licenses online instead of using local offices.


"Whoever corrects a mocker invites insults; whoever rebukes the wicked incurs abuse.
"Do not rebuke mockers or they will hate you; rebuke the wise and they will love you.
"Instruct the wise and they will be wiser still; teach the righteous and they will add to their learning." (Proverbs 9:7-9)

Is your mood impacted by the number of positive or negative posts you see on Facebook?
According to scientists working for the site, it is. They verified that by secretly manipulating the content Facebook users saw on their own feeds.
Some users are less than amused by the site manipulating them as part of a pointless experiment.


For today's links and any breaking news, follow the Underground on Facebook or Twitter.