2012
05.23
According to sources, huge cuts are coming to the library system soon. Lost funding will mean reduced hours and reduced staff. It's not clear yet which supporting entity is cutting, could be county, school systems, or cities – we'd guess schools considering their recent announcements about budget trouble.
It'll just add fuel to the fire to get a separate property tax for the library system. If Bebe is reelected that's going to be one of her goals for the next term. No reduction in county taxes and an additional tax paid directly to the library just like the separate tax paid to support schools.
That separate library tax would be fine IF the county and schools would cut their property tax proportionally, stop collecting the amounts they have been giving to the library system. Otherwise it's another deal where they push things people want to support out on a limb of extra taxes while keeping the crap nobody would vote for in the general budget. Dade County is about to adopt a system like that for its portion of the two-county library system, and Walker will do the same if Bebe Heiskell gets another term.
When it's all said and done, we'll have a beautiful new empty library to look through the windows of.

Don't forget, qualification to run for office in Walker County begins this morning at 9. We don't need to see any uncontested races this year.
Qualification for state offices (state legislature) must be done in Atlanta. For info about local qualification, see yesterday's Daily Update.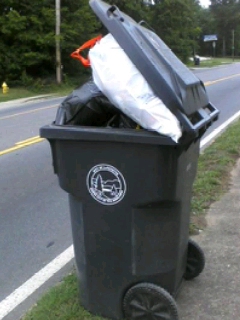 This is the final week of May, which means the once-per-week garbage schedule should be done soon.
So far we've heard from virtually nobody who likes the "experiment" schedule better than the old. Garbage falls out of the new cans because they're over-filled, city employees are spending time collecting spilled trash (which is good of them), and over half the city still doesn't have a new larger can.
According to Councilman Davis, the city never intended to give every citizen a larger can during May, only as their old cans were replaced; The plan seems sort of destined to fail, if the larger cans are necessary for making it work and the city knew at least half the town wouldn't have them during the trial.
Expect the council to decide in June about resuming permanent twice-weekly pickup and a new higher fee for all city garbage residents. That's the only other option they've presented, and the current option hasn't worked at all.

Chattanooga Times Free Press: "Tilapia to be raised at pioneering Rossville facility"

GA Republicans have decided to add several ballot measures to their July ballot, including one about gambling, one defining personhood for the unborn, and one about ethics rules in the legislature.
For today's links and any breaking news, follow the Underground on Facebook or Twitter.