2011
12.06
POST-ELECTION UPDATE:
The Chattanooga Times Free Press reports that Chris Davis and Judy Meeks won today's election. Davis topped Donnie McGaha 147 to 203, while Meeks bested no-show Hollis 206 to 146.
As we noted, the Ward 3 race was Chris Hollis' to lose, and he did exactly that – lost an easy contest by committing political suicide. His disappearance from the race is a real disappointment for those of us who believed in his ideas and fought to give him a chance to implement them. He won't find such eager support if he ever decides to run for office in this community again.
The LaFayette City Council is scheduled to meet next Monday night at 7:30. New councilor Ben Bradford, who's taking the remainder of Norm Hodge's unfinished term, should be a member by then. Davis and Meeks will attend their first meeting in January.
ORIGINAL POST:

Today (Tuesday December 6th) is the runoff election for LaFayette City Council. Polls will be open at City Hall on Duke Street from 7 AM until 7 PM. Voting in the previous election on November 8th is not required to vote in the runoff, but registration and residency requirements still apply.
The two contested races are City Council Wards 3 and 4.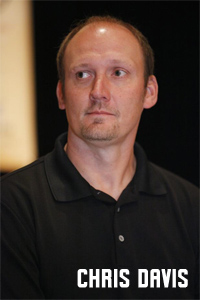 In ward 4, retiree Donnie McGaha faces real estate agent Chris Davis. Davis came in second on November 8th, but only lost to McGaha by a single vote – 172 to 173. This one will be a nail-biter and may come in close again once every vote is counted.
The Underground originally endorsed Kevin Robinson for Ward 4, but in his defeat our endorsement falls to Chris Davis. Davis provided some solid answers to the questions asked of Ward 4 candidates, although he did skip a few – but McGaha refused to respond to any of them, making him relatively unknown and hard to evaluate. Either man will probably be fine on the council, and either will likely surpass their Ward 4 predecessor, Eric Tallent.
Meanwhile, the Ward 3 race has gone weird.
On November 8th, former LaFayette City Judge Chris Hollis came out on top of the Ward 3 race, beating former councilor Judy Meeks by forty votes (218 to 178). Meeks barely squeaked by political newcomer Stacey Suttle, who was only four votes behind her. That set up Hollis and Meeks for the runoff vote.
Hollis presented the best ideas of any candidate and was the only one we truly felt would be willing to buck the system and go against entrenched leaders like Mayor Florence. His campaign was well run, and he connected with voters by making door-to-door visits all over the city. But now that the runoff is at hand, he seems to have fallen off the face of the earth. Outside of a single Facebook post on December 1st, he's made no contact with anyone we've talked to and has (so far) not returned phone calls from Underground reporters.
Unconfirmed rumors of infidelity and family problems have circled around Hollis since the regular election ended, and one claims that he's moved out of the city – which would make him ineligible to serve on the council if he wins today's vote. Hopefully none of it is true; not only would that be an embarrassment and disappointment for those of us who have endorsed him and worked hard to help him win, it will put the city in real hot water with Judy Meeks likely taking back her seat as Ward 3 councilor. That means a police department with no accountability, and a return to the way things have been in LaFayette for the last three decades.
Voters should still pick Hollis today. Regardless of what's going on in his personal life, he has solid ideas and he's a better candidate than Meeks. The Underground endorsement of Hollis still stands. If voters choose him but he for whatever reason does not serve, the city's problems will be his responsibility, not ours. All we can do is vote – the rest is up to him.

Interview with candidate Hollis begins at the 1 hour mark.
Elections officials contacted by the Underground were unsure what would happen if Hollis wins but is deemed ineligible to serve. Either his closest opponent will take the seat, or (more likely) the seat will be declared vacant and require another special election early next year. Another election would be preferable to just handing the seat over to Meeks, which is what will happen if Hollis voters don't turn out to support their candidate, wherever he is.
This article will be updated if we hear from Mr. Hollis before the polls close.