2016
07.30
Tomorrow, July 31st, marks four years since Walker County voters rejected Dr. Paul Shaw as a potential commissioner, instead siding with incumbent Bebe Heiskell in the July 2012 Republican Primary that decided that year's election.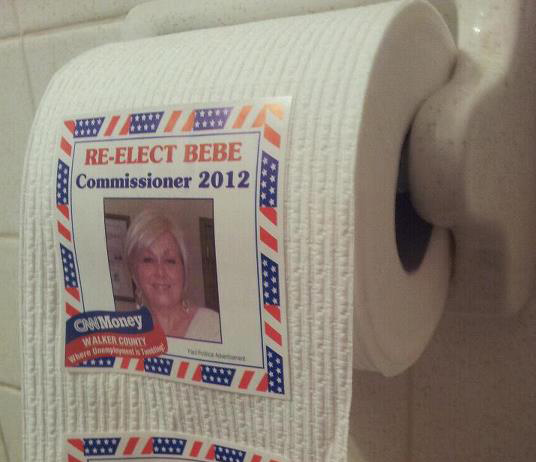 Heiskell's fourth term has been a disaster for every citizen, regardless of how they voted (or if they didn't vote at all). Higher taxes, massive county debts, loss of services, deeper political corruption, and further deterioration of the economy and home values inside the county have resulted from voting choices made in July 2012.
Made even worse, the voters that year had no excuse because information about Heiskell's ethical shortcomings and bad intentions was readily available to anyone willing to look for it and accept it.
Will voters follow her, or a candidate resembling her, off a cliff again this fall?
The three candidates scrambling to be commissioner next year – Heiskell, Perry Lamb, and Shannon Whitfield – were all on TV this week (if UCTV counts as real TV), making their case for votes.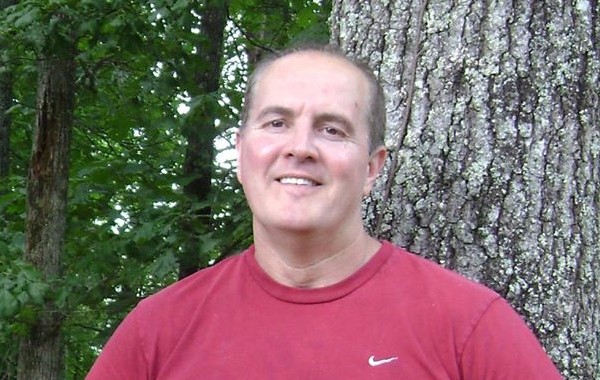 A highlight of Lamb's UCTV appearance Thursday night include a promise to be a hands-on road commissioner, "in my jeans and boots getting dirty if I need to." He said the county needs more diverse businesses and said he wants to create an environment that will invite more restaurants into the community.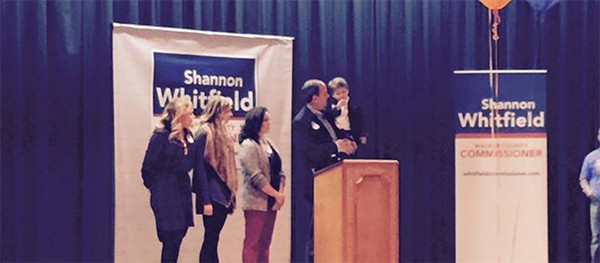 Whitfield, on UCTV Friday morning, vowed to spend county money on a satellite sheriff office in Rock Spring – another expensive, empty building along the lines of Commissioner Heiskell's empty, pointless community centers.
Friday night Heiskell tried top top Whitfield by committing county funds to a sheriff office in Rossville, and claimed an illegal campaign donation made to her by Audia is acceptable because it was for a golf tournament. [More on that tomorrow.]
Meanwhile, a social media group run by Whitfield supporters has begun kicking out anyone who questions or challenges the candidate because he can't defend himself or explain his positions any better than Heiskell does.
Lamb and Whitfield, but likely NOT Heiskell, will be in Rossville tonight for Sunset on the Pond, where voters can meet with them directly.
The November election is 100 days away, and can't possibly get here too soon.





Truck-hating downtown square claims another victim.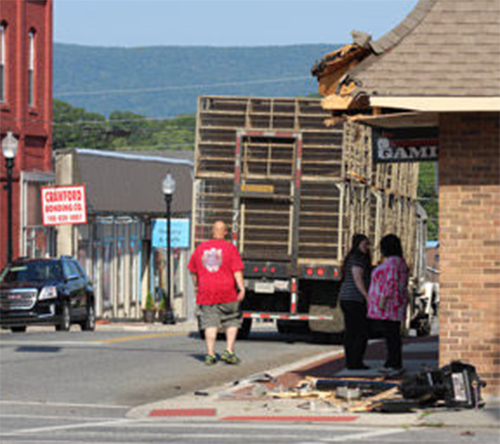 Monday morning a chicken truck damaged the Stronghold Gaming building and took down a sign on Main and Villanow because (per police) a car pulled too far forward at the stop sign.
The city has formally banned trucks from driving through the square, but that ban does no good when a truck has to deliver to a business in town, or (as apparently happened here) the driver isn't a local and follows a map or GPS directions, which don't include city truck restrictions.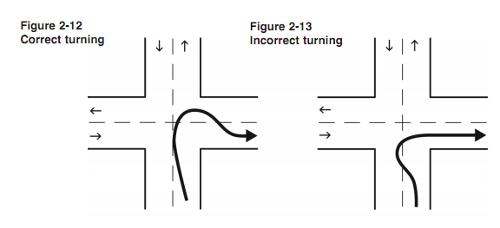 Another problem is other drivers, many who've never operated anything bigger than a Honda Civic, who don't understand how much space a large truck or bus need to take a right hand turn. Per the law, vehicles like that one have to cut into the opposing lane of the road being turned onto. When another stopped vehicle pulls too far forward, that isn't possible – which is why the lines are back so far.
In LaFayette specifically, the most recent rehab of downtown sidewalks and signage made turning even more difficult for large vehicles – a situation that prompted the city's ignored truck restrictions in the first place. (The GDOT employee who designed LaFayette's truck-unfriendly sidewalk/signage/road redo for the square last time must own stock in a company that sells road signs and crosswalk equipment.)


Carousel Inn in Trion is so filthy, dilapidated, and the source of so many 911 calls/DFCS incidents that a Trion city judge has threatened to have the place shut down.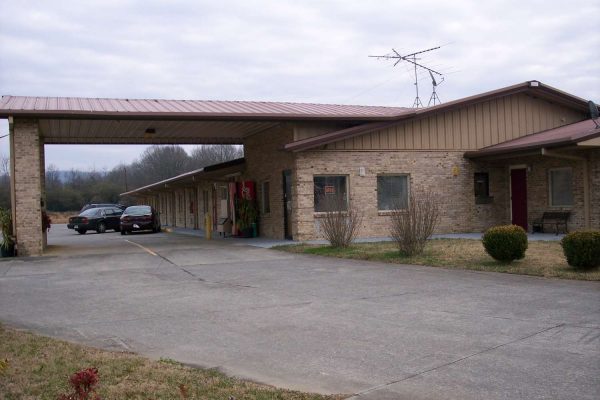 Owner Mahendra Patel recently avoided a shutdown by having smoke detectors installed minutes before officers arrived, but still faces thousands of dollars in fines for 122 different citations related to the condition of his nasty, nasty motel.
Noted problems include unwashed/damaged bedding covered in hair, filthy vents, incorrect electrical repairs, lack of smoke detectors or fire extinguishers, poorly installed doors or locks, mold, roaches, and an average of ten 911 calls per month for the last two years.
All that and it's still got a two-star rating on TripAdvisor – and is ranked #1 on that site for lodging in Trion.


LaFayette Lion update: LHS teacher Cody Lee claims he spotted TWO cougars crossing the bypass near Warthen Street Tuesday night around 6 PM.
After sharing a report about Lee's story on LU Facebook, a number of others chimed in – saying they spotted a pair of deer crossing the same road around the same time.
No valid photos of the animals have yet to surface.


Libraries are useless relics in the modern age, or so they say.
Somebody forgot to tell the LaFayette branch or its customers.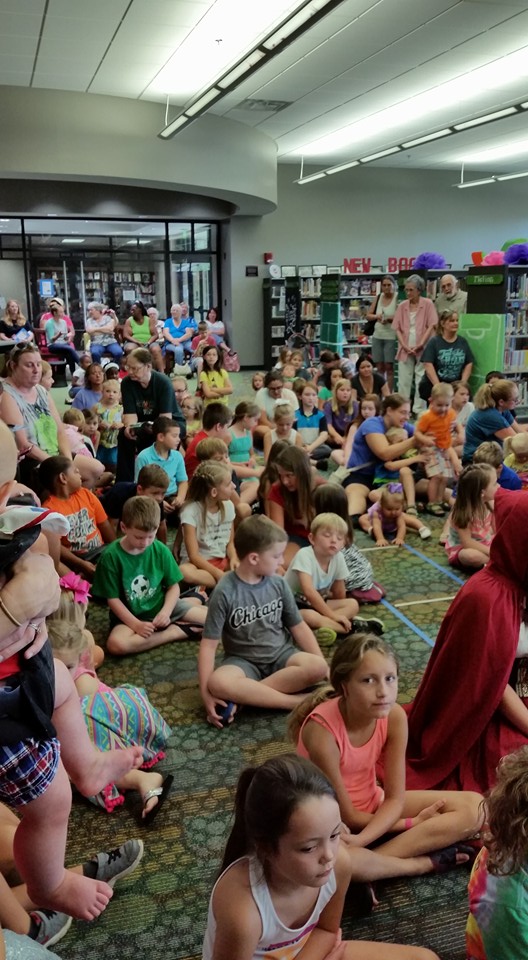 Despite having continual funding problems because the county, state, and school system don't make libraries a priority, this branch has thrived and serves thousands.
It's not homeless people looking for a place to get out of the heat. The majority, vast majority, of users are children, middle class people, older folks.. It's books, internet, media, history, youth activities, genealogy, social activities for older folks, meeting rooms… What would we do without this?


Lookout Mountain fire, from a resident perspective.


♬ You picked a fine time to leave me, loose-wheel. ♬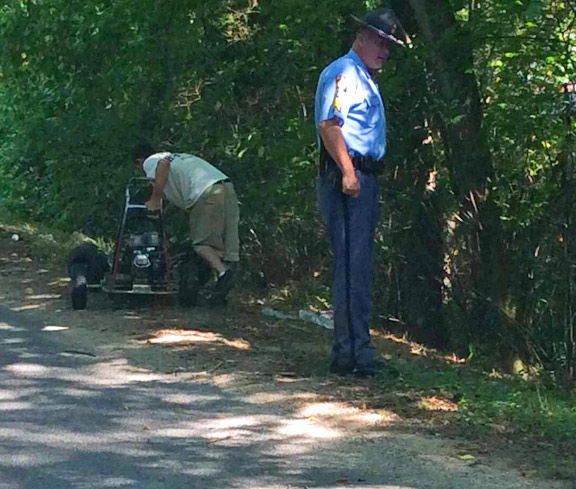 A 40-year-old Chickamauga man sustained injuries Monday morning when the go-cart he was riding off Wallaceville School Rd. threw a tire.


Vikul Vinobhai Patel, a Chattanooga doctor charged with attempted child molestation in Walker County, will not be going to prison. He will, instead, go back to India.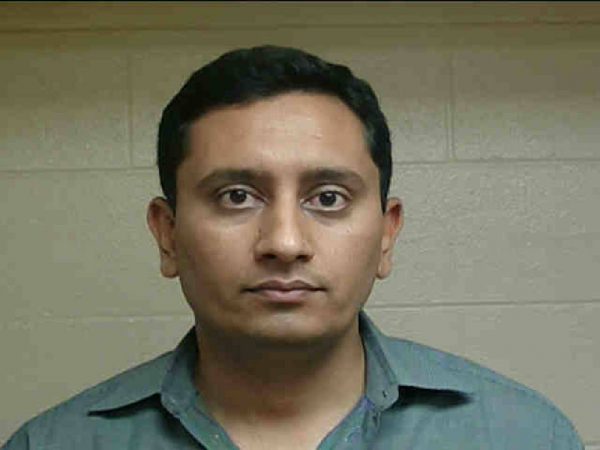 Patel was busted in a 2012 online sting involving the FBI and Rossville police. Several of the officers involved were later found to be giving inappropriate roles in their police work to people outside law enforcement. The FBI eventually shut down its Dalton crime unit, which is still being investigated.
There is a lot that went wrong with the "Crimes Against Children Taskforce." They prosecuted some people who probably shouldn't have been, and because of their sloppiness some who should have/would have been prosecuted were not – which is what seems to have happened here.
Dozens of others involved in the stings have been sent to prison for discussing molestation or rape with local cops online, and they didn't do anything more than Patel did. He's just lucky enough to work out a deportation deal with the District Attorney's office instead of taking a plea involving jail.


Annual sales tax holidays on certain back-to-school items is being held this weekend in Georgia and Tennessee.
The TN tax holiday runs Friday-Sunday, in Georgia it runs Saturday and Sunday.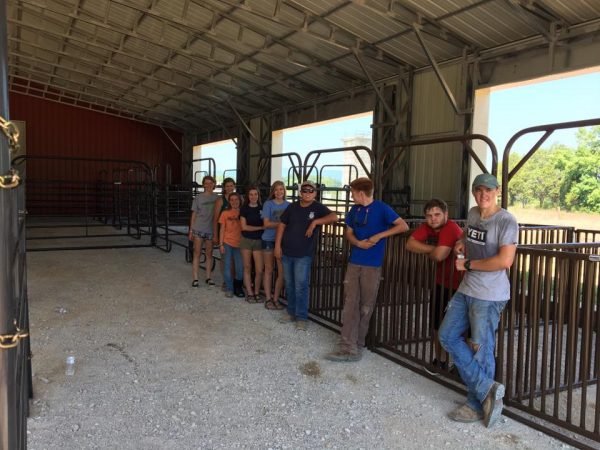 New FFA livestock barn at LHS is nearing completion.
Students have been assisting with the barn's finishing touches as the new school year approaches.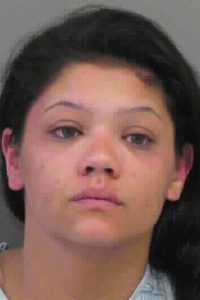 Last Thursday a patient slipped away from Cornerstone Medical. She was apprehended by Fort O. cops near Sears Shoe Store, and tried to resist going back into care.
27-year-old Shalandia Marie Reed is charged with simple battery and obstruction of officers.
Reed was originally brought to the hospital by Walker County deputies for undisclosed reasons – most likely something mental.
Now she's out of the hospital and in jail.


Last February, Ronnie Music, Jr. of Waycross won a $3 million Georgia Lottery jackpot.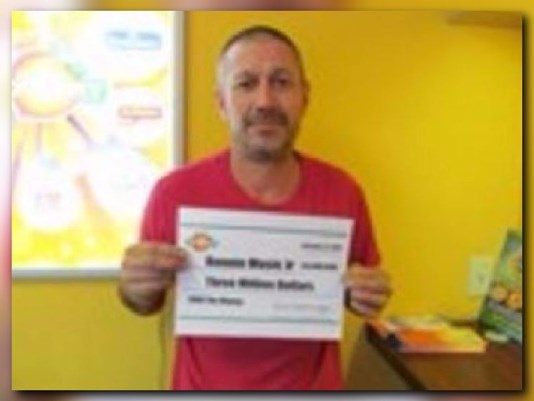 He allegedly used his winnings to start a business – distributing meth.
Love what you do and you won't work a day in your life…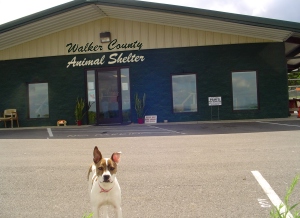 Alison Smith, manager of the Walker Animal Shelter, says her long-term goals for the facility are to make it a no-kill shelter – and ideally relocate it to a location more accessible than the garbage dump.
Right now they have 50 dogs and 30 cats ready for adoption – a number that seems not to fluctuate much, since more animals come in than ever find homes.
A strong "Friends of the Shelter" group would be helpful to meet the shelter's financial goals, but that organization seems to have gone inactive since Virgil Sperry passed away.
Also helpful to the shelter? A commissioner and county government that would consider humane care of abandoned animals more than a distraction.


Due to the ongoing drought, LaFayette city government asks citizens on city water to conserve the precious H20.
Grass watering is, and has been, illegal between 10A and 4P.


Georgia State Parks introduces a program for dog owners: Tails on Trails Club.
$15 gets a membership card allowing leashed dogs on select trails inside seven state parks. The closest to our area is Fort Mountain Park past Chatsworth.


For today's links and any breaking news, follow the Underground on Facebook or Twitter.