2016
07.01
LU will be on Holiday break through the July 4th week. Updates will return July 11th.
Have a great Independence Day holiday.
Walker County's most famous son has returned home after a long vacation.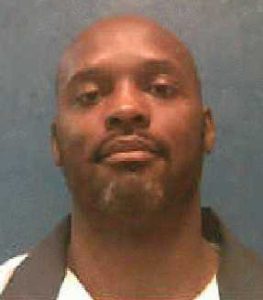 Tommy Ray Brent Marsh, former operator of infamous Tri-State Crematory, was released from prison Wednesday after completing his 12-year sentence for hundreds of counts of theft. Theft for services he collected money for but never performed; 330+ bodies sent to funeral homes all over the region meant to be cremated and returned but instead left mouldering in the woods behind the Marsh family compound.
Brent, now in his 40's, returns to the arms of his loving mom Clara.
Ms. Marsh was an owner of the crematory, its CFO, and lived literally yards away from where bodies were found – but for reasons known only to Steve Wilson and Buzz Franklin, she was never prosecuted for her role in the disaster. Only Brent was held responsible despite the role other family members played.
The Tri-State Crematory incident involved over 330 sets of human remains, cost Walker County millions of dollars, and put tiny Noble, Georgia on the world stage – for the worst reasons imaginable.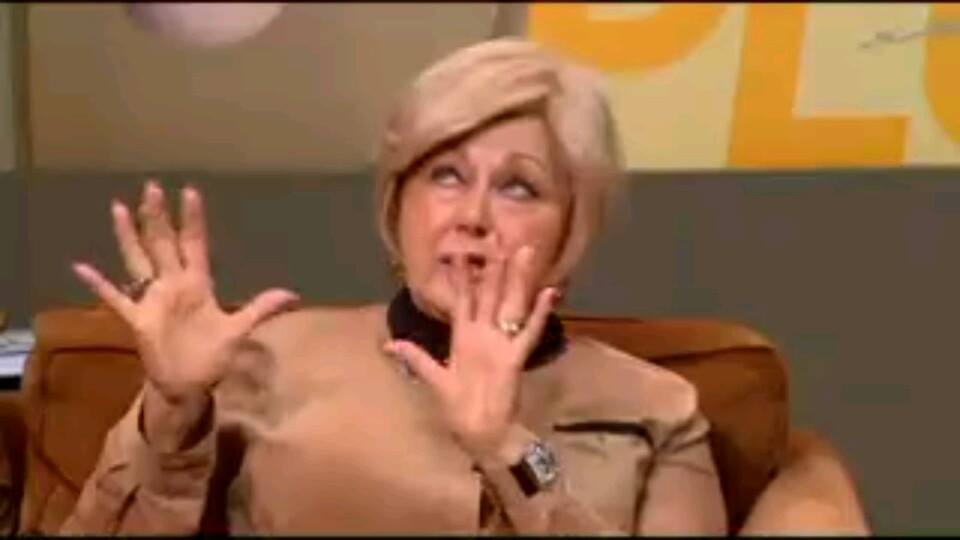 As her time in office draws to a probable end, there's a real risk that Commissioner Heiskell will sell every bit of county property she can, either to repay her past supporters with sweet deals or try and prop the county up financially through the election so we don't know how bad things are.
Some assets, like the ambulance service she already sold and garbage dump she's trying to sell now, could actually be moneymakers for the county under the right management – but if they're already long gone, future commissioners won't have them available to manage.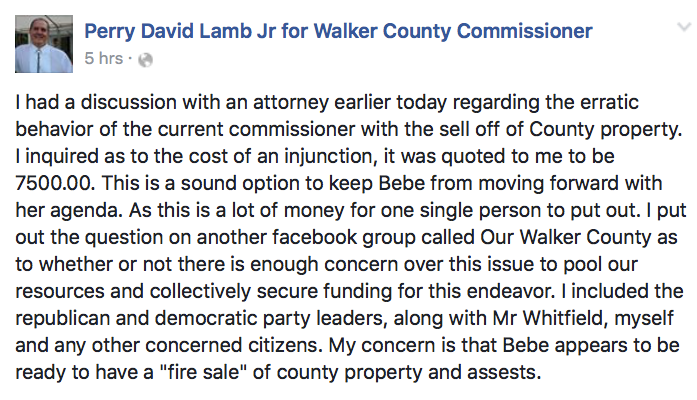 Perry Lamb says an injunction to block Bebe from selling major assets could be filed for about $7,500, and challenges his opponent and leaders of both political parties to join him in raising the necessary funds. Will they respond and work together, or will they sit back and watch Bebe burn the county all the way down financially on her way out the door?
Lamb has to pay $3,400 Friday to the county so he can officially qualify as a commissioner candidate, and says he doesn't have anything close to $7,500 left after that to get this taken care of legally.
There are plenty of people who recently joined the anti-Bebe bandwagon who have the funds (or the lawyer skills) to make this happen. If they can't step up, it indicates where their loyalties really lie.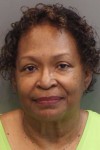 Clara Edwards won't face a second trial for killing a foster child in her care.
Monday afternoon the 60-year-old Catoosa woman pled guilty to a lesser charge of voluntary manslaughter.
Combined with her earlier conviction for cruelty to children, Edwards earns a sentence of twenty years in prison.


Walker County's legal strategy regarding the Erlanger lawsuit and Hutcheson debts continues to devolve in a juvenile direction.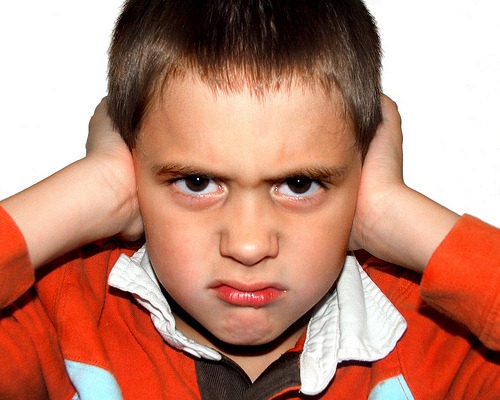 The county says, again, that it owes none of the money owed to Erlanger because a debt agreement the county signed with the hospital authority isn't legal. The logic? Erlanger of Tennessee can't be involved in a government agreement involving Georgia entities. Even though the county signed the deal to begin with.
If this legal strategy works, which it certainly will not, there will never be another out-of-state company willing to do business with or in Walker County again.
The point? Kickin' that can full of debt a little further down the road, until the November vote.


After years of promising to open satellite Sheriff's Offices around the county, one may finally open inside Ridgeland Business Park off Happy Valley Rd.
WQCH Radio, 06/25/16:

"PLANS ARE 'COMING TOGETHER' FOR A NEW SATELLITE SHERIFF'S OFFICE IN THE ROSSVILLE AREA. SHERIFF STEVE WILSON AND CHRIS CARLTON OF CARLTON PROPERTIES, LLC, TALKED TO THE WALKER COUNTY DEVELOPMENT AUTHORITY THIS WEEK ABOUT THOSE PLANS.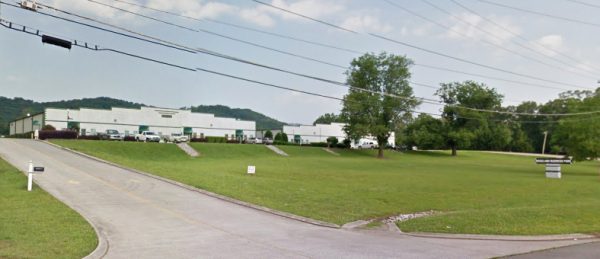 "ACCORDING TO AUTHORITY EXECUTIVE DIRECTOR LARRY BROOKS, CARLTON HAS OFFERED ABOUT 800 SQUARE FEET OF SPACE FOR THE SATELLITE OFFICE IN HIS BUSINESS PARK, LOCATED ON HAPPY VALLEY ROAD AT WILSON ROAD.
"THERE WAS DISCUSSION OF BUILDING A NEW SATELLITE OFFICE, BROOKS SAID, BUT IT APPEARS THAT MR. CARLTON WILL BE DONATING THE SPACE TO THE COUNTY FOR A TAX BREAK.
"ORIGINALLY, THERE WERE PLANS TO CO-LOCATE A SATELLITE SHERIFF'S OFFICE WITH THE COUNTY TAX OFFICE IN FAIRVIEW – BUT THERE WAS NOT ENOUGH SPACE FOR BOTH."
Hopefully this will work out as suggested: a free space donated for a tax write-off.
But we'll believe it when we see it: the county's new million-dollar tax office in Rock Spring was also supposed to be "donated" for a tax write-off, at least when they first discussed it publicly.
Also, why can't they use one of the county's dozen-plus fire stations? Is there more to a satellite sheriff office than a place to park a car or two and drink coffee?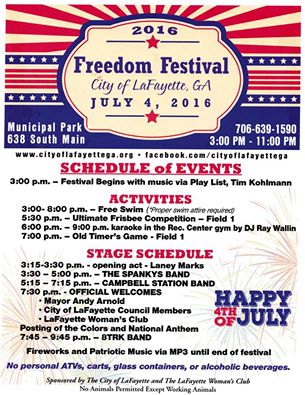 This year's Freedom Festival WILL be held on the 4th of July, next Monday.
Also coming to town this weekend: Moonshine Music and Arts Festival, at Cherokee Farms. A slightly less family-friendly event, per the usual for that venue.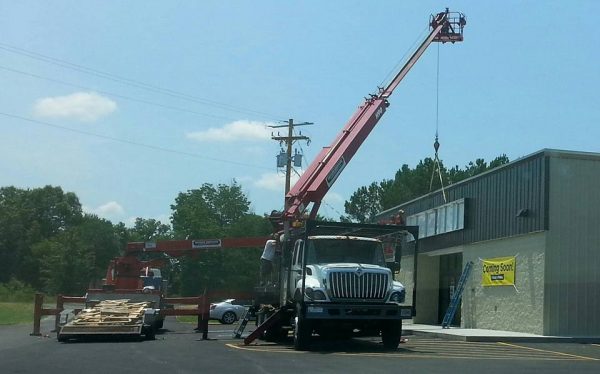 The new Dollar General on 151 Spur near the Walker/Chattooga line got its signage Monday.
The store opened for business on Wednesday.


Last month a jury decided Broadrick Shropshire's shooting of Ricky Jackson in 2014 was justified, a situation of self defense.
Shropshire got his life back, but Jackson remains dead – and their families, entwined for the last 150+ years, are bitterly divided over the killing.
The Shropshires and Jacksons may never have peace again; emotions don't go away even when a court case ends.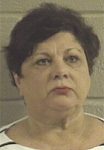 Whitfield County's Magistrate Judge, Kay Cope, has resigned after being arrested last weekend for DUI.
Cope already decided not to run for reelection after 32 years of public service in the legal arena.
She was the subject of a complaint last year that claimed she was intoxicated on the job.


Georgia Department of Corrections has set the date for its next execution, this year's record-setting 6th.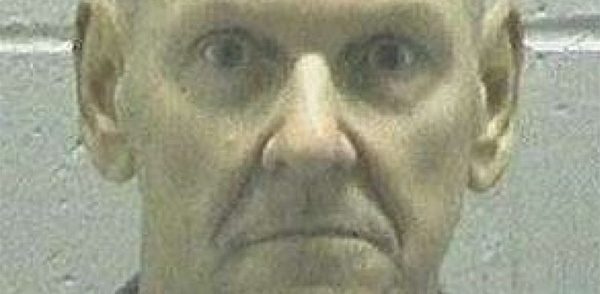 John Wayne Conner, who beat a man to death over a woman in 1982, is set to get the needle on July 14th.


Arrests and jail bookings for Walker County, June 13-26.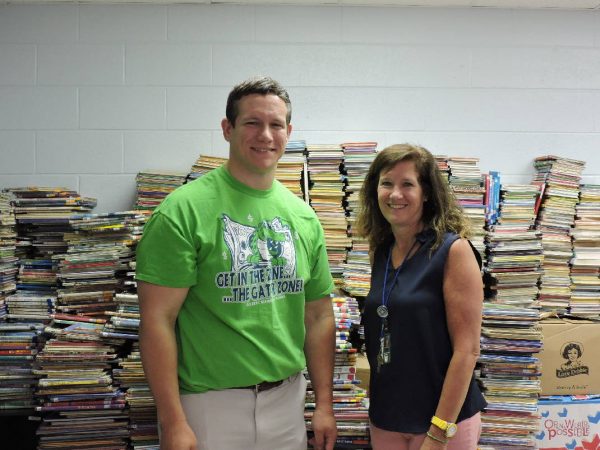 This summer Gilbert's library is being renovated to refocus on music, science, crafts, hands-on learning, and technology.
The books, too, will remain – at least in part.


Georgia's Ethics Commission has a rare victory for ethics, holding a (Black, Democrat) county commissioner from the Atlanta area responsible for illegally spending campaign funds on a club membership unrelated to campaigning.


Walmart rolls out a new payment app in local stores.

The company says its mobile phone program provides a better shopping experience for customers and supports multiple methods of payment.

For today's links and any breaking news, follow the Underground on Facebook or Twitter.