2016
06.27
Summerville car dealer goes to jail after being caught speeding, in a stolen car, with drugs.
WQCH Radio, 06/23/16:

"LAFAYETTE POLICE RECOVERED AN 88-THOUSAND DOLLAR BMW, STOLEN IN ATLANTA, PLUS ILLEGAL DRUGS, IN A STOP [last] SATURDAY AFTERNOON.
"THE INITIAL REASON FOR STOPPING THE BMW M-4, WAS SPEEDING. THE ARRESTING OFFICER'S RADAR INDICATED THE VEHICLE WAS DOING 65 ON THE LAFAYETTE BYPASS IN A 45 MPH ZONE.
"CAR DEALER JASON PAUL VAUGHN OF SUMMERVILLE WAS AT THE WHEEL, AND SAID HE WAS GOING TO HIS SON'S BALL GAME. AN NCIC CHECK SHOWED THE BMW HE WAS DRIVING HAD BEEN STOLEN IN ATLANTA. VAUGHN TOLD POLICE HE HAD BOUGHT IT FROM ANOTHER DEALER AND HAD NO IDEA IT WAS STOLEN.
"INSIDE THE VEHICLE AND IN VAUGHN'S BRIEFCASE, POLICE FOUND METH AND LOOSE PRESCRIPTION PILLS.
"HE WAS CHARGED WITH FELONY THEFT, OBSCURED VEHICLE I.D., POSSESSION OF METH AND SCHEDULE-2 PILLS AND SPEEDING."
Being a car dealer, Mr. Vaughn would have absolutely no way to check out a vehicle or make sure if it was stolen or not before purchasing it.
Vaughn owns a car sales/rental business formally incorporated with a Summerville PO box only a few months ago; his brother Barry owns an RV dealership in Summerville, and both have connections to the owner of infamous TruckTown dealership.
Authorities would do well to closely check out all of those businesses.
[Mugshot from Vaughn's Tennessee speeding/DUI arrest back in February.]


The Perry Lamb campaign collected about 50 more voter signatures Saturday in Rossville, passing the 1,640 minimum (and 2,000 goal) needed to add Lamb's name to the November ballot as a candidate for Commissioner.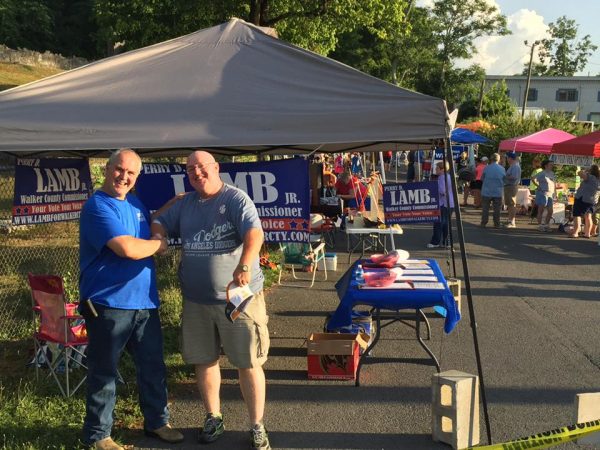 Lamb himself showed up for an event called Sunset on the Pond, greeting people and answering questions. Shannon Whitfield wasn't there personally, but he had people giving out t-shirts and water. (Bebe wasn't there either, and neither were her people – if she even has people anymore.)
Do you want the next commissioner to be out in public, meeting voters, shaking hands, and answering questions for himself – or do you want a man who hides, sends others to speak in his place, and hands out party favors instead of answers?
Meanwhile, Lamb's campaign was finally mentioned by local media last week, months after he announced plans to join the race.
Of course it's a press release since the local paper and radio station have so far refused to acknowledge his campaign on their own, but maybe this will raise awareness among voters that they have an option besides the two candidates from Chickamauga.
Signing Lamb's petition doesn't commit you to voting for him, you can still vote for Whitfield (or even Bebe if you're an idiot), but it gives us an alternative candidate if something happens to the others – plus he's a representative of LaFayette who's been a lot more enthusiastic about dumping the broken sole commissioner system than Heiskell or Whitfield have been.
The Lamb petition can be signed in a number of fixed locations around the county, including Stu's Barbershop and Talespinner Outdoors in LaFayette.



Saturday afternoon a vehicle fire briefly disturbed the peace and quiet of Chattahoochee National Forest in southeast Walker County.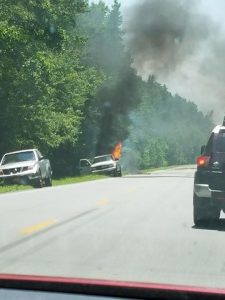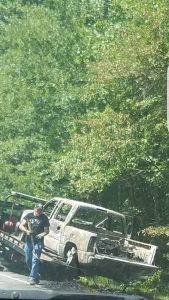 This Chevy truck burned to a crisp on Easy Hwy 136 past Villanow near the Walker/Gordon County line.



Ridgeland student Savannah Vann is battling lymphoma, blood cancer.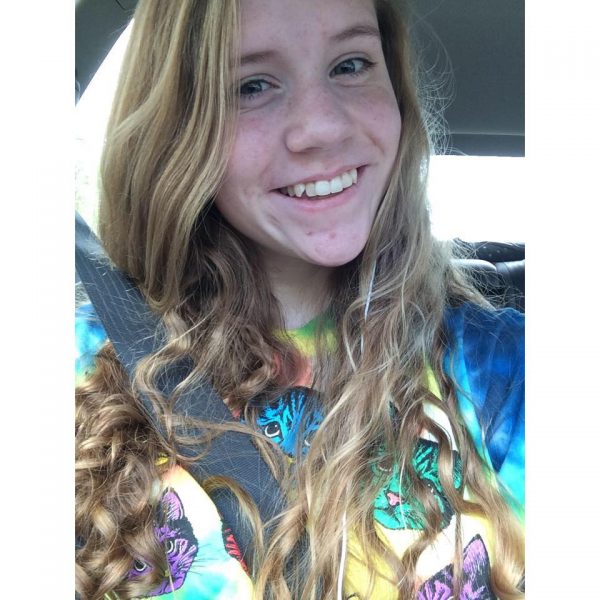 Vann's family has been in and out of the hospital with her recently, and it puts a financial strain on the family – so Ridgeland has set up an account in her name, to help make things a little easier.
RHS will have staff available all summer Monday-Thursday 8-4 (except next week, for July 4th) who can accept donations for this purpose. You can also call the school at 706-820-9063.


Daniel Peabody, until this month an SRO with Cherokee County Schools, is facing a charge of animal cruelty for letting his K9 officer die in a hot car after work.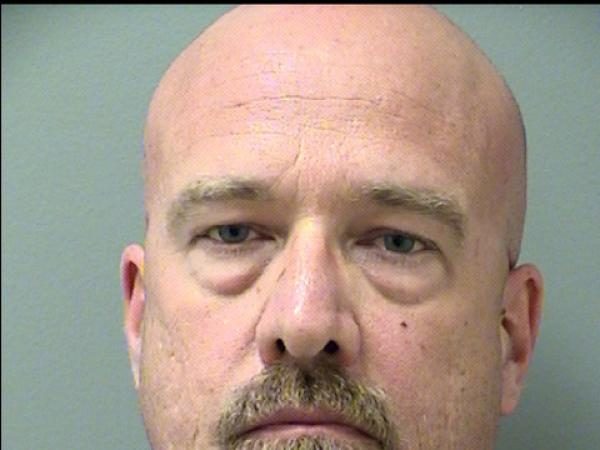 Investigators in Cherokee Co say his school system-provided vehicle didn't have proper safety equipment for carrying an animal inside, and the dog died of heat exposure after being left in the vehicle for approximately three hours.
Peabody is also charged with making a false statement, in regards to a retired service dog he adopted from a police agency in 2012 and then apparently shot – claiming that the animal choked. That dog's remains have been exhumed from Peabody's yard for closer examination.
Since 2013, five K9 officers in Georgia have been killed – but only one (Tanja here in Walker) died in the line of duty at the hands of a criminal. The other four animals died because their handlers left them inside a hot car.
That makes Georgia 1st in the country for police dog hot car deaths.



Walker County arrests, June 16-22.


A bizarre exchange between a suspect and judge in Floyd County a week ago is making news around the country.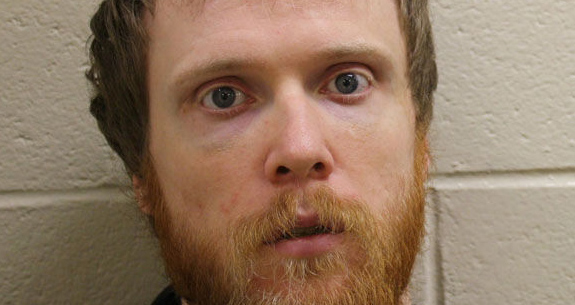 Denver Allen, accused of murdering a fellow inmate behind bars last fall, spent most of his time in court insulting and threatening the judge. Floyd Superior Court Judge Bryant Durham gave most of the insults right back. [Second link is NSFW, R-rated – don't say you weren't warned.]
Complete court transcript of the whole thing, atrocious from both sides, here.


Country star Rissi Palmer was in Summerville over the weekend to film a new music video and give a public concert.
Palmer, country music's top selling black female artist in thirty years, has family connections to Northwest Georgia.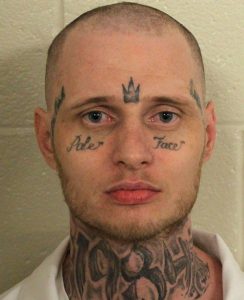 31-year-old Christopher Dale Hudgins of Rome faces at least thirteen criminal charges related to a phone scam he was running from behind bars in Autry State Prison.
Investigators say this cutie was calling random people all over the country with a smuggled burner phone, pretending to be a Floyd Deputy demanding payment for made-up warrants.
Dozens of prison guards, some involved in getting him the phone(s) used, have already been arrested for their roles in the scam and others like it.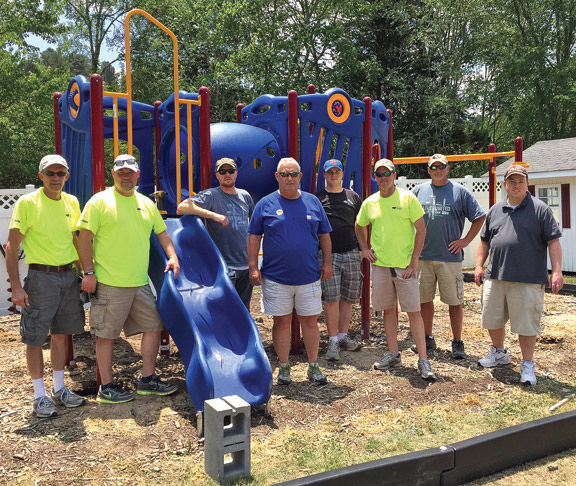 Family Crisis Center of Walker, Dade, Catoosa and Chattooga now has a new playground, thanks to community donations and volunteers from Shaw's plant in Ringgold.


Georgia, a supposedly conservative freedom-loving state, requires LIBRARIANS to have a license.
This summer 978 library workers in GA will have to cough up $75, prove they haven't been convicted of a handful of crimes, and submit proof of continuing education classes to an entity called the State Board for the Certification of Librarians.
"Ma'am, before you read to these preschoolers I'm going to have to see your license."
God forbid we have unlicensed people running our underfunded libraries, reading to children, or shelving books. (College and school librarians are exempt.)


For today's links and any breaking news, follow the Underground on Facebook or Twitter.