2015
07.15
Walker County was hit by strong wind, lightning, and heavy rain Tuesday – damaging property and leaving many in the dark.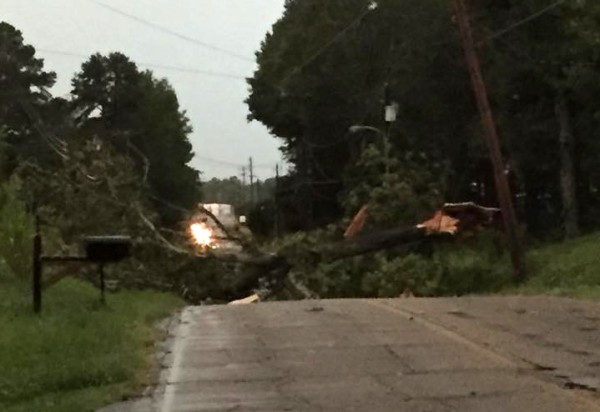 North Georgia Electric had over 2,200 customers in Walker and another 2,300 customers in Chattooga without power around midnight. As this is written about four hours later, the company had restored service to all but roughly 1,500 homes in both communities with many projected to rejoin the grid by 7 AM.
LaFayette Utilities power was also knocked out for at least half the town for over an hour, due to downed trees like the one above on South Chattanooga St. between Roper and Bronco Rd.
Trees weren't the only casualties; This barn on West Armuchee Rd. was also claimed by the strong winds.
Clearer perspective on damage will be possible after the sun comes up.






While the lights were out, traffic on the north end of town was disrupted by a two-vehicle accident.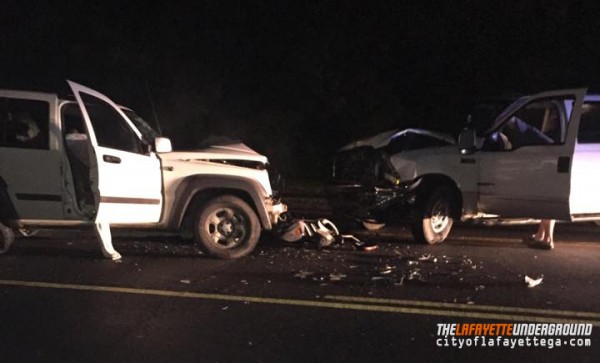 This wreck on North Main in front of the State Patrol office involved a Jeep Liberty being driven by a young couple and a pickup operated by a middle-age man. Bystanders say all involved came out OK, if a bit shaken up.
It's not clear if the wreck was related to weather or (as suggested) caused by a tire failure on one of the vehicles.


Two weeks ago, Commissioner Bebe finalized purchasing the former Covenant Bank / Stearns Bank building in Rock Spring. Total purchase price is $700,000 plus another $130k to "remodel and furnish" the facility.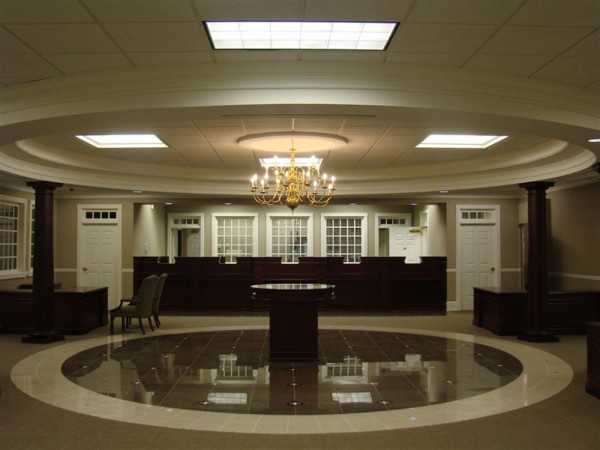 Bebe and her backers say the purchase is a good deal for what the building is worth, but it's hardly necessary – more space than we need, replacing a usable building, and taking yet another site off the list of taxable properties.
WQCH Radio, 07/06/15:

"COMMISSIONER BEBE HEISKELL SIGNED 'ON THE DOTTED LINE' THURSDAY [July 2] AND WALKER COUNTY COMMITTED TO A LEASE-PURCHASE OF THE FORMER STEANS BANK BUILDING AT ROCK SPRING.
"THE SIGN WILL SOON BE CHANGED TO READ 'WALKER COUNTY LOCAL GOVERNMENT SERVICES' AND WILL HOUSE THE TAX ASSESSORS AND TAX COMMISSIONERS OFFICES.
"THE COUNTY IS BORROWING FUNDS FROM STEARNS BANK IN THE DEAL, AND WILL MAKE PAYMENTS FOR THE NEXT 41 MONTHS. THE TOTAL IS 700-THOUSAND FOR THE BUILDING, WITH ANOTHER 130-THOUSAND BORROWED FOR INTERIOR REMODELING AND FURNISHINGS TO FIT OFFICE NEEDS.
A year ago Walker County was broke and raising taxes. Now the entities responsible for assessing and collecting those taxes will be getting brand new furniture and enjoying a shiny new office lit by chandeliers. Remember that when Heiskell raises your property tax again THIS year and blames the economy, 9/11, out-of-county shoppers, aliens, or whatever else she comes up with.
"COUNTY ATTORNEY DON OLIVER EMPHASIZED THAT THEY GOT A GREAT DEAL ON THE BUILDING AS THE COUNTY'S INSUROR INSISTED THE BUILDING BE VALUED AT 1.9-MILLION FOR REPLACEMENT.
An insurance agent asking the county to buy more insurance isn't related to building value, it's a move that makes more money for HIM. No wonder the agent's wife comes to public commissioner meetings and heckles people who ask Bebe questions.
"IT'S ESTIMATED THAT EMPLOYEES WILL BE MOVING FROM THE FORMER KITCHENS CLINIC BUILDING IN LAFAYETTE TO THE NEW GOVERNMENT SERVICES BUILDING IN A MONTH TO A MONTH-AND-A-HALF. OFFICE TELEPHONE NUMBERS WILL REMAIN THE SAME, WITH A LAFAYETTE LOCAL '638' PREFIX.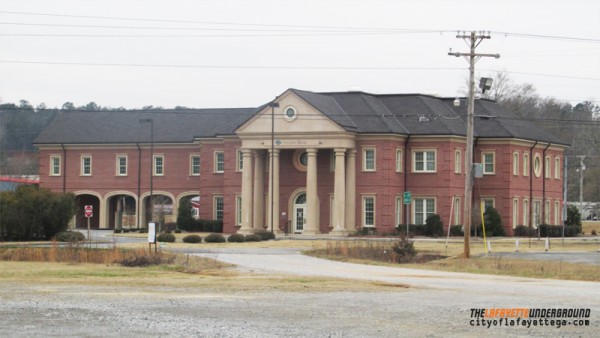 "COMMISSIONER BEBE HEISKELL SAID THE CITY OF LAFAYETTE WILL BE GIVEN THE SOUTH MAIN STREET ANNEX BUILDING AS SOON AS COUNTY OFFICES MOVE OUT. 'THEY'VE TOLD ME THEY PLAN TO USE IT FOR STORAGE', HEISKELL SAID. ONE OFFICE WILL REMAIN IN THAT BUILDING FOR NOW: THE ENVIRONMENTAL HEALTH OFFICE."
As noted before, the environmental health office that performs restaurant and hotel health inspections should know, better than anyone else, what kind of building is safe to use. Their decision to stay in the soon-vacated Kitchens Clinic office shows again how mold claims for that facility are overblown if not outright fabricated.
Bottom line: regardless of how great a deal it is, Walker County doesn't need this building.
You can save money buying a Mercedes at the year-end sale, but not as much as you'd save buying a Chevy at regular price. You can save even more by keeping that old Ford that doesn't have a payment on the road for a few more years. Or do like Bebe does: buy a new Porsche on sale and blame world + dog for her budget problems. OUR budget problems.


Joe Cowan, who was involved in a Chickamauga motorcycle accident on June 13th, passed away from his injuries Tuesday afternoon.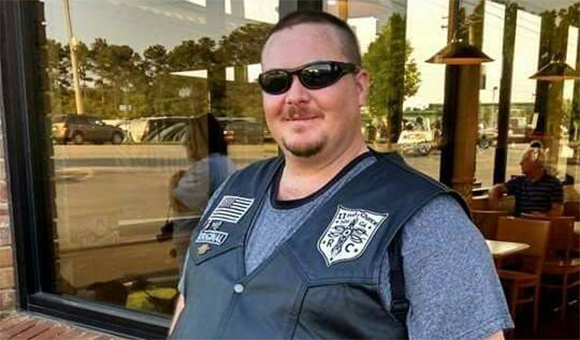 Cowan's step-daughter was on the bike too, and she came out relatively fine. This is a sad situation but thank God it's only one death and not two as it easily could have been.
It's unclear if his passing will impact any charges being filed against the woman accused of pulling out in front of him a month ago.
So far no arrangements have been announced.


Per Sheriff Wilson, July 5 fire at Corinth Church started near an ice machine in the church kitchen. Fire is still considered to be an accident.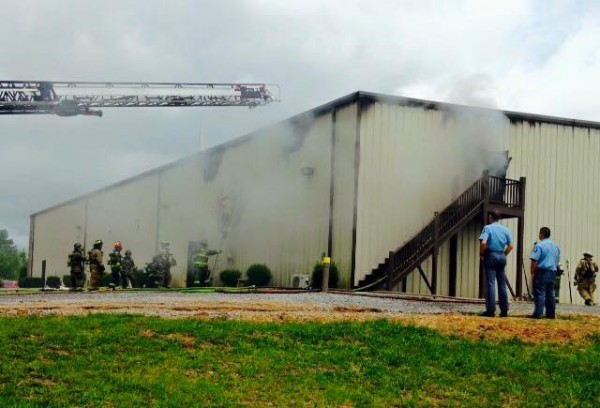 (Fire marshall or fire department normally comment on these, not sure why Wilson is making the statement in this case. Either way, it's not a suspicious fire..)


New leadership for LHS band:
WQCH Radio, 07/06/15:

"THE LAFAYETTE HIGH SCHOOL RAMBLER BAND HAS A NEW DIRECTOR: BRANDON SELF.
"MR. SELF IS A NATIVE OF CHICKAMAUGA AND A 2012 GRADUATE OF JACKSONVILLE STATE UNIVERSITY, WHERE HE EARNED A BACHELOR OF ARTS IN MUSIC EDUCATION. IN COLLEGE, HE SERVED AS DRUM MAJOR OF 'THE MARCHING SOUTHERNER' BAND AND PLAYED IN THE PEP BAND AND OTHER ENSEMBLES."
Self will replace Robert Clark, who's been credited for turning the band around in recent years. Mr. Clark reportedly left LHS to further his own education.


Walker County has a new juvenile court judge.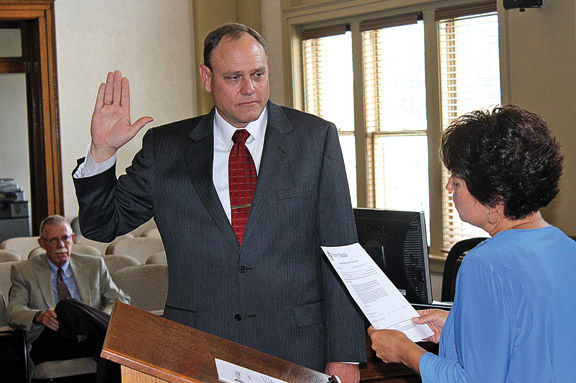 Steve Ellis of Chickamauga took the oath in late June and became judge on July 1st. He replaces judge Bryant Henry who retired after two decades on the bench.


Some businesses make themselves easy targets. Cash registers easy to open and no security cameras?
WQCH Radio, 06/27/15:

"A LAFAYETTE BUSINESS IS OUT SEVERAL HUNDRED DOLLARS IN CASH, AFTER A COUPLE DISTRACTED THE MANAGER AND OPENED CASH DRAWERS. IT HAPPENED TUESDAY AFTERNOON [June 23] AT THE VERIZON STORE ON PEARL DRIVE.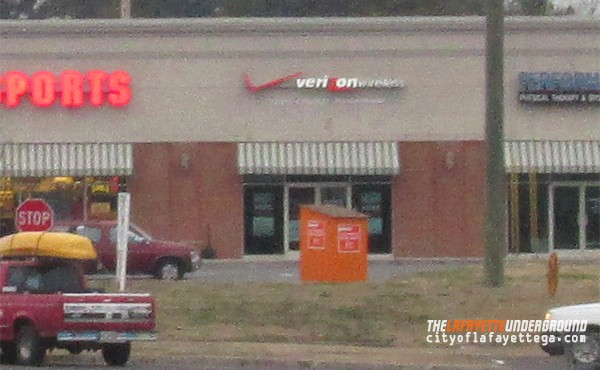 "MANAGER GABRIELLE TAYLOR TOLD POLICE THAT THE MAN KEPT HER ATTENTION, ASKING QUESTIONS ABOUT PHONES AND ACCESSORIES. MEANWHILE, THE WOMAN APPARENTLY OPENED BOTH CASH DRAWERS AND TOOK A TOTAL OF $628, ALL OF THE PAPER MONEY IN THE DRAWERS.
"THE COUPLE THEN LEFT IN A 90'S MODEL WHITE TOYOTA CAMRY, POSSIBLY WITH A GEORGIA TAG. SHE DESCRIBED THE MAN AS 6 FEET TALL WITH A 'BUZZ' HAIR CUT, WEARING A WHITE T-SHIRT. THE FEMALE WAS ABOUT 5′ 4" WITH SHORT HAIR AND ONLY TWO FRONT TEETH.
"THE POLICE REPORT STATES THAT THE CASH DRAWERS IN THE BUSINESS MAKE NO SOUND WHEN OPENED, AND THE STORE HAD NO VIDEO SURVEILLANCE."
Not the first time this business has been robbed, either.
(A 6′ man with a buzzcut and a short lady with almost no teeth, driving a white Toyota. That describes half the county.)


Minor accident reported Tuesday afternoon at the Naomi 151/136 intersection turning towards Taylor's Ridge. No injuries.


Trionite Miranda Stanley arrested on Cavender St. in LaFayette for drug possession.
Also: Walker Co jail bookings for July 2-8 and July 6-12.
"Ronald Allen Heiskell, 52, state Highway 136, Chickamauga, driving while license suspended or revoked, seat belts violation (adults)"

On June 18, 2010, a 35-year-old mother of two was shot to death in her car by two Glynn County, GA deputies.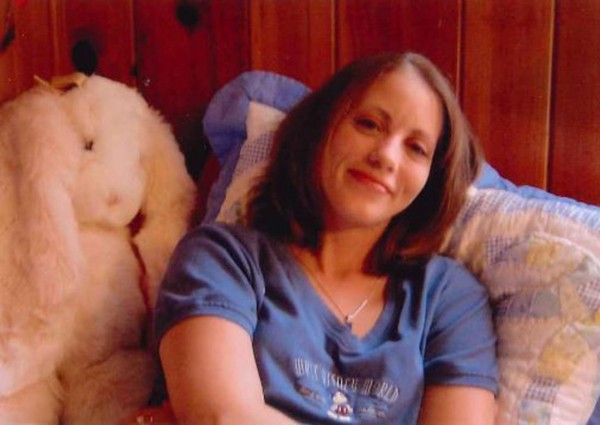 The death was unnecessary by most accounts, and the officers later bragged about the shooting. However, no charges were ever filed, and no punishment handed down, thanks to special treatment from the GBI, a crooked opportunistic DA, and corruption at every level.
Just another feature of Georgia's broken ethical system for police and judges.
If you think this can't happen here too, you're not paying enough attention.


Have you visited The Blueberry Farm this year?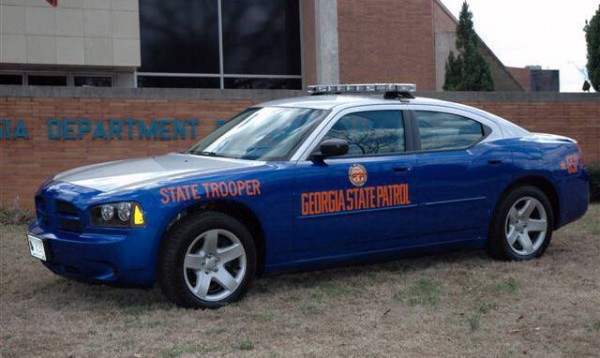 In the year since Georgia's "slow pokes" law started, GSP officers have written 320 tickets to drivers intentionally blocking passing lanes on state roads.


Considering going solar?
New state law allows solar power companies to finance panels by keeping profits made from selling extra juice back to utility companies.
Sounds like a good deal.


For today's links and any breaking news, follow the Underground on Facebook or Twitter.