2014
11.08
Today's steam train excursion through Northwest Georgia was unusual, because the trip featured two steam engines working together. That's the railroad museum's first steam double-header in over a decade.
This weekend's trips are it for the year. Steam trains will be back in LaFayette next fall. (For info on train schedules and tickets for all NWGA/Chattanooga passenger train activity, see the Tennessee Valley Railroad Museum Web site.)


WQCH Radio, 11/06/14:

"A LAFAYETTE COUPLE WAS JAILED BY THE DRUG TASK FORCE THIS WEEK. COMMANDER PAT DOYLE SAID THEY WERE FOLLOWING UP ON A COMPLAINT – IN THE ARREST OF JARRED KEITH HATHORN, AGE 40, AND JOY LOUISE HATHORN, AGE 36. THEY LIVE ON HILLSDALE ROAD.
"BOTH WERE CHARGED WITH POSSESSION OF MARIJUANA AND POSSESSION OF A FIREARM BY A CONVICTED FELON. MRS. HATHORN WAS ALSO CHARGED WITH DESTRUCTION OF EVIDENCE.
"IN ADDITION TO THE MARIJUANA AND FIREARM, OTHER SUSPECTED DRUGS WERE RECOVERED AND SENT TO THE CRIME LAB FOR IDENTIFICATION. OFFICERS ALSO FOUND EQUIPMENT FOR PACKING AND DISTRIBUTION, ACCORDING TO DOYLE."
(That's pretty bad when you've got drugs so obscure the local cops can't ID them.)


Per CatWalkChatt Facebook, this pickup truck drove off the side of Maddox Gap Rd. sometime Friday evening.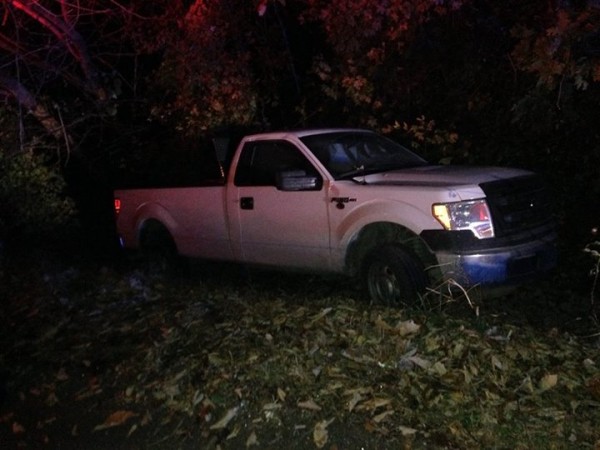 The driver, apparently intoxicated, was mostly unhurt.


Our thanks again to American Exotic Guitars for sponsoring this week's batch of Updates. AEG is a LaFayette-based builder of custom wood electric guitars. For a typical price of $2,100 to $3,500, you can have a handcrafted instrument featuring premium components designed – and made – in Northwest Georgia to your specifications.
Christmas shopping is here; what better way to say "I love you" to a real musician than presenting them with a real guitar? Slots are limited so contact Jason today at americanexoticguitars.com.


Last night's football game, LaFayette v. Ridgeland on the road, ended the seasons for both teams. Both went into the game with a losing year, with no hope for the playoffs.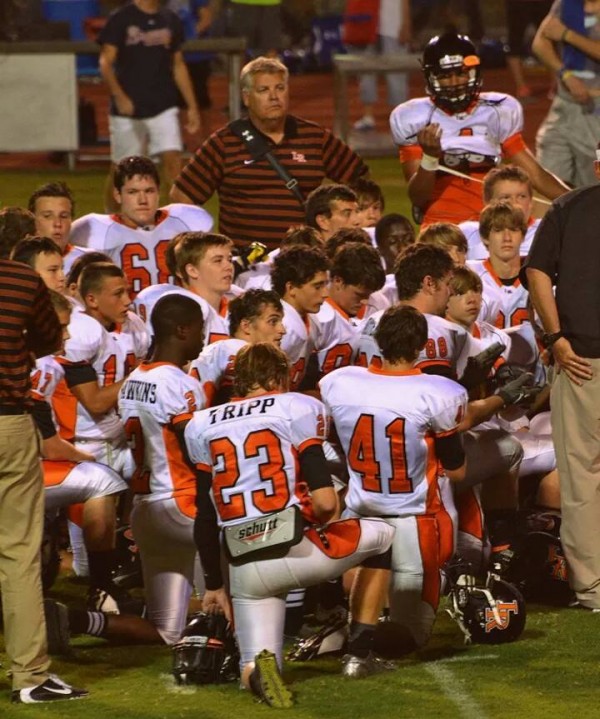 The only thing actually at stake was bragging rights over who beats who in the schools' endless rivalry. Unfortunately LaFayette lost those bragging rights, unable to repeat last year's victory. Final score: LaFayette 13, Ridgeland 49.
Thanks to LaFayette's defense, Ridgeland covered more yards – 614 – than during any other game of the 2014 season.
LHS goes 2-8 for the year, Ridgeland closes the book with 4-6.




Two men with Walker ties accused of an Alabama murder have been successfully transferred back to Alabama.
They were out of the county jail a week before the media was aware of it; details on what they allegedly did (besides kill somebody) are still vague.


Chattooga County's Democratic party has banned their sole commissioner, Jason Winters, from running for office again under the party banner – and threaten to expel him from party leadership. All because of his election support for Republicans, Gov. Nathan Deal and State Senator Jeff Mullis.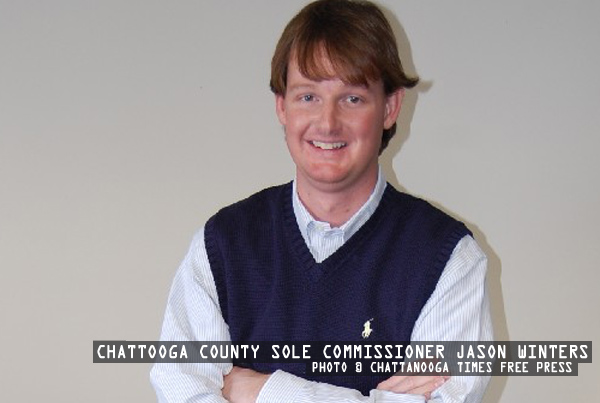 Chattooga Democrat leaders suggest Winters seems to be seeking a state job, an appointment from the governor. Winters denies that, saying he hasn't been offered anything by Deal (yet) but would serve if asked. He also says he hasn't yet decided if he'll seek another term as commissioner, but will have to register as an independent or run as a Republican if so.
Considering Winters' support for Deal and Mullis (plus his recent German vacation with the State Senator of Chickamauga), a party change probably won't be much of a problem for the young commissioner – especially since local Republicans have yet to meet an unacceptable candidate as long as he's got the right letter after his name on the ballot.
Funny how the political parties have no standards for members' behavior, ethics, transparency, or political leanings and only threaten to kick people out when they cross party lines.


More family members of inmates killed behind bars at Hays prison have filed a lawsuit against the state. They hope to prove the prison is liable for the deaths and want to bring attention to lingering problems in Georgia's jails.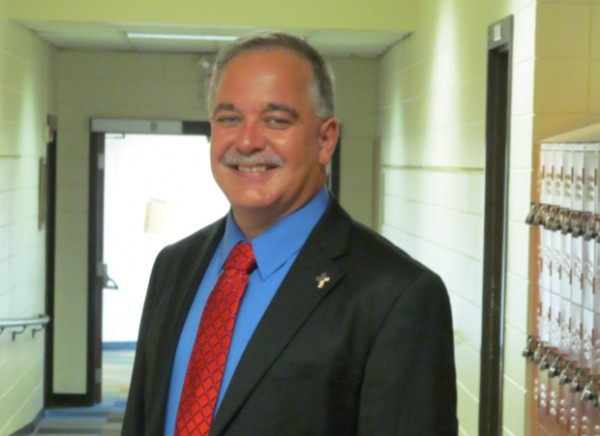 More election results: In January, Richard Woods will become Georgia's new School Superintendent – one of the few RIGHT choices state voters made on Tuesday. Woods hopes to resist some of the Common Core standards, delay a new testing system the state has developed, and provide students alternative ways to earn credits for math and english.
His defeated opponent, Valarie Wilson, says Woods will only make school funding problems worse.


WQCH Radio, 11/07/14:

"LAFAYETTE POLICE REPORT A BURGLARY FRIDAY, AT A LAFAYETTE HOUSING AUTHORITY APARTMENT ON FOSTER CIRCLE. THE BACK DOOR WAS KICKED-IN, AND 16-HUNDRED DOLLARS IN POSSESSIONS WERE STOLEN. ITEMS INCLUDED A BIG SCREEN TV, COMPUTER TABLET AND JEWELRY, ACCORDING TO THE POLICE REPORT. THEY PLAN TO QUESTION A 'PERSON OF INTEREST' IN THAT BREAK-IN.
"AND A SMALL FLATBED TRAILER WAS REPORTED MISSING FROM A FRONT YARD IN WINDWOOD FOREST SUBDIVISION, SUNDAY. THE FAMILY WAS MOVING OUT OF THE HOME AT THE TIME. NEIGHBORS REPORT SEEING A SUSPICIOUS DARK GREEN PICKUP SLOWING-DOWN IN FRONT OF THE RESIDENCE, SHORTLY BEFORE THE TRAILER WAS TAKEN. IT WAS VALUED AT $450."
If you have anything you value in LaFayette, don't leave it unattended outdoors. Or indoors, either. Sit next to your stuff 24/7 and wait.


Recent Walker County arrests and jail bookings.


A recent audit shows the state's ethics committee has broken procedures, inconsistent behavior, a huge backlog of unhandled cases, and unqualified staff.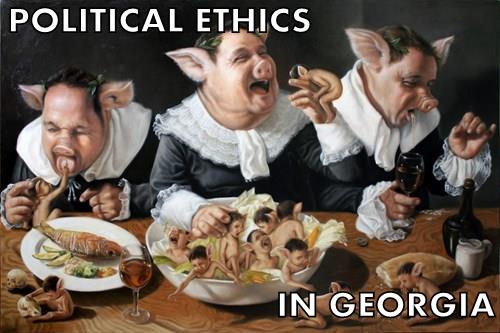 Gov. Deal says he'll fix it, but he said that a year ago and was in charge when much of the problems started. Thanks to his overwhelming election victory, don't expect to see any real change in that area before 2019.
Congrats, Georgia voters – you've successfully preserved the status quo!


Over the last five years, an anonymous female donor has given about $4.5 million to Whitfield County's schools. The schools have added science labs and planetarium equipment, built fencing and playgrounds, remodeled libraries, added a soccer field, fixed driveways, purchased computers, and quite a bit more with the extra funding.
Must be nice.


For today's links and any breaking news, follow the Underground on Facebook or Twitter.