2014
04.08
Late Sunday night or early Morning morning a Dade County prisoner overpowered a guard and escaped while at Hutcheson. Authorities looked for him in the Fort Oglethorpe area but have abandoned the hunt there, apparently thinking he's headed back to Dade for some reason.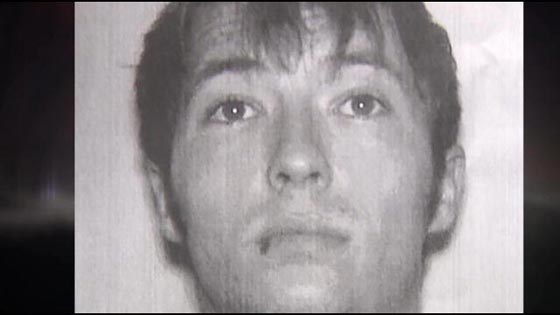 As of early Tuesday morning he still hasn't been located. Apparently the crimes he committed originally aren't as serious as what he did to get away.
If you see this guy, contact local law enforcement.



Profitability has also escaped Hutcheson and seems increasingly unlikely to ever be found again.
During February the hospital lost over $1 million. A year earlier under Erlanger's control the hospital made a profit of over $100,000.
Which, again, shows the stupidity of Hutcheson suing Erlanger for mismanagement when they managed the hospital better than its own people have.


A "wild" pig, apparently an escaped potbelly, has been spotted recently in the Naomi area. This photo was taken in a yard off Hwy. 151 near Kemp Rd. late last week. He's also been seen on Corinth Rd. and Coffman Springs Rd.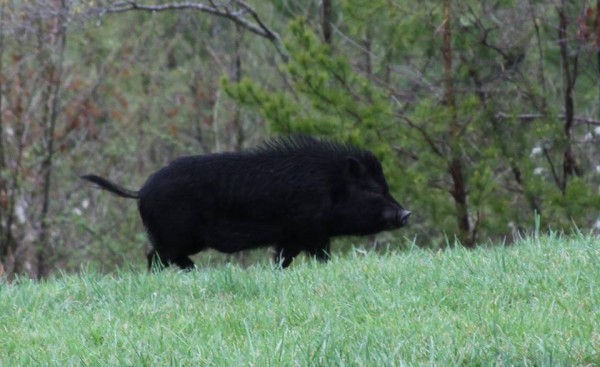 A few days after LU shared this photo, Channel 3 decided the escaped pig was newsworthy. Their report claims the hog has also been seen at LaFayette Walmart, which seems hard to believe considering the distance, number of busy road crossings, and the animal's size.
(If you want to know what Channel 3 will be covering next week, read LU THIS week.)



Former director of GA Ethics Commission has won her "whistleblower" lawsuit against the state. She accused Georgia of cutting her pay and pushing her out of the agency after she tried to investigate Gov. Deal's 2010 campaign finance issues.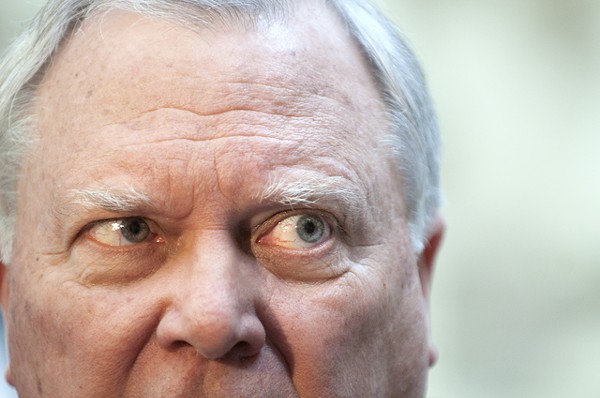 She gets $700,000 plus back pay and legal fees.
Nathan Deal's people continue saying the case has nothing to do with the Governor.


"Movies & More" on Chattanooga Street is closing, or has closed, again.
Movies & More Facebook, 04/07/14:

"Movies and More will be shut down until further notice. Once more is known we will post more. Sorry to all of our faithful customers."

Reimagined posters for the 1970 Johnny Cash LaFayette concert are now available to pre-order. $15 unsigned, $65 signed by Cash's son John Carter.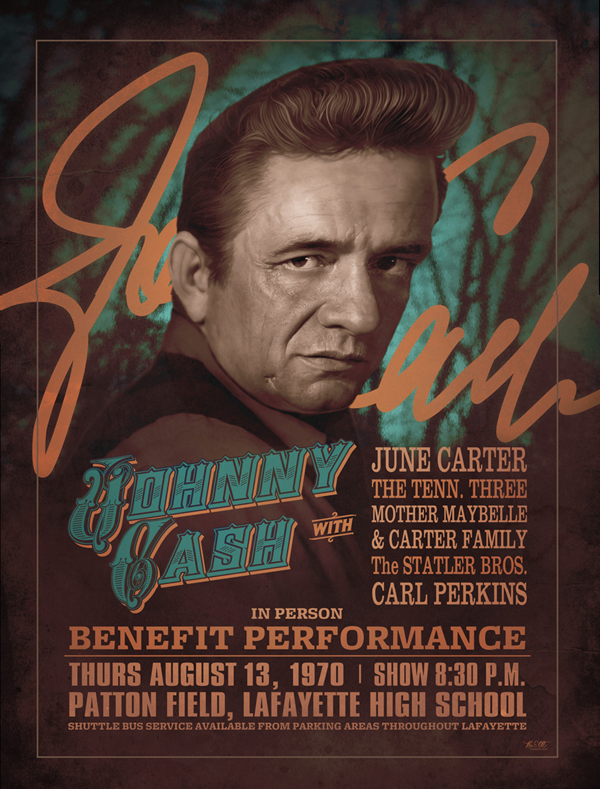 ALL profits benefit LaFayette library.
This morning at 11 library director Tim York and regional director Lecia Eubanks are scheduled to be on Channel 3's "3 Plus You" show to talk about the fundraiser.


Last year Calhoun-based Mohawk Industries added more jobs than any other company in Georgia. During 2013 Mohawk grew from 25,100 to 32,100 jobs, a 28% increase.
Meanwhile, Mohawk CEO Jeffrey Lorberbaum doubled his salary over the last few years to $5.7 million. His take-home pay and stake in the carpet giant recently placed him on a list of new billionaires.



The election year without end moves forward.. John Deffenbaugh sign erected in a cemetery.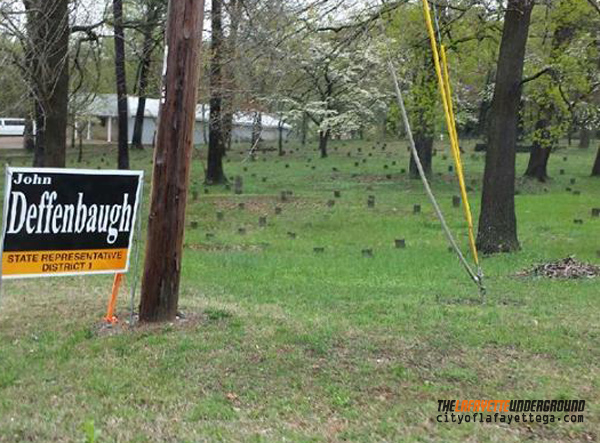 Seems John's pretty clear who his real supporters are.


Latest local arrests.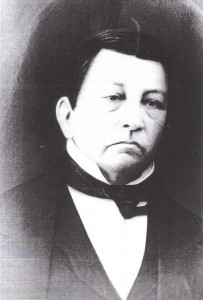 Is the proper name of Taylor's Ridge supposed to be "Taylor's Ridge" or "Taylor Ridge" as shown on recent maps?
Taylor's, possessive, because it "belongs" to Dick Taylor, a mixed-race Cherokee who was one of the first English-speaking residents of what eventually became Walker and Catoosa.
Taylor fought for the US in the War of 1812, served as a Cherokee/English translator, set up a store near what later became Ringgold, represented the Cherokee in Washington DC, and was forcibly removed to Oklahoma along with the rest of the Cherokee during the Trail of Tears.


MMA fighter Ian Stephens of LaFayette is considered a "dark horse" competitor in the upcoming new season of Ultimate Fighter 19.


New survey finds at least 25 bald eagle nests in Northeast GA.
Nests have also been found in Floyd County at Berry College and in Chattooga at Sloppy Floyd State Park.
At this rate the state will set up Bald Eagle hunting season in a few more years.


For today's links and any breaking news, follow the Underground on Facebook or Twitter.