2013
10.23

On November 5th, LaFayette voters will choose a new council member for city ward 1. Ward 1 is the northeastern side of town, so candidates must live in that area to run, but voters from all over the city are allowed to vote in the race.
Qualified candidates for Ward 1 are Beacher Garmany, Glenn Gunnells, and Robert Wardlaw. There's no incumbent in this race because Councilman Andy Arnold decided to run for mayor. (A Q&A with Arnold and other candidates for that office will follow later this week.)
Inquires for every candidate's e-mail address were posted on Facebook weeks ago, but no address for Mr. Garmany was provided, so he was not contacted for the Q&A. Candidate Gunnells WAS contacted, nearly a week ago, but unfortunately chose not to respond by deadline.

LU: What is your full name, and what name do you generally go by?
Garmany: [Not Contacted]
Gunnells: [No Response]
Wardlaw: Robert A. Wardlaw- Robert
LU: What is your home address?
Garmany: [Not Contacted]
Gunnells: [No Response]
Wardlaw: [Redacted by LU] North Main St. LaFayette, Ga.
Per public records, candidate Garmany lives on Brookwood Lane, and candidate Gunnells lives on Warthen St.
LU: How can voters contact you or stay in touch with your campaign?
Garmany: [Not Contacted]
Gunnells: [No Response]
Wardlaw: E-mail- robertwardlaw4@me.com
Facebook- Robert Wardlaw
Facebook Group- "Robert Wardlaw for LaFayette City Council"
Cell- (706) 996-7971
Beacher Garmany's phone number is 423-802-3724. Glenn Gunnells' phone is 423-903-9762.
LU: How long have you lived in LaFayette? Where else have you lived?
Garmany: [Not Contacted]
Gunnells: [No Response]
Wardlaw: I was born in LaFayette in 1961 and lived here until 1989. From 1990 until 2010, while working for Coca-Cola, I lived in Cookeville, TN., Athens, GA., Corpus Christi, TX., San Antonio, TX., Montgomery, AL., and Jackson, MS. before returning home to LaFayette in early 2011.
LU (Wardlaw Only): Have you remained in touch with the people and issues of LaFayette during your time living in other areas? How can we be sure you're staying current with the real needs of LaFayette's residents when you've spent a considerable amount of time residing elsewhere?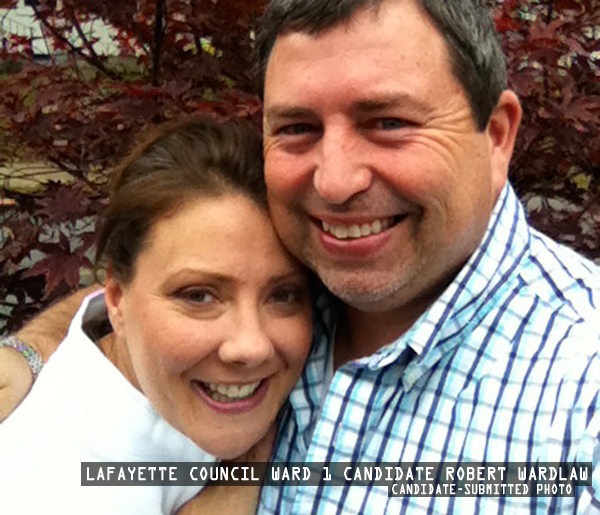 Wardlaw: Certainly I have remained very much in touch with LaFayette while working the various Coca-Cola assignments, this is my home.
My family has been in LaFayette for at least five generations and my Mom, Dad, Brother, and other family lived here during the time I was assigned to different locations. I was in LaFayette regularly during those years visiting family and friends and stayed informed of conditions and events through them. Also viewed this site since 2009 or so.
LU: How does the Queen City compare to other places you've lived, or to other communities you're familiar with?
Garmany: [Not Contacted]
Gunnells: [No Response]
Wardlaw: There were great attributes in each of the cities in which I lived. Each had its own unique charm and appeal. I have nothing but fond memories and experiences in every one of those communities and have great respect for the residents there, especially the incredibly talented and loyal individuals that contributed so much to the Coca-Cola teams we were a part of.
LaFayette is my home, I am clearly biased but I believe that when you take everything into account, there is NOWHERE better to live than LaFayette, GA. Our spirit, our weather, our generosity, our history, our cost of living, our friendliness, our business climate, our proximity to Chattanooga and Atlanta, our traffic, our sports, our traditions, our churches, our schools, our nostalgia…this could go on and on.
On the whole, for my personal tastes, the overall quality of life in LaFayette, and the surrounding area is the best. I never even considered not coming home after my Coca-Cola career was completed.
LU: Starting as early as you want, what kind of education do you have?
Garmany: [Not Contacted]
Gunnells: [No Response]
Wardlaw: 1967-1972 North LaFayette Elementary
1973-1974 LaFayette Jr. High (including split shift at LHS after fire)
1975-1979 LaFayette High School
1980-1981 Middle Tennessee State University
LU: What other jobs or elected positions have you held?
Garmany: [Not Contacted]
Gunnells: [No Response]
Wardlaw: I have never held a political office.
Here is an overview of my work experience- All with Coca-Cola
1982-1989 Coca-Cola LaFayette (and Ft. Oglethorpe)
• Highlight- Learned how to WORK. Most of my time here was spent sweeping floors, sorting bottles, loading trucks, driving delivery trucks, and delivering machines to local businesses. Later worked as Special Events and Youth Market Supervisor, then Sales Manager.
• Learned how to work together as a team, we all respected each other equally, valuing each other regardless of position.
• Learned about community pride and the responsibility to balance profitable business with generous giving back to those that made you successful to begin with.
1990-1991 Coca-Cola Jasper, TN.
• Highlight- First opportunity to lead this smaller facility as General Manager.
1992 Coca-Cola Cookeville, TN.
• Highlight- Gained more experience and confidence as General Manager of this medium sized facility.
1993-1997 Coca-Cola Athens, GA.
• Highlight- Managed multiple facilities- Athens, Gainesville, Carrollton, Jasper, GA.
• Managed 1996 Olympic Torch Relay and Olympic events at Sanford Stadium (from Coca-Cola perspective)
• Received Athens "Key to the City" from Mayor Gwen O'Looney for contributions to the growth, development, and cooperation between business and the city of Athens.
• Developed a close, personal relationship with Vince and Barbara Dooley for both business and charitable successes and collaboration between Coca-Cola and the University of Georgia. That partnership remains today.
1998-2002 Coca-Cola Corpus Christi, TX.
• Highlight- Following CCE's purchase of the Coca-Cola operations in Texas, I was on the initial transition team to ensure cooperation and collaboration between the Company, the employees, the community, and the City of Corpus Christi.
• In 2001, I was named "Most outstanding community business leader" by LULAC and was given a Texas State Senate proclamation. I am especially proud of this due to being the first "Anglo-American" to be given this award.
2003-2004 Coca-Cola San Antonio, TX.
• Highlight- Led Teams in San Antonio, Corpus Christi, Austin, El Paso, Waco, Temple, Del Rio, San Benito, and Laredo in standardizing common processes within each location. This was valuable experience in gaining cooperation between parties with competing interests and learning to get results while listening and respecting the input and opinions of others.
2005-2007 Coca-Cola Montgomery, AL.
• Highlight- Led collaboration between business, local government, and civic organizations to achieve "win win" outcomes for all parties. The Montgomery market is rich with significant landmarks including Selma and other historic civil rights sites. We formed many lasting relationships that remain strong today.
2008-2010 Coca-Cola Jackson, MS.
• Highlight- Oversight of the physical relocation of the Jackson Coca-Cola Bottling Company. This was a complex process that took months of planning and negotiation.
• Worked with the Mayor, and the City of Jackson to ensure the City was able to provide the conditions we needed to stay in the City. It wasn't fancy "nice to have" stuff, it was basic infrastructure needs. I gained invaluable experience during this process. How cities successfully retain and attract business. How communication, cooperation, and compromise are at the heart of every successful government/business deal.
Mr. Garmany is a retired business owner. He's never held political office, but ran for the same council position in 2009, losing to incumbent Andy Arnold by 30 votes. Mr. Gunnells is a school bus driver with a stake in the LaFayette Sears store. He's also an active LaFayette Fire Department volunteer and served as a councilman and mayor of Linwood in the late 1980's and early '90's.
Update: Mr. Gunnells is no longer involved or invested in LaFayette Sears.
LU (Wardlaw Only): Your family owned Coca-Cola Bottling Works in LaFayette, and you served as a leader in that business. Nearly two decades ago the Wardlaws relocated that company to Fort Oglethorpe, later selling it to another entity which merged that location with another unit in Tennessee. You left the area some time later and have lived all over the southeast. What led to the decision to relocate and then sell out? In light of the company sale and your various homes away from the area, can LaFayette residents trust your loyalty to the community?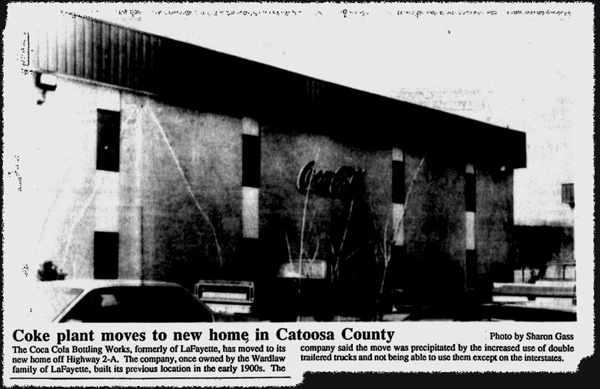 Wardlaw: The decision to relocate the Company was simply logistics. There was no further room to expand the facility to accommodate growth. The subsequent sell of the Company came at a time of consolidation of many independent bottlers. As that consolidation occurred, the "economies of scale" made it impractical for any small bottlers to operate independently.
As for me working in different areas, that was my job. I am grateful for every opportunity I was given to support myself and provide for my family.
I chose to come home because I like it here and want to live here. I care about LaFayette and want to contribute my time assisting us in becoming the very best we can be. I believe I can help us do that.
LU (Gunnells Only): Some two decades ago, you served as Mayor of (now defunct) Linwood. Running that city was difficult for everyone who tried during the last few years of its legal existence, but during your time as Linwood Mayor, there were several decisions made which possibly violated the state's open meetings and open records laws. In light of those issues, can the people of LaFayette trust you to follow the law and be transparent as a member of the city council?
Gunnells: [No Response]
LU: What will your education and experiences contribute to make you a better Councilman?
Garmany: [Not Contacted]
Gunnells: [No Response]
Wardlaw: The experiences gained in the various locations in which I worked will contribute greatly to being an effective Councilman. Each assignment included working with City governments, business leaders, civic organizations, and individuals of all walks of life. Perhaps the most important experience is building organizations to maximum efficiency, often without direct authority over the process. One common characteristic of all effective leaders is communication. It is so important to communicate your intentions and ideas clearly and transparently to gain consensus. Great accomplishments are sustainable only when all effected parties are invested, together, in the outcome.
LU: What are your thoughts on the role of a city council member? What should a councilman do, and (also important) what should a councilman NOT do?
Garmany: [Not Contacted]
Gunnells: [No Response]
Wardlaw: A City Councilman should represent and reflect the best interests of ALL residents in ALL areas of town. They should make decisions that protect the long-term fiscal health of the City. They should be objective and unbiased, making just and equitable decisions without regard to the social or political position of those effected.
A City Councilman should also inspire the community to service. Leading by example to encourage residents to participate in achieving our common goals!
A City Councilman should NOT make decisions that contribute in any way to their own personal agenda or gain. A Councilman should benefit personally ONLY as a result of the entire community reaching its collective goals.
LU (Gunnells Only): While serving as Linwood Mayor, three members of the city's five-member council resigned. Two of the resignations were blamed on Mayor Gunnells' "inability" to work with the council. Twenty years later, if elected to the LaFayette council, will you be able to work with other councilmen and the mayor to move the city forward?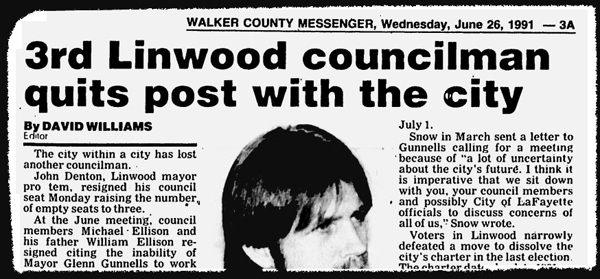 Gunnells: [No Response]
LU: Do you feel the city is currently run as well as it should be? What are your thoughts on the city's current condition, both socially and economically?
Garmany: [Not Contacted]
Gunnells: [No Response]
Wardlaw: Yes, I think the City of LaFayette is run well, particularly if you compare it to many other similar sized cities.
Like any other City, business, or organization, we have opportunity to be even better. We have opportunity to enhance our infrastructure, improve our financial standing, enhance our Parks and Recreation Centers, and position ourselves for new Industry.
We also have an opportunity to enhance the general "morale" of our City, creating the excitement and optimism that comes with rallying around a common vision for ALL residents of the City and having greater financial security.
LU: Once elected to the Council, what will be your first priority? What are your long term goals over the following four years?
Garmany: [Not Contacted]
Gunnells: [No Response]
Wardlaw: First priority will be to evaluate the conditions of our utilities and services. Our City is funded primarily by the sales of our utilities and services. This is the "product" we have to sell. Like any business, the product must be up to date, efficient, and capable of sustaining future growth. This includes having roads in good repair and Police/Fire departments fully staffed and funded.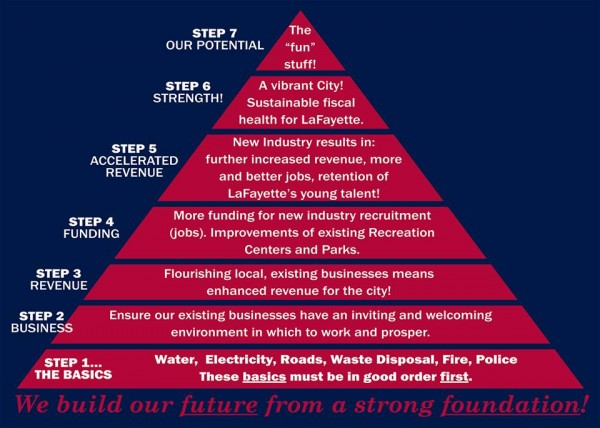 [Chart from Wardlaw Campaign]
Next step is to ensure our existing, local businesses have an inviting and welcoming environment in which to work and prosper. This means removing antiquated or redundant regulations that stifle growth for local businesses and their employees.
This will result in our local businesses flourishing, which results in enhanced revenue for the City.
The additional revenue will be invested in improvements to our existing Parks and Recreation Centers and stepping up our recruitment efforts attracting new Industry to LaFayette.
New Industry means more and better jobs and the ability to retain our talented young men and women in LaFayette!
These long term goals are laid out in great detail on our Facebook Group Page "Robert Wardlaw for LaFayette City Council"
Please visit the Group Page or E-mail me at robertwardlaw4@me.com and I will send you a copy of the contents
Walker Co. Messenger asked similar questions to the same three candidates. Candidate Garmany said he will seek to "be a good steward of city money and vote for what I think is best for all the citizens of LaFayette" with "City streets" and "budget" his priorities and focus.
Candidate Gunnells said he will "listen to the citizens of LaFayette in order to help improve the city, to create more activities and areas for the youth, to improve the roads and sidewalks within city limits and to improve benefits for fire and police personnel." Gunnels said his first priority will be "Improving benefits for fire and police personnel and creating more activities for the youth. Also working to attract and keep local businesses in the city."
Candidate Wardlaw has obviously put a lot more thought into his answers (and his plans) than his opponents, and Gunnells' comments about benefits for fire and police could be a conflict of interest considering his own service to the city fire department.
LU: As a Council Member, what will YOU do to attract business and encourage job growth within the city?
Garmany: [Not Contacted]
Gunnells: [No Response]
Wardlaw: First step will be to ensure we have the infrastructure capacity to handle new Industrial growth without compromising service and reliability to our residents.
Next, The Mayor and Council will work with our partners to identify companies with interest in building or re-locating their business. Partners include Chamber, Economic Development, existing businesses in LaFayette, and County leadership.
LU: LaFayette Police Department is a huge part of the city's annual budget, and the department is crucial to keeping residents and businesses protected. Are you satisfied with the way LPD is currently run and the job its officers are doing? How confident are you in Chief Clift?
Garmany: [Not Contacted]
Gunnells: [No Response]
Wardlaw: I am proud of our Police Department and the team of Officers and Detectives that serve our City. I have great confidence in Chief Clift and his leadership of the Department.
LU (Gunnells Only): As a long-term LaFayette City Fireman, how do you feel the Fire Department is currently run? What are your thoughts on the recent separation of LaFayette Public Safety back into two distinctly separate departments?
Gunnells: [No Response]
LU (Wardlaw Only): One of your opponents, Mr. Gunnells, is an active duty LaFayette fire fighter. You have business experience, but (to our knowledge) haven't served in a public safety capacity. If elected to the Council, will you be able to properly represent and understand needs of the fire and police departments?
Wardlaw: I haven't worked in a Public Safety capacity, but one doesn't have to personally work in a job in order to hear, understand, and support the needs and concerns of their team.
The role of Council is to ensure we have a capable City Manager that hires capable Department Heads and to provide the tools and resources needed to perform their duties, then to provide oversight and assure accountability of the City Manager.
LU (Wardlaw Only): The current LaFayette Public Safety building (Police and Fire headquarters) was once owned by your family, location of Wardlaw-owned Coca-Cola Bottling Works. How do you feel about the current use of that structure, the closure of Wardlaw Street, and the renovations done there in recent years? If elected, will you seek to have the building renovated/restored or are you satisfied with what it is today?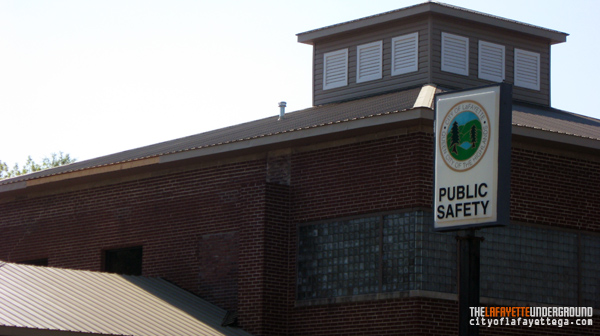 Wardlaw: I am very happy with the Public Works building and Joe Stock Park!
The Public Works building looks great, is in an excellent location, and provides a valuable service to our City. Joe Stock Park is beautiful and together with the Academy and Marsh House, provide a first rate public gathering place for us as a community… I couldn't be more pleased with our use of these assets!
I love the Building and Park just as they are…
As for the closure of Wardlaw Street, it seems to me that between the traffic from emergency vehicles and the presence of children that enjoy playing in the park, the decision to close the street was practical and reasonable. I like the idea of the kids having a "safe zone" to play in.
LU: LaFayette Electric customers are seeing their power bills go up month after month, as the city passes rising wholesale power prices on to customers. Right now these utility costs are a bigger issue for city residents than taxes. What can you do, as a Councilman, to address this problem and keep rate increases to a minimum?
Garmany: [Not Contacted]
Gunnells: [No Response]
Wardlaw: This is an area of great concern, particularly for those on fixed income and the many folks who are struggling to make ends meet as it is. It is a concern nationally, not just locally.
The primary thing the City can do to control utility costs is to ensure we have the most modern and efficient equipment and to ensure our billing process is consistent and correct.
The City cannot control the wholesale cost of electricity but we will work diligently to negotiate the best terms and contracts available to us.
LU: What are your thoughts on the amount of money LaFayette spends each year on the golf course and airport? Are these continuing expenses justifiable in light of the current economy, infrastructure needs, and rising energy costs?
Garmany: [Not Contacted]
Gunnells: [No Response]
Wardlaw: There are significant benefits to LaFayette having a Golf Course and an Airport. The Golf Course provides a recreational opportunity to residents and visitors and is a major plus when recruiting new business to LaFayette. There has also been a significant increase in the number of young people utilizing the Golf Course.
The Airport is, and will be a very important asset when recruiting new Industry to the City. These large companies utilize small aircraft to transport their executives and consider the presence of an airport critical to their success.
Capital expenditures for further expansion of either of these assets would not be a priority until the basic infrastructure needs of the City and all its residents have been met and are sustainable.
LU: What are your thoughts on the SPLOST vote? Are you happy with the city's SPLOST project list, and will you personally vote for the 1% sales tax to be renewed?
Garmany: [Not Contacted]
Gunnells: [No Response]
Wardlaw: I have heard sincere, compelling arguments on both sides of this issue.
As for the proposed list for LaFayette, I very much support the majority of the allocation being used for roads. I think the projects supporting the Depot and tourism (platform and trolley) are a good idea.
If it passes, we will ensure the benefits LaFayette receives are utilized as outlined in the proposed list.
Candidate Wardlaw did not directly answer the question about his own decision for SPLOST support. LU agrees with his thoughts on the city's SPLOST list, it's a decent set of projects, but county-wide the tax has too much potential for waste and too little benefit for LaFayette considering how much of the sales tax will be paid by residents here.
LU: LaFayette library and the entire Cherokee Regional Library system have struggled with funding shortages for several years, and earlier this year renovations to the LaFayette branch were stopped, 90% complete, with no clear path to completion. What will you do, as a member of the council, to finish the library remodeling project, and what steps should be taken afterwards to keep the library open and staffed?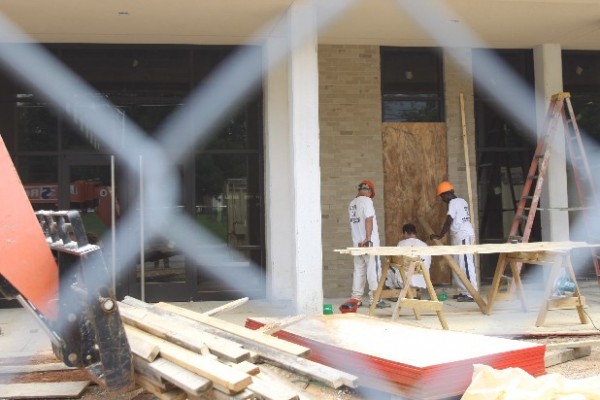 Garmany: [Not Contacted]
Gunnells: [No Response]
Wardlaw: I was encouraged to see activity resume at the site last week. We will continue to work with the County to secure the funds needed to complete the project. Once the project is completed, which I'm confident it will be, we will set the operating budget according to the available funds. We will also raise awareness of the "Friends of the Library" the group that raises money to support the operation of the Library. The more community involvement we have through this group, the more resources we will have to fund the many beneficial activities of our Library.
LU: What personal beliefs, philosophy, or other criteria will you use as a guide for making decisions as a council member?
Garmany: [Not Contacted]
Gunnells: [No Response]
Wardlaw: I believe in listening to people, really listening to seek understanding of their needs and perspectives. I believe that every individual is no more or less "important" than another.
I care deeply about LaFayette and will make decisions based on the best interests of ALL the citizens of our City. I do not have any "agenda" or any self-serving motivations for seeking office. I just seek the opportunity to work with you to make our City greater. I have the time and sincere desire to help.
LU: What sets you apart as the BEST candidate for Ward 1 Councilman? Why, in general, do you deserve voter support?
Garmany: [Not Contacted]
Gunnells: [No Response]
Wardlaw: I have laid out a plan for everyone to consider. I strongly believe in that plan and I believe that all of us together will share in the benefits of the plan. I have the experience and leadership skills needed to help us get there…. I respect Mr. Garmany and Mr. Gunnells, I am not competing "against" these two well intentioned men. I am competing "for" us, as a City, to be great!
If you agree with our plan and vision for LaFayette, I ask for your vote today and your support and involvement going forward putting the plan to work for our City!
LU: Is there anything else the community should know about you? Family, faith, philosophy, inspirations, etc.?
Garmany: [Not Contacted]
Gunnells: [No Response]
Wardlaw: I am a member of LaFayette First United Methodist Church
I am married to my wonderful wife- Stephanie
I have an awesome daughter- Megan
I was raised by parents that I loved very much- Martha and Guffy Wardlaw
We have 1 dog, 3 cats, 6 fish, and a bunch of birds at the feeder, a large family of squirrels poaching the bird feeders, and an occasional visit from 2 chipmunks.
Great questions LU!
Thank you or giving us the opportunity to communicate our plans and ideas!

Several of Mr. Wardlaw's answers were a bit vague, in regards to his thoughts on SPLOST and the library particularly, likely to avoid being confrontational or controversial, but overall his answers (and his willingness TO answer) show a lot of thought and a real concern for the city's future direction.
Lacking better information from the non-responsive candidates, it's difficult to make a decision for this race. However, based on what Mr. Wardlaw has shared here, he seems to be a good fit for the Ward 1 council position and the citizens of LaFayette.
LU does not make an official endorsement of a candidate for this race, but preference leans towards Wardlaw for City Council Ward 1.
Election Day is November 5th. Early voting is being held every weekday 8:30-4:30 now through November 1st at the Walker County Courthouse elections office.
Solo Q&A with Ward 2 Councilman Ben Bradford will be posted Thursday October 23rd.