2010
01.03
Back in November the Walker Chamber of Commerce announced the winners for its 2009 Best of Walker contest. In the spirit of that lopsided vote, the Underground presents its own contest for the Worst of Walker County 2009.
Like the Chamber's contest, this will focus mostly on LaFayette, Rock Spring, and Chickamauga since nobody cares about Lookout Mtn. and everybody in Rossville apparently thinks they live in Catoosa County. Also like the Chamber's contest, you can vote as often as you like, the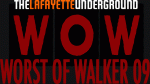 results are based on nothing scientific, and some of the questions don't fit into the category we put them in.
This contest differs from the Chamber vote in that we're welcoming your comments as to why you voted the way you did – you can vote in the comments below this post or via e-mail to lu@cityoflafayettega.com. We'll run all the results in a few days, or maybe a few weeks depending on the number of comments. If you e-mail your vote we'll only share comments anonymously. If you think of other categories that should be included feel free to suggest them. (Of course we reserve the right to add our own comments (and votes) to each category.)
Don't just say who's worst, say why – and be creative in your reasons. If you just send in a name we're less likely to care about your vote than we are if you send a few sentences explaining who you chose and why.
Here are the categories for 2009's Worst of Walker County:
BUSINESS & INDUSTRY


Manufacturer most likely to close during 2010
Retailer most likely to close during 2010
Lamest business concept
Worst customer service
Worst billboard or ad campaign
Most inconvenient business hours
Ugliest business Web site
RESTAURANTS & RECREATION


Dirtiest restaurant
Worst restaurant service
Blandest restaurant menu
Hotel you'd least like to stay in
Most disappointing public event
Lamest tourist attraction
GOVERNMENT


Elected leader most in need of retirement
Unelected leader most in need of retirement
Biggest waste of government money
Most business unfriendly city
Poorest run government agency
Most ineffective law enforcement department
Ugliest government Web site
Please limit voting in the above category to local government officials and agencies only, including (but not limited to) locally elected state officials. For example: a state legislator would qualify for voting, but the governor would not.
SCHOOLS, CHURCHES, & NURSING HOMES


Worst church
Worst school
Worst sports team
Nursing home you'd least want your family to abandon you in
COMMUNITIES


Ugliest neighborhood
Tackiest subdivision
Best place to get murdered
Best place to buy (illegal) drugs
Worst condition public road
Most dangerous intersection
This year's winners will receive nothing except disdain and merciless teasing.
Begin your comments now.