2012
07.30
For years, we've heard tales of improper behavior involving one of Walker County's most respected charities. If true, the organization and its leaders are guilty of lying to the public, breaking a trust with the community, abusing government resources, and stealing from children.
And that's why The Underground made every effort to verify the stories one way or another before posting this piece.
Unfortunately, the elected officials who direct this organization have blocked our efforts to access and examine records that could show them innocent of the claims. Their lack of transparency and delay tactics (along with what evidence we have been able to obtain) make it pretty obvious that something questionable is going on. That puts us in a position where we cannot with a clean conscience remain silent as the election passes by.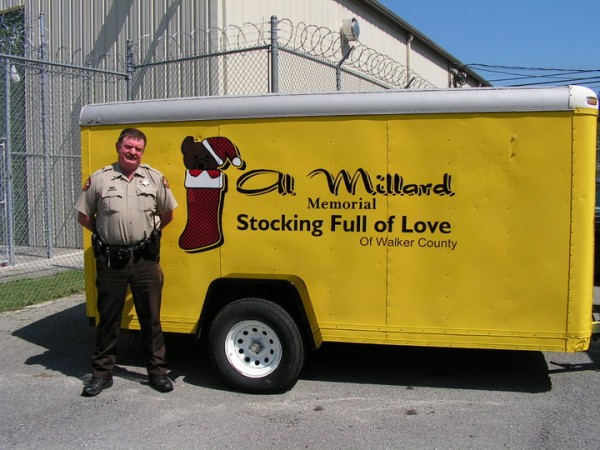 Walker County Stocking Full of Love, Inc. is a charity providing Christmas gifts for needy children. SFL was started in 1988 by then-Sheriff Al Millard, and now unofficially bears his name in tribute. In the 24 years since SFL was started, thousands of local kids have gotten toys during the Holiday season, thanks to hard-working volunteers and generous donations from local residents and businesses.
On the outside, Stocking Full of Love is like any other charity or non-profit, accepting community support to help those in need. But SFL differs from most charities and non-profits because it's not actually recognized as a tax-exempt organization by the IRS. And without that recognition, Stocking Full of Love doesn't have to verify how funds are spent, and cannot legally claim to be tax-exempt.
IRS registered charities are required to fill out paperwork each year showing donations of money or material and expenses, including salaries and program costs. Those completed forms are available on GuideStar (free registration required) and a number of other sites that list nonprofit organizations. Official nonprofits are also required to provide financial statements to anyone when requested; that's one way the law keeps charities accountable to the communities that support them.
Here are some examples of filed reports:
Jimmy Simpson Foundation | NWGA United Way | GNTC Foundation
Walker County Stocking Full of Love, Inc. is incorporated in Georgia as a nonprofit, but doesn't file those reports because it's never been registered with the IRS as a 501(c)3 or similar type of legal non-profit. This list of all legitimately registered local charities doesn't include SFL, because it's not one.
That means that all the money contributed to SFL for purchasing children's Christmas presents has no accountability. There are no annual reports, no audits, and no outside entities making sure things are handled legitimately. None of this is in dispute, and none of that is by itself illegal or unethical, even though the group has in some years claimed donations in excess of $50,000.
But according to several people inside law enforcement, a portion of unaccountable Stocking money has been used to personally benefit the group's CEO – Walker County Sheriff Steve Wilson.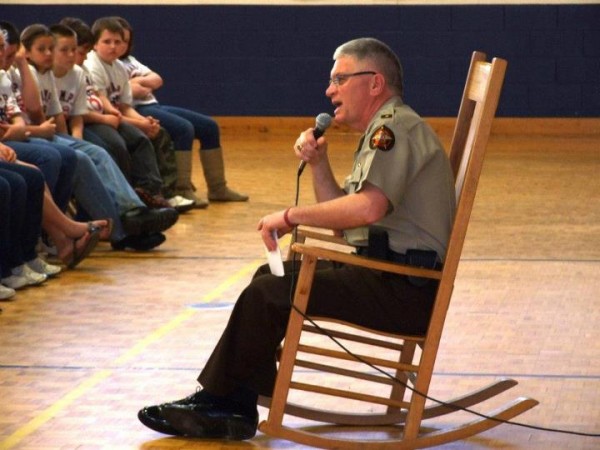 During 2009, according to direct witnesses, Stocking Fund treasurer and coordinator Bruce Coker spent several hundred dollars of donated funds to purchase a gift for Wilson. That gift was a pricey shotgun specially designed to be easier for the Sheriff to handle while recovering from cancer treatments. Department insiders say the weapon was purchased from GT Distributors in Rossville, a vendor of firearms and protective equipment for law enforcement and public safety agencies. Mr. Coker reportedly wrote a check for the weapon out of the Stocking account, then presented it to the Sheriff as a gift in front of at least thirteen other people.
Witnesses are said to include Walker Sheriffs Department employees Mike Freeman, Pat Cook, Bob Neighbors, Dewayne Brown, Tim Perkins, Donny Phillips, Greg Dixon, Anthony Gilleland, David Gilleland, and Chris Anderson. Catoosa Sheriff employees Eric Bradshaw, Freddie Roden and Jason Sullivan were also present along with Wilson, Coker, and several others yet to be identified. All, including Wilson, knew how the gift was purchased.
Several of the men present were concerned about Coker using Stocking Full of Love funds for the purchase, and they complained loudly enough that he later reimbursed the SFL account using what was described as "SWAT money." Witnesses and Walker SO employees were also concerned enough in 2009 to contact us about the shotgun incident and other observed problems. Insiders noted other questionable purchases of dinners, flowers, and additional items possibly for personal use with Stocking money, and several expressed concern about untrackable cash donations.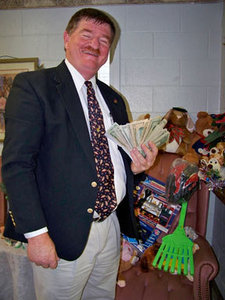 For the record, 2012 sheriff candidate Roden was the first to tip LU about this incident, and knowing he intended to run for office we decided not to follow up on his report. But after time we began hearing from many others currently and formerly employed by the Sheriff's Office who had seen or heard of the same incident and wanted something done about it. A tip that wasn't usable by itself became a matter of interest once employees of the Sheriff's Office began reporting other abuses and openly referring to the charity as "Stocking Full of Guns."
Stories of fraud or theft at a charity are easy enough to check out by simply looking at financial reports – 990 filings, audits, or bank records. But since SFL isn't under IRS rules most of those records don't exist, and leaders are under no obligation to show anyone records that do exist. Several attempts on our part to ask Wilson and Coker about SFL or access financial reports were unsuccessful – further raising suspicions of shenanigans.
Since Stocking Full of Love is run inside the Sheriff's Office, staffed by WCSO employees, and uses the Sheriff's Office tax ID number, it falls under the state's Open Records Act. That means financial records (and other documents) can be formally requested with a letter which must be responded to within three days. So in early June an Underground contributor made such a request for all Stocking Full of Love bank statements from January 2009 through April 2012.
Having the statements would have allowed us to quickly see if anything questionable was done with SFL funds, and if no suspicious transactions showed up then the matter would be settled and forgotten. But the records request, processed by the Sheriff's secretary, was dragged out for weeks instead of taken care of within three days as the law requires. A packet of records was finally mailed out during the last week of June, but contained only the base bank statements without necessary copies of cleared checks.
An additional records request was made during the first week of July, specifically requesting copies of all cleared checks for the same time period – but as this is written on July 30, that request has yet to be filled, again breaking Georgia open records law by taking over four weeks instead of the required three days without explanation.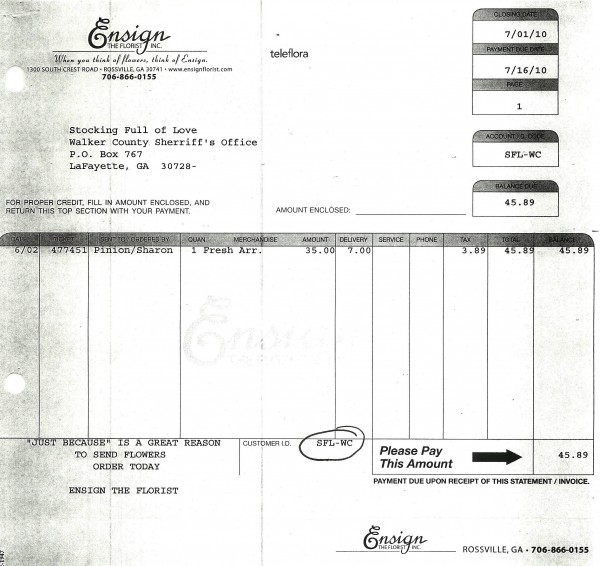 Despite exhaustive efforts, the only Walker County Stocking Full of Love financial record the Underground has obtained is a copied receipt for $45 of flowers ordered from a Rossville florist in July 2010. Flowers aren't toys, and July is a long way from Christmas, but there may be a legitimate reason for the purchase. Without transparency and access to more records, there's no way to know what this is, and no way to determine if it fits into a pattern of spending donated cash on personal items.
Stocking Full of Love's lack of transparency and unwillingness to register with the IRS aren't necessarily verification of corruption, but they are troubling. If there's nothing to hide, why are records still withheld after being lawfully requested? Are Coker and Wilson dragging their feet to delay public knowledge of spending activity until after tomorrow's vote? A tale that could have been quashed in an hour by examining financial records has lingered on for three years unresolved due to their lack of cooperation.
Since SFL isn't a real charity under IRS rules, it's not a violation of tax law to use group money for personal benefit. But collecting money for kids and spending a portion of it on something else is unethical to the extreme, and might even be considered fraud or theft by deception in a county where the alleged criminals aren't the same ones enforcing the law. Anyone personally benefiting from SFL money could also be personally liable for unpaid taxes.
One thing we know for sure is that Stocking Full of Love has claimed on more than one occasion to be tax exempt. It's not, as noted above, and saying otherwise is against the law.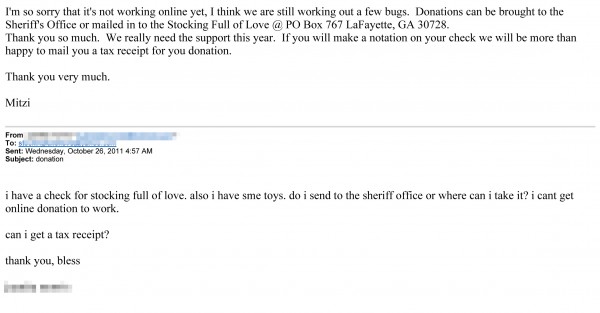 Unfortunately for this lady, any tax receipts issued by Stocking Full of Love aren't worth the paper they're printed on, because donations to that organization aren't tax deductible.
Multiple accounts of abuse, false claims about tax exemption, refusal to share financial records, unexplained flower receipts, and lack of accountability; these cause us to feel very strongly that the stories of impropriety at Stocking Full of Love are at least worthy of discussion, and should be made known to the voters and taxpayers of Walker County.
Steve Wilson and Bruce Coker are CEO and Treasurer/CFO for this organization. They are ultimately responsible for what goes on with the organization and its money. Being a sheriff, a deputy, and a candidate for judge these men should be above reproach morally. But their actions related to this organization raise a lot of questions and a lot of doubts.
Walker County Voters need to ask Coker and Wilson why SFL has existed for a quarter century without seeking IRS nonprofit status. They need to ask why SFL claims to be exempt when it isn't. They need to question if tax dollars from the Sheriff's Office budget are being used to run an organization that behaves improperly. They also, most importantly, need to demand that Coker open the group's financial records for public inspection so everyone can see if the stories about abuse are true or not.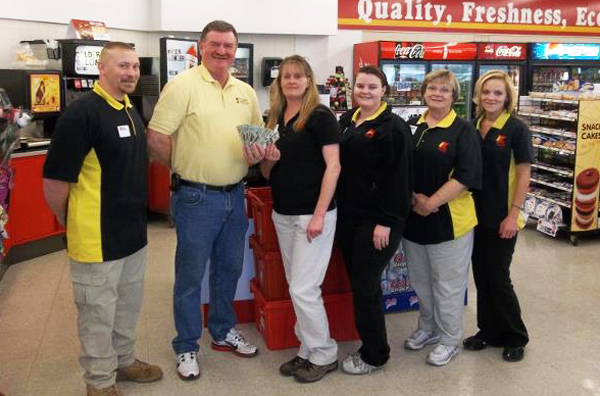 Every year we see news reports and press releases about the great things done through Walker County Stocking Full of Love. There's no doubt that many children ARE being given gifts by this organization, gifts purchased with donated funds. But there's no assurance that everything given is being used as intended. If money meant for Stocking Full of Love toys has been spent to buy toys for adult men at the Sheriff's Office, then the organization's leaders are guilty of stealing from children and lying to the community.
The response to this piece will no doubt be fierce and negative towards The Underground and our sources. We'll be slammed for attacking Stocking Full of Love, children, law enforcement, Christmas, and the church where gifts are distributed. But all we've done is make you aware of what's been said, of some obvious problems and some questionable actions. If anyone has attacked the charity and its core purpose, it's the leaders who have allowed it to be run in an unprofessional way.
If the accounts of abuse are proven true, they're a slap in the face of everyone who's ever given a dime to Walker County Stocking Full of Love. They're also a slap at all the schools, civic clubs, and churches that have conducted fundraisers for SFL over the years. And they're a slap at the children who would have benefitted from the funds that were mishandled. Slaps from Coker and Wilson, not from us.
We hope and pray Stocking Full of Love continues forward and does more great things than ever before – but to do that, the group should be made accountable for every penny given. We want to see Walker County and beneficial nonprofits move forward, not regress into corruption and abuse due to poor oversight and ethically-challenged leadership.