2010
09.07

In existence since the Nixon Administration, LaFayette Housing Authority is an entity of the city government that owns, operates, and rents apartments to low-income, handicapped, and elderly residents. Housing Authority apartments are not provided free, however rent is adjusted based on occupant income with the remainder subsidized by funds from the U.S. Department of Housing and Urban Development. Rental income and federal funding keep the Authority running without a dime of city money, giving the agency autonomy and independence outside of the City Council's control.
With 300 apartments capable of housing nearly a thousand people, LaFayette Housing Authority provides residences to a significant portion of the city's residents. But soon 30 of those apartments will bite the dust as part of a project to upgrade all of the authority's properties and revitalize a long-forgotten neighborhood.
The first Housing Authority apartments at Foster Circle (off Foster Blvd. behind the current post office) were built in the early 1970's by a private operator. After a few years those two-story brown-brick buildings were turned over to the Authority and joined by the familiar single-story red brick duplexes that make up most of the city's low-income housing.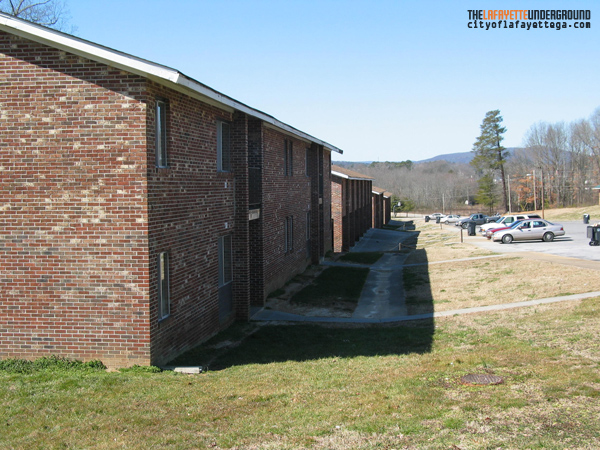 Today Foster Circle isn't a circle anymore (the Hwy. 27 bypass closed off one end) and those original two-story buildings are forty years old, inaccessible to handicapped residents, and in need of major renovations. Poorly-built foundations have shifted or settled, resulting in structural damage that would be difficult to repair.
Instead of costly upgrades, the Housing Authority has decided to tear down the four remaining two-story buildings and replace them with single-level duplexes matching the rest of its properties. But under federal law, replacement buildings must house the same number of same-size families as the old structures. That's impossible to do in the same amount of space, so several of the replacement duplexes will be built on another piece of property located in the center of town.
That property is at the corner of Culberson Ave. and South Steele, former site of black-segregated Hill High School. After integration Hill High became LaFayette Junior High, which burned to the ground in 1975 under racially-motivated "suspicious circumstances." The 4-acre lot was purchased by a Chattanooga junkyard operator and has sat vacant and abandoned ever since the fire.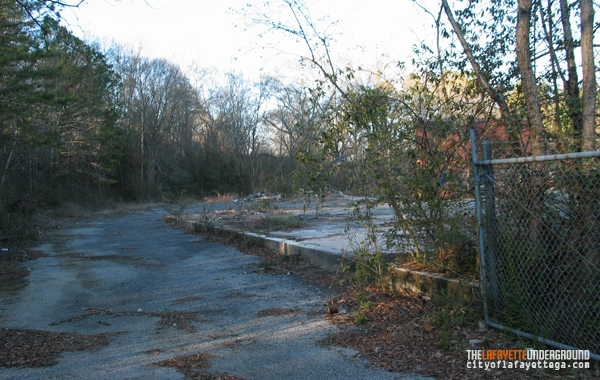 South Steele Street, a tenth of a mile long, cuts between North Chattanooga Street and Culberson Avenue. Five tidy Housing Authority duplexes and a small playground occupy the east side, while the west side offers little-used Steele Street Church of God, several dilapidated rental houses, and the empty Hill High School lot. In recent years the old school property has become overgrown and covered in trash, a corner where drug dealers have easy access to their customers and rarely see the police.
That situation will hopefully change once the Housing Authority finalizes its purchase of the property, cleans it up, and begins building new residences on the site.
In an ideal world, the Authority could build new duplexes on the South Steele St. property, move residents from Foster Circle into the new apartments, and then tear down and replace existing structures one by one. But again federal law comes into play, making the project more complicated than it would be otherwise. Under HUD's arcane rules, new buildings cannot be built until the old ones are torn down, and all new buildings must be constructed at the same time.
That means the Housing Authority can't build a single new apartment on either property until the apartments at Foster Circle come down, and the apartments can't come down until everyone living in them is moved out. HUD doesn't allow the authority to displace public-housing residents or even pay for them to stay in private rental houses or a hotel, so the redevelopment plan has been on hold for over a year as the Authority waits for thirty low-income families from around town to move out of public housing so their spots can be taken by the remaining residents of Foster Circle.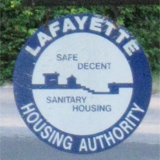 Even in good times the Housing Authority maintains a long waiting list of families in need, so in today's bad economy with widespread job losses their services are more in demand than ever – and through this project the Authority has temporarily lost more than 10% of the apartments normally available to the city's most impoverished residents. Those factors should make completion a top-priority. (Last night's fire at privately-owned Carriage Hills apartments destroyed 8 residences and left 7 families (about 30 people) homeless, making the project even more urgent.)
The last families living in the four condemned buildings moved out in July, but surprisingly the project has yet to begin. The delay might be an issue with the contractor (hopefully NOT Morton Construction), a wait for 2010 Census results, or some additional layer of red tape from HUD.
Either way, whenever this project is done its completion will mean better quality (and better looking) public housing, the cleanup of a criminal-controlled neighborhood, and new places to live for forty local families struggling to survive their current circumstances. For once, a government action that will benefit the city – assuming the authority can cut through red tape and get everything done in a reasonable amount of time.