2010
03.01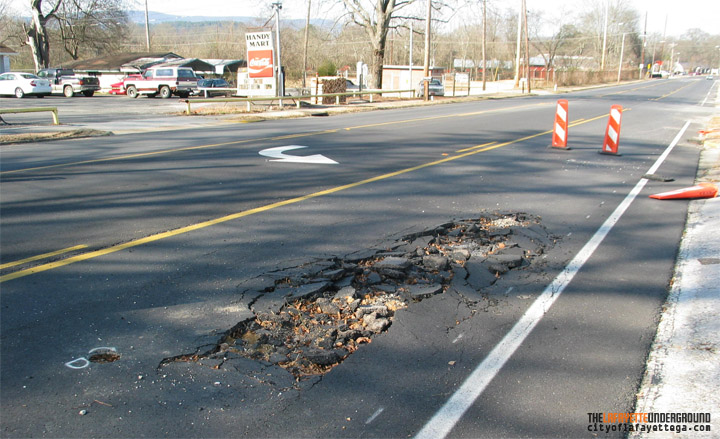 Traffic in LaFayette has been disrupted for nearly four months by barricades directing cars around a massive pothole on South Main Street. The yard-long crater popped up along the 600 block of S. Main in the northbound lane sometime after Halloween, but nothing significant has been done to repair it since mid-November when traffic cones and a flashing arrow sign were set up.
Potholes and bad pavement are certainly nothing new to LaFayette's drivers, but this particular eruption is notable due to its large size, the disruptive safety barriers, and (most significantly) its location on a thoroughfare repaved end-to-end only a few weeks before the hole formed.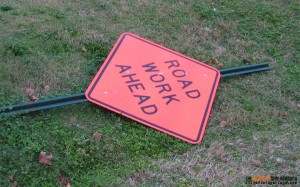 US Hwy 27 Business/GA Hwy 1, which splits off into Main St. through LaFayette for three miles before rejoining its parent, was completely resurfaced for $690,000 (or $230,000 per mile) courtesy of federal stimulus funding distributed through the state. Calhoun-based Northwest Georgia Paving handled the contract, which was worked out between it, the state, and the city, using stimulus fund guidelines.
Signs announcing the job, including a giant notice of what paid for it, were put up in early August, with actual construction lasting from mid-September into October. Once paving began work moved fairly quickly, with all construction done between 7 PM and 6 AM to reduce traffic disruptions – at least for those who got all their driving done before dark.
Even though construction went quickly, the minimal disruption and considerable financial cost weren't worth the end result: a project done incorrectly, and one that failed to address the majority of problems along Main St. Besides new asphalt, other work needed along the roadway, such as adding right-hand turn lanes for some intersections (like the dangerous one at West Main/GA 193 where semi trucks can barely squeeze by), smoothing access to side roads, improving sidewalks, and fixing buried utilities, was specifically excluded from the project's contract. That contract called only for the removal and replacement of old pavement, with responsibility for other prep work falling to LaFayette Public Works, which did almost nothing before the contractor moved in. The contract also forbid the city from digging up the pavement after work ended, at the risk of losing out on future road construction grants.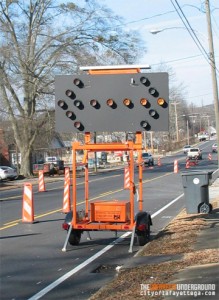 Some combination of no site preparation, a rushed job, and possible utility problems beneath the road led to asphalt that buckled less than a month after it cooled. We aren't engineers by any means, but even the engineers working for GDOT and NWGA Paving don't know exactly what caused the pothole to form since they haven't yet bothered to lift chunks of pavement off the hole to see what, if anything, might lie beneath them.
Residents working near the fissure report occasional sightings of GDOT and NWGAP engineers who "stand around with their hands in their pockets and talk" while staring at the hole. One undergroundling was excited to see NWGAP unloading equipment at the site on February 17th, only to be disappointed later that day as a street sweeper cleared trash from around the cones and then was quickly taken away with no actual work done.
As the city, state, and contractor hash out who's responsible for the pothole, or at least responsible for fixing it, local residents and businesses are entering their fourth month of dealing with traffic disruptions because of it. Enterprises along South Main, such as W.P.I.E. Electrical Supply, Bangz Salon, and Handy Mart, have had their business impacted by cars routed through the turn lane. Cars herded into the turn lane also pose a danger in an area where school buses, kids walking to the rec department, commercial traffic, and individual cars all converge.
Despite pavement that failed after a few weeks and all the trouble that followed as a result, LaFayette's leaders are so pleased with the good-enough-for-federal-government-work (or its cost to the city anyway) that they've seemingly decided every public works project in town should be funded by federal and state agencies or not done at all.
Outside of the bailout-funded paving project on Main Street, the only road work done in LaFayette during 2009 was resurfacing Duke Street from its southern end to Warthen Street – a project very likely done so reporters covering the Sam Parker trial would have nice blacktop to show in their live reports from the courthouse. The only stretch of road paved by the city the previous year was Fred Henry Drive, a glorified driveway for the new golf course clubhouse. Out of all the miles of road within city limits, much of that falling apart, those were the only city-funded projects attempted by LaFayette Public Works during the last two years.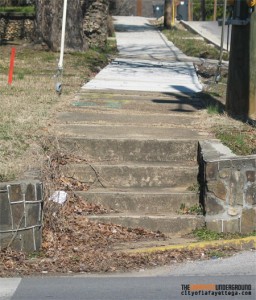 Several miles of city sidewalks were built or repaired during 2008-2009, but that too was apparently funded through a state grant, with work done by Alpharetta-based Morton Construction. That project was also poorly done, with curbs and sidewalks at different heights, humps and drops in some places that make the walkways unusable for a stroller, bicycle, or wheelchair, and at least one location where the concrete sidewalk actually crosses a roadway. Those deficiencies might be a result of poor work done by Mortons, but are just as likely a result of poor prep work or bad instructions from LaFayette Public Works. Public Works also never did any followup work, and a year after work ended construction debris still blocks one section of walkway and nobody's bothered putting dirt in the deep gaps between the sidewalks and curbs. The walkways look OK if you're driving by them at 40 MPH, but for those who walk or ride around town they're functionally lacking.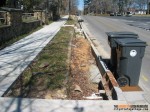 That kind of quality work, done sporadically as grants are made available, is all the citizens of LaFayette can expect to see as long as the current batch of councilmen remain in charge of allocating funds for infrastructure repair and maintenance. Poor-condition streets, such as Probasco, Chattanooga, and Cherokee, may not be repaved for years – and seriously needed upgrades like building more sidewalks or widening single-lane "streets" like Enloe, Jones, or 3rd Ave. will never be done under the current regime.
Addressing those issues would cost serious money, but even inexpensive projects aren't being handled. Minor work such as striping streets, fixing damaged signs, and cleaning out the ditches and sewers (to keep heavy rain from damaging roads) isn't done regularly if at all by LaFayette Public Works.
But not to fear. LaFayette's leaders are working hard to correct this problem; not by actually doing road maintenance, but by using their neglect as a convenient excuse to get more federal money. Earlier this month the city announced it would receive 75% reimbursement from FEMA and an additional 10% funding from the state to do approximately $350,000 of road repairs supposedly related to last September's record flooding.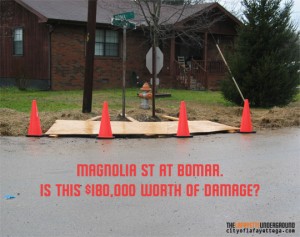 $180,000 of that estimated cost is for major repairs to Magnolia St., which the city claims sustained severe damage during the floods. However, our own close-up examination of Magnolia revealed little actual damage, no washed out ruts or collapsing pavement – only the humps, potholes, and inadequate ditches and drainage found along most of the city's neglected thoroughfares. Again we aren't engineers, but there's no clear indication of why Magnolia needs work done any more than any other residential street in West LaFayette or Linwood, or why it gets priority over more trafficked streets like the ones mentioned above – but it is clear that most of the work needed on Magnolia is just basic maintenance the city should have been doing all along.
Letting infrastructure fall apart and then demanding federal money to repair it after an emergency is comparable to a man who refuses to do basic maintenance on his house and then demands help from his neighbors when his roof falls off. Not only is it irresponsible, it's also dishonest – and won't work forever.
That approach to upkeep is clearly visible with the city's attitude towards its facilities, as demonstrated below:
WQCH, February 9, 2010:
THE LAFAYETTE CITY COUNCIL ACCEPTED THE LOW BID MONDAY, FOR A NEW ROOF ON THE PUBLIC SAFETY BUILDING… AND GOT A PROGRESS REPORT ON FOUR NEW SOFTBALL FIELDS UNDER CONSTRUCTION.

KEN MAPLES CONSTRUCTION WAS AWARDED THE BID ON THE ROOF CONTRACT AT 96-THOUSAND 170-DOLLARS. THE PUBLIC SAFETY BUILDING HOUSES THE FIRE AND POLICE DEPARTMENTS IN THE FORMER COCA COLA BUILDING ON NORTH MAIN. PUBLIC SAFETY DIRECTOR TOMMY FREEMAN SAID THE NEW ROOF PLAN WILL BE SHAPED SIMILAR TO THE HIP-ROOF DESIGN ON THE MARSH HOUSE NEARBY… AND WILL STOP A SERIOUS SET OF LEAKS THAT HAVE DAMAGED THE BUILDING'S INTERIOR. THE HISTORIC PRESERVATION COMMISSION HAD ASKED THE COUNCIL TO DELAY 30 DAYS TO LOOK AT OTHER, MORE HISTORICALLY-APPROPRIATE DESIGNS FOR THE NEW ROOF. BUT WITH MOLD PROBLEMS ALREADY THREATENING THE HEALTH OF FIRE FIGHTERS IN THE BUILDING… COUNCILMAN ERIC TALENT SAID "WE NEED TO CHOOSE PEOPLE OVER HISTORY, AND GET THIS ROOF REPAIRED QUICKLY."

THE COUNCIL WAS ALSO PRESENTED AN ESTIMATE ON THE COST OF BUILDING A NEW SOFTBALL COMPLEX AT THE LOWELL GREEN RECREATION CENTER IN LINWOOD. IT WAS 269-THOUSAND DOLLARS… NOT COUNTING ELECTRICAL AND OTHER WORK THAT THE CITY WILL HANDLE WITH ITS OWN EMPLOYEES. FUNDS FOR THE SOFTBALL COMPLEX ARE COMING FROM THE SPLOST PENNY SALES TAX.
The previous council meeting in January revealed how FEMA will only award the city $9,500 to repair interior damage, not reroof the facility. This is probably because the roof's bad condition was as much from disrepair as from the September floods – if rain alone could do that kind of roof damage every home and business in town would have been leaking after September's record rains. The floods just accelerated a problem that already existed, and now the city (or rather its residents) are on the hook for a quick-bid $96,000 sloped metal roof that will look ridiculous on the previously flat-roof Coca-Cola Building. Meanwhile SPLOST funds that should have been used to replace the roof in a historically-appropriate way before leaks began are being spent on softball fields nobody asked for. This is the same philosophy applied to road maintenance: Let them fall into complete disrepair and then seek outside help to fix the mess, covering costs out of the general budget only when the situation devolves into an outright emergency.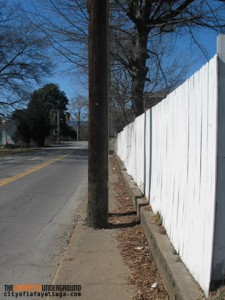 LaFayette has enough money at its disposal to at least do basic maintenance to roads, sidewalks, and buildings. Even if direct property tax revenue wasn't sufficient (which it should be), the city's share of SPLOST could be employed to repair roads and sidewalks – that is, afterall, what SPLOST was advertised to do when it was last put up for a vote in July 2008. Unfortunately that 1% tax paid by everyone who shops in Walker County isn't being used to repair roads, bridges, and sidwalks – it's going to pay off bonds that covered the construction of LaFayette's new golf course clubhouse ($1.4 million), Joe Stock Park Christmas lights ($29,000), the new softball complex at Lowell Greene mentioned above, and other equally "crucial" projects in the city and county. Most of LaFayette's estimated $3.69 million cut of Walker County's SPLOST revenues over the next five years has already been invested into those, which means we're paying for them with every trip to the store from now until 2013. What hasn't already been spent on frivolous projects has apparently been saved up for future silliness, since it's obviously not going into road repairs or other infrastructure improvements.
Walker County isn't much better than LaFayette in regards to its infrastructure priorities. Residents on East Reed Rd. are still in limbo, waiting on the county to begin work on bridge repairs that have interrupted traffic there since the September floods. As we discussed previously, the county deferred those repairs to FEMA – meaning that a simple job that could have been done in a few weeks for less than $30,000 has grown into a $90,000 $200,000+ project that hasn't even begun some five months later due to red tape and federal standards for bridge construction.
Chattanooga Times Free Press, January 24, 2010:
Mr. Ashburn said Catoosa County did the project before its funding was approved by FEMA, a gamble Walker County couldn't afford.

"They took a chance," he said. "They've got a lot more money than we do."
That's how Walker County Administrator David Ashburn explains the county's lack of action compared to Catoosa County's prompt repair of their own flood damaged roads. Walker County won't be doing any road repairs unless it has FEMA funding in hand. If FEMA hadn't agreed to cover the project's cost, inconvenienced residents of Noble might never see the E. Reed Rd. bridge repaired.
Ashburn promised in late January to move bidding up a few weeks to get the project started by the end of February, but the first bids were not taken until last Friday, February 27th. It was announced today that the lowest bid received was not around $89,000 as FEMA originally projected, but rings in at some $192,600 – plus additional expenses for "moving utilities" and engineering that will bring it in right at $220 grand. Assuming FEMA is willing to eat the extra costs (and there's no guarantee they will) it could take up to two months for construction to be completed, so at this point we're looking at a solid nine or ten month turnaround and $220,000 price tag on a job that Joe Backhoe could have done (at least temporarily) with a culvert and a truckload of gravel for a couple hundred dollars on October 1st.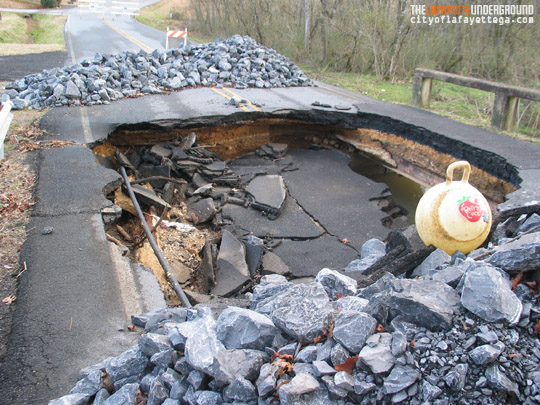 Ashburn himself admits that Walker County's road budget at $1.8 million is about half what it was ten years ago and notes that the county is requesting $1.4 million in funding from FEMA. Ten years ago the county had a commissioner who made county roads a priority and managed to get most of them repaved during his one term in office. Today we have a commissioner who cut the road budget to the point that nothing gets fixed until it completely fails and FEMA has to bail us out.
Just like the city of LaFayette, Walker County suffers from no lack of SPLOST funds, it just has its priorities pointed in the wrong direction. Our earlier report mentioned how the county spent $90,000 of SPLOST on a water tank for the new (and unnecessary) Villanow community center, and we don't need to get back into how much the county spent buying property in Kensington. Even as the situation on East Reed Rd. remains dangerous, commissioner Heiskell has been sinking more county funds into doing "studies" for a new highway to link I-24 to Rossville (Hwy. 27 apparently isn't good enough anymore) and to improve traffic flow in Chickamauga along Osburne Rd. Osburne Rd. is notable only for a single feature: it's the main connector to Oakwood Baptist Church.
The county is also doing preemptive work to elevate Lee-Clarkson Rd. in Chickamauga to allow for evacuation in the case of another flood like the one in September. The residents of Noble, meanwhile, can't even get retroactive work done on their failed bridge that presents an issue now instead of being a potential problem during the next 500-year flood.
Bebe Heiskel and David Ashburn are "burning their bridges" (pun intended) with this issue, and neither should expect to ever receive another vote from the residents of Noble. Hopefully Noble's residents are also beginning to understand what SPLOST really is and where their SPLOST dollars are going.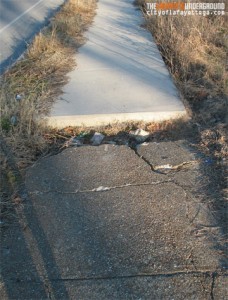 Some of the infrastructure neglect comes down to that kind of favoritism, spending money in Chickamauga while Noble and other areas of the county suffer, and some of it is outright discrimination on the part of leaders who have no desire to fix the streets and sidewalks where "those people" live. Much of the disrepair observable in the city and county also comes down to backwards priorities: golf courses, tourist attractions, FiSDOP toys, and powerful churches are more important than making sure the residents have safe, usable streets and sidewalks in front of their homes, businesses, and schools.
Many upper class citizens look down upon "those people" who become dependent on welfare; the citizens who cash continual government checks instead of working. They are also the first to condemn parents who use food stamps, WIC, and other benefits to buy food for their children while purchasing toys or addictive drugs for their own pleasure. Yet none will stand up and condemn the city and county leaders who cash federal government checks instead of using tax dollars wisely, and who use FEMA, bailout finds, and other benefits to buy essentials (like asphalt) for their constituents while saving the city's own money to fund toys and addictive hobbies for their own pleasure. Abuse of emergency money and bailout funds is no less immoral than the abuse of welfare, and becoming dependent on outside money to pay for essentials while emptying the budget to pay for toys is no better than making your kids eat government cheese while you shop for a big screen TV.
The primary role of local government is to provide basic services that cannot be provided by private businesses. Police, fire protection, and infrastructure are the primary reasons for city and county government to exist, but in our community those entities are failing to meet their responsibilities towards the infrastructure. Expecting the federal government to pay for repairing our local roads is as nonsensical as expecting the city of LaFayette to field an army or set up an embassy in Bahrain.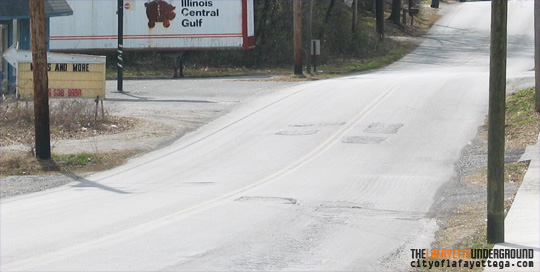 As much as Walker County and the City of LaFayette focus on tourism, on building attractions and features to draw in outsiders, and on enticing businesses to relocate here, they fail to do simple things like repair roads that would make the area more appealing to everyone. Repaired roads and usable sidewalks alone won't necessarily draw in tourists, businesses, and new residents – but they would go a long way to keep those visitors coming back. We can't expect people to want to visit, work, or live here when many city streets look like something from a third-world country and the county can't handle small construction projects like the East Reed bridge in an acceptable amount of time.
Beyond the impact on outsiders, local people need to come first. Not just locals living on Duke St. or in Chickamauga, but every citizen who drives on the roads or walks on the sidewalks. Instead of sinking SPLOST money and property tax revenues into questionable tourist traps and upper-class hobbies, local leaders should prioritize making the area more livable for residents who pay property and sales taxes in the first place.
We don't think it's unreasonable for city and county agencies to set a goal of repaving 10% of the roads in their jurisdiction each year. That would give everyone fresh pavement once a decade, which translates into better neighborhoods and safer streets that would benefit both those who live here and those who visit. We also think it's reasonable (in fact it's common sense) for the local powers-that-be to keep adequate funds on hand to cover road emergencies and prioritize SPLOST funds so that basic needs are met before that money goes into building luxuries.