2010
02.07
LaFayette was thrust into the national spotlight last weekend as CBS's 48 Hours presented an entire hour about the Theresa Parker murder. The show was hyped during the previous week as revealing mysteries about the murder, but ultimately added little to what we already knew collectively from reading and watching coverage of the case.
For your convenience the entire episode is embedded below, or you can read a transcript here.
The only "mystery" revealed here is how some of the jury was unconvinced about Parker's guilt in the case until they examined his cell phone records. Anyone who's been around the legal system for long knows this is nothing unusual; every jury starts out unconvinced and eventually goes one way or the other unless it ends up hung.
But, lack of mystery aside, this was a solid report and we'll give reporter Tracy Smith credit for doing a good job and pronouncing the city's name correctly, or at least the way we say it. We did notice some stock footage mixed with video shot in LaFayette (how many years has it been since a Southern-branded locomotive rolled through town?) but it comprised only a few seconds of the nearly hour-long show.
Shots of Walker County's rural beauty mixed in with positive comments about the community from locals portray the area as an undeveloped haven, and even reporter Smith said in a local story that she felt at home here because "everyone was so nice to us."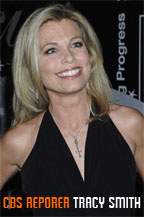 Sheriff Steve Wilson made an attempt to reenforce that small-town image, generically claiming to 48 Hours that LaFayette is a great place to watch your kids play high school sports.
Some locals are actually suggesting that such coverage will attract people to visit, or possibly even live, in the area and ultimately boost Walker County's struggling economy. This isn't just perverse thinking, but also illogical. LaFayette has been put on the national stage three times in recent years for high-profile crimes committed or tried here: the 1997 murder trial of Atlanta lawyer Fred Tokars, the Noble Crematory debacle that began eight years ago this month, and now the Sam Parker case. All three incidents brought in vanloads of reporters from around the country to LaFayette (the crematory was also visited by journalists from Japan and the BBC), but the resulting news coverage didn't exactly make LaFayette a popular tourist destination.
Visiting journalists, lawyers, gawkers, and out-of-town law enforcement have provided a temporary boost to local businesses; CBS's Smith shopped at Sew Cute, ate at Susie's Sunset Cafè, and was spotted several months ago wandering the aisles of BI-LO. During a half-dozen visits she and her six-member crew did more to stimulate the local economy than the Obama Bailout plan, Civil War Tourism, and Jeff Mullis' film production push combined. However, reports of killer police officers, child predators, and amateur crematorium operators do nothing to boost the area's reputation. LaFayette does come across as a modern day Mayberry, but one where Barney the Deputy murdered his wife, Floyd the Barber has uncremated bodies stacked in a shed, Opie was molested by his tennis coach, and Otis the drunk sits on the city council.
There's a huge gap between being famous and being infamous; in fact you might say the two are on opposite ends of the spectrum. Those who expect the community to benefit from criminal activities happening here should be ashamed of themselves and embarassed for what's happened to innocent people in this county. Even more worthy of shame are those within the community whose favoritism, personal relationships, and desire to "just get along" greatly contributed to Theresa Parker's murder and some of the other well-known local crimes.
Sam Parker worked for the LaFayette Police Department for more than two decades; a short stint in the early-80's (no word on how or why that ended) and a longer stretch lasting from 1989 until he was fired in April 2007. During his career Parker received many commendations, rising through the ranks from patrol officer to Sergeant in less than ten years. In the same time period Parker received quite a bit of positive media coverage, being credited with everything from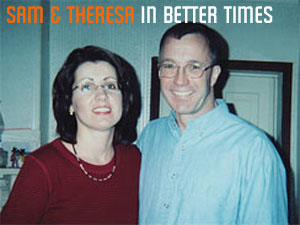 busting a ring of vending machine burglars to saving a baby from a burning house. Parker quickly joined an elite group within the LPD, a clique of officers who could get away with almost anything due to their friendship with police chief Dino Richardson.
Despite coming across as an exemplary law enforcement officer, Parker's home life and relationships with his three wives were anything but ideal. As early as 1989 Parker was involved in domestic violence, beating and threatening to kill his second wife Keila Beard while on duty. Beard reported the incident to her friend Terri Morrison, wife of then city-councilman Max Morrison. Morrison approached chief Richardson and city manager David Aldridge about the incident, asking both to check into it, but according to Morrison neither man would talk to Parker and Richardson dismissed it as a personal matter between the officer and his spouse.
"I have a little problem with the city paying Sam Parker to rough up his wife." -Former LaFayette City Councilman Max Morrison in 1989
The city council has no direct authority to hire or fire police officers, but as a collective whole it can have considerable influence over the police chief and Department of Public Safety. Morrison, who later testified that Richardson's agency had "poor supervision and a lack of discipline"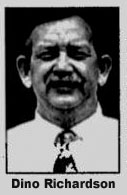 could have put pressure on the chief through official channels or gone to the GBI but decided to let the incident go when Parker stopped harassing his wife's friend.
LaFayette PD officers working with Parker also expressed concerns about his increasingly erratic behavior and instability. During the trial several officers (including current PR director Stacey Meeks) testified how Sam's fascination with death, abuses of power, threats against suspects, and even drinking on the job were all ignored by chief Richardson and his superiors in the city government.
Suspicions about Sgt. Parker's state of mind were confirmed during a 2003 incident where he fired a pistol at (or near) Theresa and threatened to kill himself while on vacation in Panama City Beach. Police there sent the officer to a mental facility for three days of observation, but after coming home he immediately returned to active duty with the LaFayette PD without so much as a slap on the wrist.
"He made a statement that, a few weeks ago, he was wearing pajamas and eating tapioca pudding and now he is on the streets carrying a gun." -LaFayette PD Officer Stacey Meeks
An April 2006 meeting Theresa Parker herself held with chief Richardson and sheriff Steve Wilson also went nowhere. Ms. Parker refused to press charges against her husband since an accusation of domestic violence would have put his job (and her life) on the line, but his abusive behavior, drinking problems, and the incident in Panama City were all discussed in the brief meeting. Despite having sufficient grounds to fire (or at least suspend) him, neither Wilson or Richardson – the only two men with authority over Parker's position within the PD – took any action against their old friend. As far as anyone can tell he was never given so much as a verbal reprimand for anything he did while serving on the police force.
"Wilson said that he was not aware of such events. Patterson asked Wilson if he had known, would he have fired Sam and Wilson said he would have."
During the 11 months between Theresa's meeting with law enforcement leaders and her 2007 disappearance, Sam Parker became more powerful within the LaFayette PD. Chief Richardson was dying of cancer and often absent, with no clear successor. Sergeant Parker, whose mental instability and alcohol abuse made him unfit to even own a gun, was by then the highest ranked officer in the department.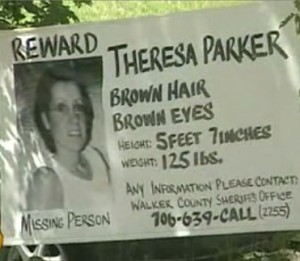 At one point Parker even broke into the chief's office and purged his employee file – possibly even spotting notes about Theresa's meeting with the chief that might have driven him over the edge.
We don't know for sure if Sam Parker would have ever killed his wife (or anyone else) if he had never served on the police force or had been better supervised there, but the access, authority, and attitude the LPD provided him with certainly didn't make things any better. Parker's years in the department had given him a sense of entitlement and untouchability, and none of the people who knew he was dangerous, including his wife, were willing (or able) to do anything about him because of his job. The leadership vacuum that formed in late 2006 meant he had no supervision or accountability, providing a perfect opportunity to murder without fear of being stopped and little risk of being caught.
Theresa Parker's blood is on her husband's hands, but a share of blood also goes to others in the community who enabled and encouraged his behavior. Fellow officers who did nothing, city councilmen and a mayor who tolerated Parker's abuse and refused to replace a dying police chief, Parker's family members who knew he was dangerous, members of the Panama City PD who misreported his arrest there, officer Ben Chaffin who helped cover up evidence, and the two law enforcement agency heads (Wilson and Richardson) who refused to discipline him; all are guilty of playing a part in the murder.
Theresa Parker's murder isn't the first example of local crime committed as a result of favoritism and uneven application of the rules. The Noble Crematory case, mentioned above, where 339 uncremated bodies piled up in the woods over a period of ten to twenty years, could also have been prevented or stopped much earlier if local law enforcement and state government agencies had consistently applied the same standards to everyone without favoritism.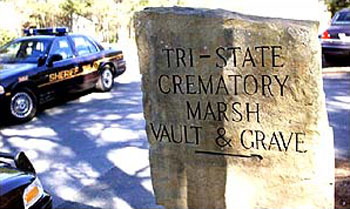 Tri-State Crematory was started in 1981 by the Marshes, a prominent and wealthy (but not necessarily well-liked) African American family with ties to many of the area's most powerful people. Ray Marsh, a descendant of Spencer Marsh (white slave owner who built the celebrated Marsh House) turned a septic tank business into a grave vault operation, then expanded into cremation.
Despite having no medical experience or even a license for his funeral services business, Marsh once ran for Walker County Coroner but was (fortunately) defeated by a handful of votes. Ray Marsh and his son, Brent, were both leaders at New Home Baptist Church, and served on the Walker DFCS board of directors. Young Brent was a star athlete at LaFayette High School and UT Chattanooga until he dropped out to take over the family business.
Clara Marsh, wife of Ray and mother of Brent, taught English in Walker schools for 30 years until she retired and served for many years as chair of the Walker County Democratic Party. She directed the Walker County Association of Educators, served on advisory boards for Northwestern Technical College and many other local organizations, and was named Citizen of the Year in 1995 by the Walker County Chamber.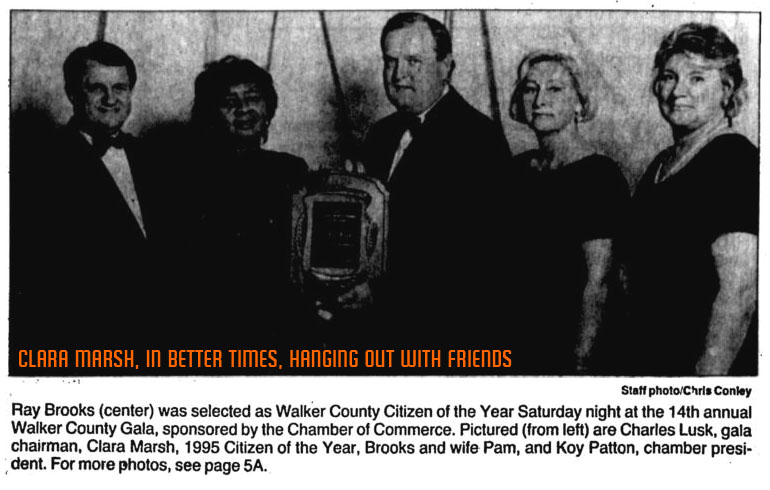 In 1994, some eight years before bodies were officially discovered on the property, state officials tried to inspect the crematory but were blocked after the family contacted democratic state senator Mike Snow. Forty funeral homes who knew the facility was unlicensed still did business with the Marshes (and didn't ask any questions) because they had the best prices around and were well known.
"The Marshes, who were investigated by the local police in 1995 when there was a claim that body parts were seen on their property – though no search was made – exploited a loophole in Georgia law to operate without a license."
Sheriff's deputies, called to investigate reports of body parts seen near the site in 1995, found nothing remarkable. Sheriff Wilson reportedly had conversations in 2000 with Blossman propane truck drivers concerned about seeing piles of bodies on the site, but chose not to investigate since (in his words) it would be natural to spot a few corpses stacked up at a facility where bodies are handled and being behind wasn't against the law. Relatives and neighbors hadn't noticed the furnace smoking in over a decade and observed propane deliveries to the crematory were rare, but they assumed things were OK (or claimed to) because the family told them not to be concerned.
If the Marshes had been just any average family their horrific behavior would have been uncovered and put to an end shortly after it began. But because of their political connections, their friends in high places, their money, their church, and their spotless reputation, everyone in a position to intervene between the Marshes and their sad, disgusting, and immoral actions looked the other way.
"My response was that, obviously, you're going to find deceased bodies at a crematory much like you would at a funeral home." -Sheriff Wilson on Reports of Piled Bodies in 2000
Even after bodies were discovered justice was never done. Brent was the only family member charged with a serious crime even though by most accounts he was between eight and eighteen years old when the abuses began. (Sheriff Wilson comes up again there, as he spoke highly of Clara and Ray during court proceedings and insisted they had no knowledge of the 300+ dead bodies stacked up in their back yard.)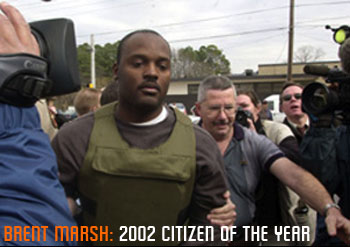 Funeral homes who overlooked irregularities paid off victims' families for $36 million, and the Marsh family negotiated its way out of having to testify when a private lawsuit against them was settled for $3.5 million pulled from the pockets of Farm Bureau Insurance customers. Attorneys in both cases were in a position to make the Marshes provide answers to their victims, but took settlements instead to maximize the amount of settlement money. (Prosecutors took about 1/3 of the settlement, Clara Marsh and her children took $100,000 each from their insurance company, and family members of the abused were given about $4,000.)
The government's case against Brent Marsh was closed when he accepted a plea bargain, agreeing to apologize by letter, spend 4-1/2 to 12 years in prison, and spend the rest of his life on parole. Despite being handed a slam-dunk case, local prosecutor Buzz Franklin worked out the deal in order, he said, to save the state from sinking hundreds of thousands of dollars into a trial and to quickly give victim families closure (but no answers). That deal also, as a side benefit, closed the door to testimony that might have incriminated the elder Marshes, Clara and Ray, or revealed damning evidence of why so many government agencies and law enforcement officials somehow never noticed what had been happening out in the open for more than a decade.
"I can't give you the answers that you want, but I will stand up here like a man. And I will not cry when I go into that cell. I will not whimper." -Brent Marsh During Sentencing
Senator Mike Snow lost his next election as voters realized he had played a major role in preventing the crematory from being inspected, but other local leaders who bear some responsibility for the crematory, for the murder of Theresa parker, and for other crimes continue to serve, continue to win elections, continue to be reappointed to their committee chairs or board memberships, and continue to behave in ways that benefit their friends and powerful connections at everyone else's expense.
Politicians and other unelected government officials have a duty to not only enforce the law, but to apply rules and laws evenly to everyone in all levels of society. Failure to do so encourages the kinds of behavior displayed by Sam Parker, Brent Marsh, and others who were made exempt from the standards everyone else is expected to adhere to. Inconsistent law enforcement also gives people an idea that the law doesn't really matter and provides them with an excuse to ignore it. Eventually all this leads to anarchy. Members of government on any level should be held accountable for distorting the law to play favorites because of the impact such behavior has on the law, on society, and on individual lives.
Just as government leaders are responsible for holding citizens accountable for their actions, citizens too are responsible for making sure leaders behave appropriately. Voters who condone and even support corrupt, incompetent, or immoral politicians are just as complicit in the results of their actions as the politicians themselves are. When we reelect someone who has shown himself (or herself) undeserving we enable them to make bigger and more spectacular messes, extreme examples of that being the Noble Crematory and Theresa Parker's murder.
In November residents of LaFayette reelected teacher Norm Hodge to the city council, despite his being arrested a year earlier for smelling of alcohol at a high school football game in Dalton. Those same voters, many of whom attend First Baptist Church with councilman Hodge, came out in record numbers to vote against liquor by the drink, but the morality that motivated so many of them fell short when it came time to hold an elected leader responsible for his actions.
Mr. Hodge has since been joined in his liquor-by-the-drink research by fellow councilman Bill Craig, who was arrested for DUI in late January. Despite that, Craig will probably be reelected again in 2011 because he, like Norm Hodge, is a nice ol' feller who knows lots of folks. That's essentially all it takes to receive a lifetime job with LaFayette or Walker County, courtesy of the uninformed and FiSDOP's who'd rather have a corrupt or incompetent friend in charge than a moral or intelligent stranger.
Obviously drunk driving doesn't equal the heinous crimes committed by Sam Parker or Brent Marsh, but it does represent a moral failing and lack of self control present among those charged with enforcing the city's rules and regulations. Unelected leaders and their family members have also recently been involved in criminal activity, notably LaFayette police chief Freeman's daughter in law who was arrested for shoplifting at Walmart Christmas Eve and Walker Department of Environmental Health Manager Jimmy Ray Pinion, who was arrested last week for trying to pick up a prostitute in Chattanooga.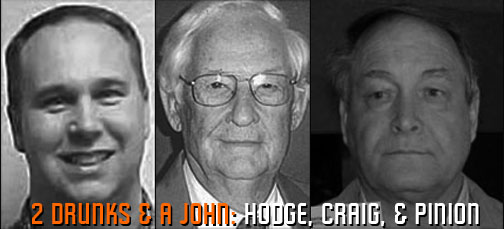 No person is perfect; we live in a corrupt and fallen world, and we should be quick to personally forgive those people who make mistakes. But personal forgiveness doesn't mean we have to overlook behavior from our political leaders that indicates their corruption or disregard for the law.
The best way to honor the memories of Theresa Parker, the 339 innocents whose corpses were desecrated, and other victims of easily preventable crime, is to hold the officials charged with enforcing the law responsible for their personal and professional failures. If we hope to have any kind of future we need to demand higher standards for those who sit in authority above us – and vote accordingly.