2010
01.25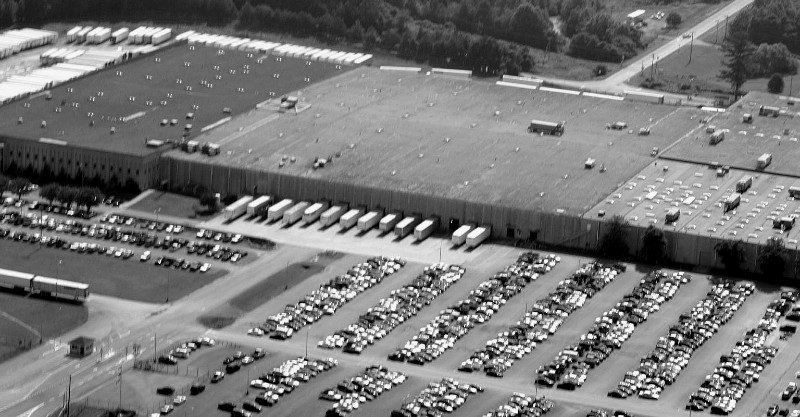 From WQCH:
THE CITY OF LAFAYETTE WANTS TO HELP ROPER LOWER IT'S ELECTRIC BILLS… BUT NOT IN THE WAY THE INDUSTRY HAS REQUESTED. THE ROPER PLANT, OWNED BY G.E. – IS SERVED BY NORTH GEORGIA ELECTRIC MEMBERSHIP CORPORATION… AND SAYS THE LAFAYETTE PLANT HAS AMONG THE HIGHEST ELECTRICITY COSTS OF ANY GENERAL ELECTRIC FACILITY.
SINCE ROPER IS IN THE CITY OF LAFAYETTE ELECTRIC DEPARTMENT'S TERRITORY, NGEMC HAS TO PAY THE CITY A 4-PERCENT FRANCHISE TAX. IN A RECENT LETTER, ROPER REQUESTED THAT THE CITY DROP THE 4 PERCENT FEE… BUT THE MANUFACTURER APPARENTLY DOES NOT WISH TO SWITCH TO CITY OF LAFAYETTE POWER AT THE PRESENT TIME.
Roper, LaFayette's largest employer, is struggling to stay solvent and relevant as it battles foreign competition, high material costs, and a souring economy. Roper's parent company, General Electric, has been shopping the appliance division to several competitors, including China-owned LG, and may eventually close it down entirely if no buyers can be found. In light of all that the company's leaders are looking for ways to cut costs in any way they possibly can.
Roper's operations require a considerable amount of electricity which it buys from North Georgia EMC. Since Roper sits within LaFayette, the Georgia Public Service Commission allows the city to charge NGEMC a 4% "franchise fee" which is passed along to Roper in its monthly power bill. Despite being in an area with some of the nation's lowest power rates, that extra 4% makes Roper's electrical costs among the highest of any GE-owned facility in the world. That prompted Roper to approach the city and request that the additional fee be waived.
IN DISCUSSION AT MONDAY'S CITY COUNCIL MEETING, MAYOR NEAL FLORENCE SAID IF THE CITY REFUSED TO COLLECT THE FRANCHISE FEE FROM NGEMC FOR THE POWER IT PROVIDES TO ROPER… THEY WOULD HAVE TO REFUSE TO COLLECT THE FEE FROM ALL OTHERS, AS WELL.
According to the mayor, the city can't waive the fee for Roper without ending fees charged to any LaFayette business or individual buying power from outside power providers. No details were given at the meeting (or in its minutes at least) about how many properties this would include or what rules specifically require the fees to be charged uniformly.
THAT WOULD MEAN A LOSS OF ABOUT 233-THOUSAND DOLLARS ANNUALLY… AND THE CITY CAN'T AFFORD THAT LOSS, THE MAYOR SAID.
Dropping the 4% fee would cost the city a total of $233,000 – only part of which would be lost from Roper. That decrease in revenues would pinch a bit, but it's only a small part of the whole LaFayette city budget. What the city truly cannot afford is the amount of money it's set to lose when Roper closes and sends most of the area's remaining jobs overseas – but that's exactly what the council's actions are daring it to do.
Roper reportedly employs 1,500 people. Losing those jobs would devastate what remains of the city's middle class population and lead to a mass exodus that would crater an already-struggling local real estate market. Roper would soon be followed by many other local businesses that hang by a thread; the loss of so many area jobs would be an economic tsunami destroying gas stations, restaurants, retailers, and any other business currently patronized by Roper employees or their families. Such a drastic impact would turn LaFayette into a virtual ghost town, inhabited only by the region's poorest residents and the FiSDOP's in leadership.
This scenario almost played out before, some forty years ago, but in that case the employer wasn't Roper but Barwick Carpet. Several of LaFayette's most prominent citizens, led by attorney Fred Henry, realized that the city would be in serious trouble if Barwick, the only sizable employer, closed down or left town. They formed a Chamber of Commerce, the Walker County Development Authority, and several other organizations dedicated to bringing business into the area, then actually worked to accomplish those organizations' set goals.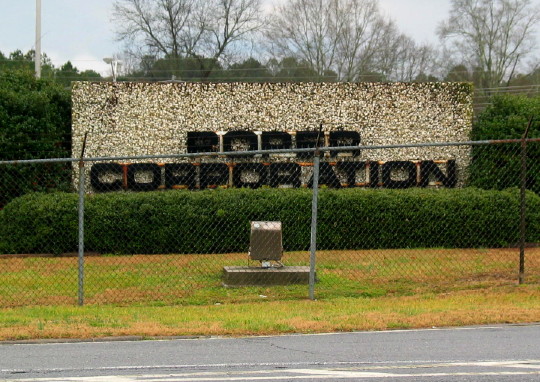 The effective (and LaFayette-focused) Development Authority of the early 1970's, led by Mr. Henry, developed an industrial park on the south side of LaFayette by Barwick's air strip and then attracted viable businesses to build facilities in it. Roper Corporation opened its plant in 1973 on untaxed property deeded to the Walker County government. Shortly thereafter similar arrangements led Blue Bird to set up a bus assembly facility nearby.
Less than ten years later Barwick Carpet, after a decade of embezzlement from its top executives, declared bankruptcy and closed down all of its facilities, including the Automotive Division in LaFayette (now much-smaller Auto Custom Carpets) and a huge manufacturing plant in Kensington. The disaster foreseen by Fred Henry and other local leaders had come to pass, but their wise planning kept it from being the catastrophe it could have been otherwise.
Fred Henry passed away in 2008, leaving the city's economic future in the hands of its current clueless council. The employment disaster recognized and avoided in the 70's is now being perpetrated by leadership so short-sighted and disconnected from reality that they can't recognize that a small dent in the city's operational budget is a small price to pay for keeping its largest non-governmental employer from leaving town.
In 2008 the LaFayette electric department had expenses of $6,415,000 and revenues of $7,151,000, making the city a profit in excess of $730,000. All of the city's utility services except solid waste were profitable in 2008, bringing in combined profits of $1.385 million after expenses. A good chunk of that profit, however, goes into a black hole, supporting the airport and golf course which lost a respective $193,000 and $173,000 in the same time period. The total amount spent on those "essential" city services comes up to $366,000 – a hundred grand and change more than the city claims it would lose by cutting Roper a break on its power bill.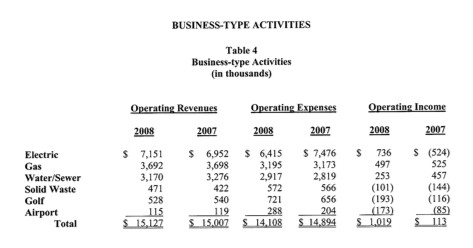 (Image above and all financial figures taken from the city's 2008 financial report.)
Every electric customer within the LaFayette utility district is being overcharged for service in order to cover losses associated with the golf course and airport. Through their monthly utility bills, Roper and every other business and home in town are subsidizing the loss-leader hobbies and business interests of LaFayette's city council and their friends. But somehow the city can't justify losing $233,000 a year to subsidize utilities for the place where most of its taxpaying residents work.
Current published rates for a weekday round of golf (sans cart) at the city course is $9 for a game of 9 holes or $15 for a game of 18, a ridiculously low amount compared to what other regional courses charge. Battlefield Golf Club in Ft. Oglethorpe, for one example, charges monthly dues of $135 – the equivalent of fifteen half-rounds of golf a month at the LaFayette course. Raising those rates by 50% would offset any losses from Roper's electric bill, and a 9-hole round of golf would still only cost councilman Hodge $13.50 plus $2 per beer. (The city had no issue with raising swimming pool fees for the kids by 400% last summer.)
Airport rates are unpublished, but obviously the city doesn't charge enough for its usage or the thing wouldn't have lost a hundred and seventy-three thousand dollars in 2008. The airport is primarily used not for landing aircraft but for storing them, so a majority of the revenues there come from renting out hangars. Several of those hangars aren't used for planes at all but serve as below-market-rate office space; the published address and phone number for Patton Places, Inc. (Wendy's franchise owner) are attached to a hangar at the LaFayette airport.
Fred Henry was an avid golfer and played a key role in expanding the LaFayette course from 9 holes to 18, but we'd like to think he had his priorities in order and would never have chosen low greens fees or cheap office space over keeping a major employer in town. Mr. Henry had wisdom, vision, and a concern for everyone living in or around LaFayette. In contrast, the city's current crop of leaders are so ignorant and self-focused they can't see past the end of their own golf clubs.
Roper's request is relatively tiny in the whole scheme of things. The manufacturer has asked for little more than a token of support from the city council, in the form of a few hundred thousand dollars in concessions to reduce its operating costs. The council's non-response to that request is staggering, practically telling Roper it can go to hell – or at least Mexico. The response will also serve to keep other yet-unknown companies from moving their facilities into the community since they obviously cannot expect any help or support from the city's leadership.
A few weeks before the 2008 election, Walker County Commissioner Heiskell issued a press release touting her hand-shake agreement with Roper's leaders to keep the manufacturer in town for 11 more years. A verbal agreement between the plant's local management and the county commissioner is no guarantee that the parent company won't close it down anyway, but the commissioner at least pretended to care about keeping the mill open. The city council's handling of this matter shows they don't care about Roper or the jobs it provides to a great number of the city's residents.
Citizens of LaFayette have two choices: Continue to support and encourage the current mayor and city council as their hobbies and self-interests send LaFayette down the road to economic ruin, or vote for new blood who will do whatever it takes to keep jobs in town.