2009
11.16
Late in the evening of Friday November 6th, Rossville PD officers arrested Charles Lee Cochran for "disorderly conduct" and sent him to the Walker County Jail. Mr Cochran was later found in a jail cell hanging dead from a t-shirt. The GBI was called in to do an autopsy and investigate the incident, as would be expected.
Initial news reports offered very little information about what actually happened, and a slightly more detailed story on the Walker Messenger site still left a lot of unanswered questions.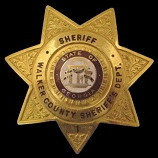 The Messenger story gathered dozens of comments suggesting that the jail, the Walker Sheriff's Office, or possibly the Rossville PD had beaten and then killed Cochran for reasons never made clear. The entire incident received little media attention, or less than you'd expect, and that added to feelings that something improper had occurred.
An additional article on the Messenger site addressed many of the claims of impropriety without mentioning any claims or suggestions had been made; that article is what eventually ran in the Wednesday paper (delivered Thursday due to Veteran's Day). That article also gathered an unusually high number of reader comments (well over 100 as this is written), generally repeating the earlier claims of abuse from the same posters.
That article clarified that Mr. Cochran and a 22 year old woman had been arrested for fighting with a neighbor while drunk. He was not given an alcohol test since he wasn't involved in a DUI, and was placed in a "drunk tank" cell to sober up before he could be booked. That type of holding tank at the Walker Jail has a hole in the floor instead of a toilet for "inmate safety" and lacks surveillance cameras to protect inmate privacy, meaning there is no tape of the hanging (or anything else in the cell) to prove exactly what happened either way.
Due to the controversy and claims of wrongdoing, we decided to check into things a bit and see if any of the accusations made against the jail/Sheriff's Office/Rossville PD can be substantiated.
According to a former jail employee I spoke with, everything being claimed by the sheriff's office is plausible. The treatment of Mr. Cochran (including a booking delayed until he sobered up) is within standard protocol, and the holding cell layout matches the description provided.
The former employee confirmed Walker County Jail "drunk tanks" don't have toilets for inmate safety, but have several areas where a well-motivated person could hang or jam an article of clothing well enough to be hanged. Those places include a space between or beside mirrors on the walls of some cells, the tract from an overhead acoustical-tile drop ceiling, and possibly pipes or other architectural features hidden above the drop ceiling.
The Sheriff's Office's desire to maintain detainee privacy is duly noted and appreciated, but for issues of safety and accountability the no-cameras policy for "drunk tanks" may need to be reexamined. A camera placed in the same corner as the toilet hole would be able to monitor most activity in the cell without capturing those moments of nudity UNLESS mirrors are posted on the opposite wall. Even in that case any distorted and secondary nudity caught on tape would still be preferable to in essence working blind the way jailers do now.
The SO might also do well to reexamine the layout and overall construction of its holding cells. The same attention to "detail" employed in the removal of basic bathroom facilities should be applied to the removal, filling, or reduction of cracks, openings, ceiling tile tracts, sharp edges, extrusions, and other potentially dangerous architectural features that might provide an opportunity for inmates to serve as their own executioners while waiting to sober up or come down.
I think we can conclude, based at least on this evidence, that nothing directly illegal was done by the SO or jail employees. At the same time, the department needs to take responsibility for the environment that allowed the suicide to occur and take the necessary steps to keep further incidents of this type from happening.