2015
05.03
Last week Chattanooga Street Tavern redeemed itself (maybe) from its failing health score of early April, earning a 97.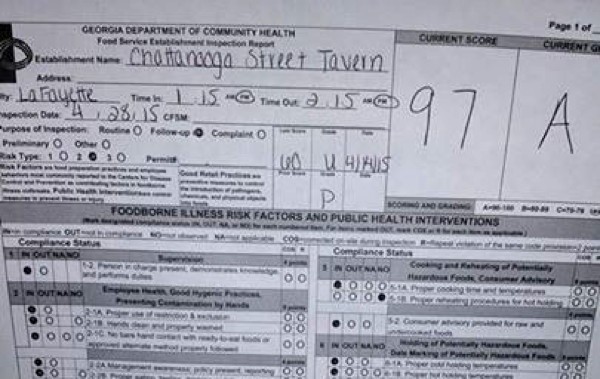 Inspectors visiting the bar on April 28th found only one reportable issue: management still lacking legally-required ServSafe training. The rodent problems, moldy/expired food, animals being fed in dining areas, broken sink, and other problems observed on April 14th were no longer apparent.
But that doesn't mean the facility is now safe. The Tavern has a pattern of earning good scores on reinspection after a failure – the business (under previous management) failed its December health score too, with a 69, then scraped by with an 89 during recheck in January.
Like a student who fails the pop quiz and aces a retest, it's easier to get a good health grade when you know the health inspector is coming back on a certain day or during a particular week.
When the Tavern can get 80's and 90's consistently, then we'll know it's actually safe to eat there. Until then, buyer beware.
Other Health Scores:
Worst scores of the last two weeks were handed to Rafael's Italian and Maryland Chicken, both earning 84's.
Rafael's was cited for uncovered food in cooler, food items not held hot enough, and cases of meat stored directly on the floor.
Maryland Chicken was dinged for food not stored at proper temperature, cups not stored properly, and ants.
Skate n Play got an 88, cited for employee drinks in food area, non-working sink, sugar stored directly on floor, and flies/gnats in kitchen.
Southern Bliss Bakery, scoring 89, marked down for having a scoop left in food and a cooler not keeping food cold enough.
Big John's BBQ: 90
Twins Pizza: 90
Krystal: 91
China Buffet: 95
CJ's Southern Traditions: 98
Walker Co Nutrition Center (Senior Center): 100