2013
12.04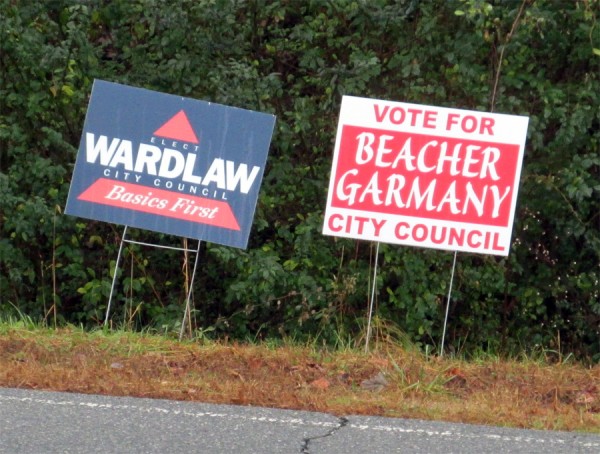 Beacher Garmany, Jr. won yesterday's run-off election to determine LaFayette City Council member for Ward 1. Wardlaw actually took a slim majority of Tuesday's voting, but Garmany took the overall lead with absentee and early ballots included.
LAFAYETTE COUNCIL WARD 1:
| | | | |
| --- | --- | --- | --- |
| CANDIDATE | EARLY/ABSENTEE | DEC. 3RD | TOTAL (% TOTAL) |
| BEACHER GARMANY | 159 | 128 | 287 (59%) |
| ROBERT WARDLAW | 68 | 131 | 199 (41%) |
Garmany, along with new mayor Andy Arnold (who Garmany replaces on the council) and returning councilor Ben Bradford will be sworn in during the January City Council meeting.
Haven't met anyone yet who would voice support for Mr. Garmany, but apparently he has his fans.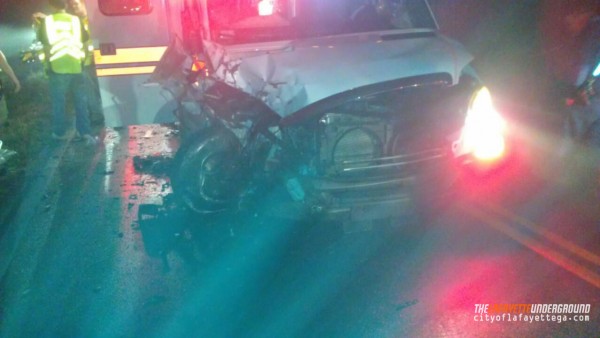 Around 9 PM last night a Walker County ambulance carrying two EMT's and a single patient was struck in a head-on collision with a Jeep Wrangler.
According to sources, the Jeep crossed into the oncoming lane. Based on the photos here, it looks like the Jeep was completely in the Ambulance's lane and the ambo attempted to avoid it by crossing to the other side; that's why damage to the vehicles is on the right instead of the left.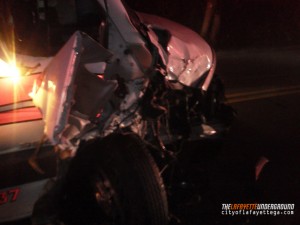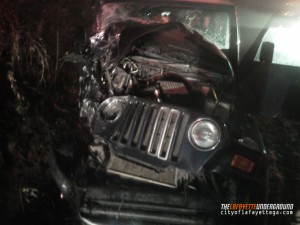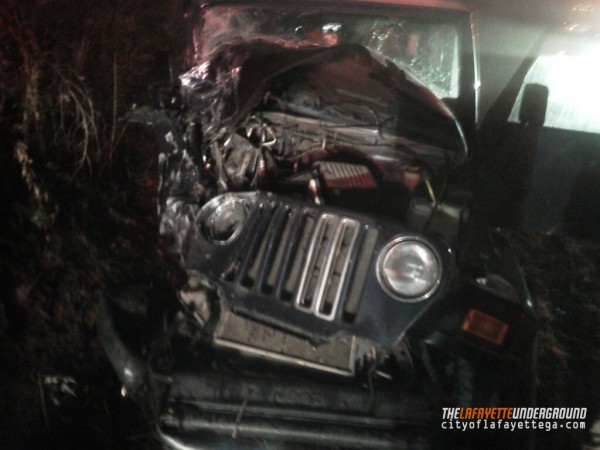 EMT's were identified as Daniel Hyde and Bud Hatfield. Their patient and the Jeep driver have not been named so far. Of the four involved, only one EMT and the ambulance patient were injured; they were both hospitalized for minor injuries.




Tuesday morning Catoosa County leaders decided not to extend additional financing to Hutcheson. The idea was suggested, but none of Catoosa's commissioners would even put the plan up for a vote. Speaking for the county, a commissioner said "we just cannot go any further" because their share of HMC's debt would be greater than the value of Catoosa's stake in the hospital.
Now Walker County is left with Commissioner Heiskell deciding if we'll keep giving Hutcheson money, which will eventually have to be paid back, or let them downsize and/or go bankrupt. A bankruptcy might not be the end of the world, as it would open the hospital's finances to more public scrutiny and allow a judge to oversee a restructuring that could reduce debt and replace broken leadership. Bankruptcy might also provide a window for Dade County to exit the hospital entirely, which they seem all too eager to do.
How long before the hospital goes under without additional cash? Heiskell said they won't be able to make another payroll without another loan, but a hospital representative said everything's running fine even though they've requested more funding. In this case, for once, Bebe Heiskell is more believable than the hospital.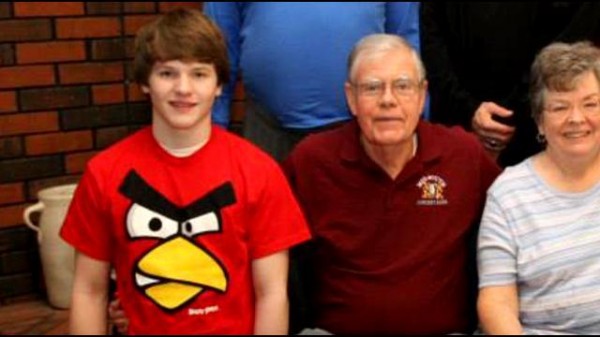 Ronald Westbrook autopsy results show the 72-year-old, who was shot to death last Wednesday, died from being shot.
(Apparently an autopsy is necessary when someone is killed that way even if it's obvious how they died. The autopsy could reveal more about Westbrook's alzheimers or other details pertinent to the investigation or potential prosecution.)
Westbrook's funeral was held Tuesday in Rossville. A bit more about his life, and response to his death, from friends and family.


Chattooga County raid on an underage drinking party last weekend started out as a missing persons investigation. 23 were arrested for alcohol violations, but they didn't find the missing teenager.



WQCH Radio, 12/03/13:

"LAFAYETTE POLICE REPORT A RASH OF COPPER THEFTS INVOLVING HEAT AND AIR UNITS, WITH THREE CASES REPORTED LAST FRIDAY.
"AT A STORE-FRONT CHURCH AT 310 SOUTH CHATTANOOGA STREET, THE ENTIRE OUTDOOR HEAT AND AIR UNIT WAS TAKEN – A 4-THOUSAND DOLLAR LOSS.
"JUST DOWN THE STREET AT PIT STOP NUMBER 5, ALL THE COPPER TUBING AND WIRING BETWEEN THEIR UNIT AND THE REAR WALL WAS CUT AND TAKEN. THIEVES WERE UNSUCCESSFUL IN DISASSEMBLING THE UNIT FOR MORE.
"AND AT 212 MAGNOLIA STREET, THE RESIDENT RETURNED HOME TO FIND THE BACK DOOR STANDING OPEN. INSIDE, THE ONLY THING MISSING WAS THE COPPER TUBING AND COILS FROM A LARGE WINDOW AIR CONDITIONER.
"ANYONE WHO SPOTTED SUSPICIOUS ACTIVITY, OR WHO HAS INFORMATION ON THE COPPER THIEVES, SHOULD CONTACT LAFAYETTE POLICE."

State legislators are considering further privatization of the state's foster care system, but experts suggest waiting for previous reforms to kick in before making more changes to a system providing care to 27,000 children.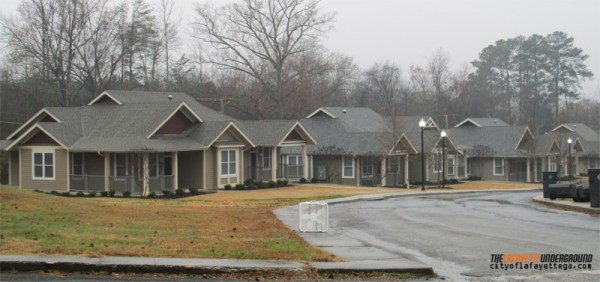 A year ago (November 29, 2012) the city began tearing down dilapidated public housing apartments on Foster Circle. Replacement duplexes there and off Culberson Ave. finished a few weeks back are now being moved into.
Compare the apartments above to what was there before: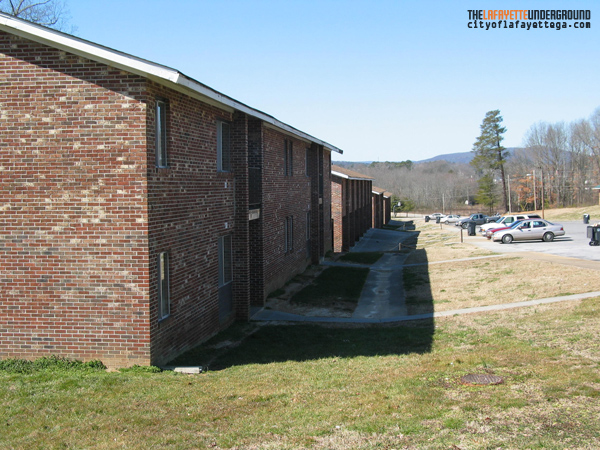 Because of red tape, getting permission to do this project (with money saved over the years) took much longer than the actual work once buildings started coming down.


Reduced-cost mobile spay and neuter clinic for dogs, cats, and rabbits will be at the county Agriculture center this week, today through Sunday.
Time to clip those Christmas balls…


University of Georgia leaders (the system, not the school) are considering a full ban on smoking from the state's 31 public colleges. That would mean absolutely no lighting up anywhere on campus, indoors or out.


For today's links and any breaking news, follow the Underground on Facebook or Twitter.