2013
01.31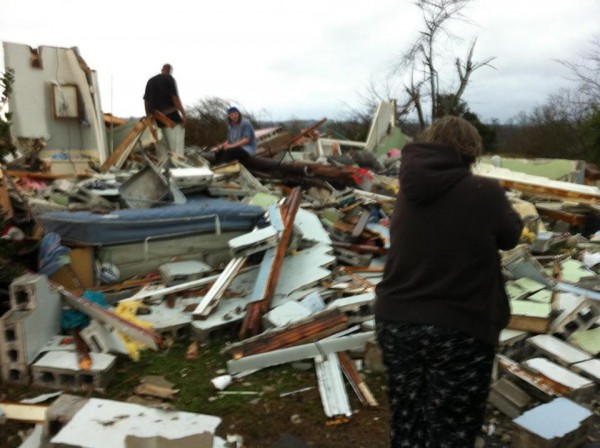 Much damage was done yesterday morning around Adairsville by what appears to have been a tornado. There are reports of flipped cars and damaged buildings (thankfully no deaths) in an area stretching between Rome and Calhoun. Residents of Gordon County are dealing with widespread power outages that could last for days.
Here in Walker County the worst damage (which is hardly "damage" when compared to Adairsville and Gordon County) is a few downed trees and minor flooding, as captured on the video below:

Money meant to repair broken locks at Hays Prison was instead used to build fencing. Now parts ripped from the fence (or left over from building it) are used to make weapons, which inmates use to kill each other and injure guards as they slip in and out of cells that cannot be locked.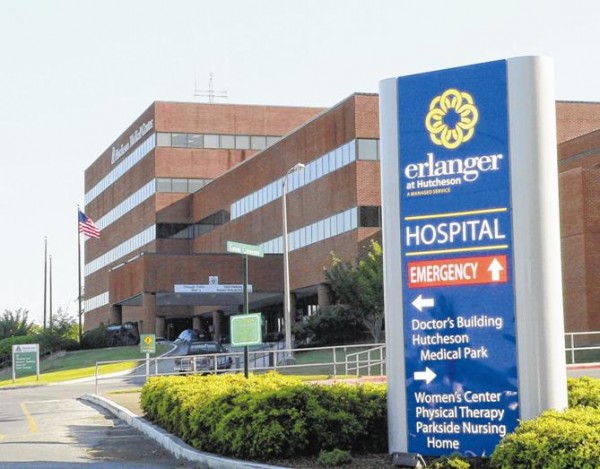 Hutcheson leaders stress the importance of paying down their high-interest debt to Medicare, while insisting that the debt wasn't incurred through fraud. The hospital will also have to begin paying back the Erlanger loan in April.
"Forgey and other hospital officials emphasis that the Medicare debt is not a case of fraud. 'The debt was incurred as far back as 2007,' Forgey said.
"In some cases, [Hutcheson CEO Roger] Forgey explained, Medicare will offer a payout at the beginning of the year. The payout is estimated, based on population and patients, he said. At the end of the year the hospital will average out the money spent on patients and provide a refund if all the Medicare funding was not used.
"For about five years, Hutcheson did not settle up with the government, thereby accruing $12 million in Medicare debt, he said."
So previous hospital leaders "estimated" a lot more patients than they would have, and had seen in years, for compensation up front – and then didn't tell the government later when the numbers were lower than estimated. No that's not fraud at all.
There's no doubt Forgey has made a lot of positive changes at Hutcheson and may have saved the hospital from closing down – but he needs to call a spade a spade and admit his predecessors committed fraud through this behavior. There's no possible way for them NOT to have known what was going on.


Embattled former Dade Sheriff Cannon is being investigated by the GBI. Nobody's saying exactly why, but certainly it's beyond just buying suits for himself with department funds. The "word on the street" in Dade says it concerns insurance fraud and misconduct.
The GBI doesn't care about the suits because the suit purchases, while ill-advised and unethical, didn't actually break any laws. And the GBI doesn't go around investigating public officials just for kicks. This is going to be a big frigging deal once the whole thing comes out.


State Senator Bill Heath of Bremerton, after receiving 3,200+ e-mails as part of a petition, lashed out against the petition site and petition signers. He said citizens who signed the petition had been "conned" and the "irresponsible" organization that put it together used "childish tactics." Sen. Heath vowed to ignore all the messages, and has yet to comment on the petition itself.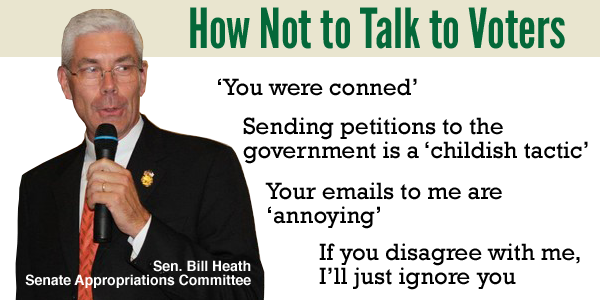 So what was the petition about? The ethically questionable hiring of former state rep. Chip Rogers as a producer for GPB. That decision was discussed here a few days ago.


Noble man arrested in Chattooga County, at Gore, for marijuana.


For purposes of air quality, Chattooga County is lumped in with Atlanta by the EPA. That means Chattooga has to sell environmentally-friendly gasoline which costs more than the fuel available here in Walker. Improving air quality around Atlanta may take Chatooga off the bad list, lowering gas prices for our neighbors to the south.
Walker County is included with Chattanooga for air quality measurements, which is why we aren't allowed to burn outdoors for six months of the year.


"Sexual assault victim tasers suspect in Dalton"
Probably a good thing for him she had a taser and not a pistol.


Former GA House Speaker Terry Coleman, who served 30 years in the state legislature, was arrested recently for carrying a concealed .22 pistol through the Atlanta airport.
Sorry Representative Coleman, the law applies to you too.

For today's links and any breaking news, follow the Underground on Facebook or Twitter.